F1 2014: Testing times for champions Red Bull in Jerez

By Andrew Benson
Chief F1 writer
Last updated on .From the section Formula 1161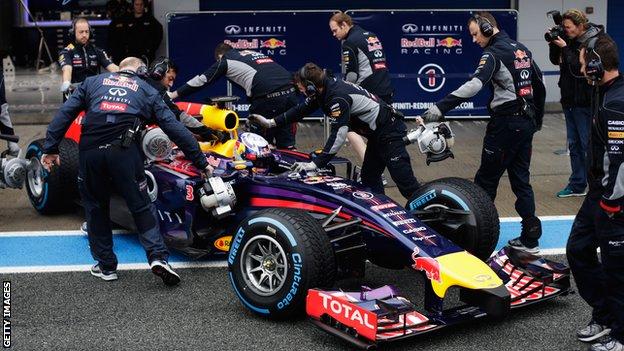 When does a drama become a crisis? Not yet, in the case of world champions Red Bull and the problems they faced at Formula 1's first pre-season test this week - but the potential is certainly there.
Red Bull had a nightmare time over four days in Jerez in southern Spain, of that there can be no doubt.
While Mercedes, expected to be their toughest rivals this season, pounded out the miles, with Nico Rosberg putting in a full race-distance run on the final day, Red Bull were effectively confined to their garage.
Four-time champion Sebastian Vettel managed only 11 laps and team-mate Daniel Ricciardo just nine before Red Bull packed up at lunchtime on the final day.
By then, Red Bull's design chief Adrian Newey and team principal Christian Horner had been gone almost 24 hours, back to the factory to figure out what to do next.
Throughout the test, Red Bull and Renault were keen to play down the seriousness of the problem. They were working on fixes, they repeatedly said, and expected to be running the next day.
But it never happened.
By the penultimate night, Renault engine chief Rob White was admitting it would take until the second pre-season test, which starts on 19 February in Bahrain, before a complete solution could be found, but he insisted they should be able to run on Friday. Again, it didn't happen.
So what is wrong? Well, two main things, it seems.
Firstly, there is a fundamental problem with the Renault power unit, which is affecting all the French company's teams.
Excessive oscillation in the drivetrain - vibrations, essentially - is preventing the complex energy-recovery system from working properly.
Secondly, Red Bull have, what Horner calls, "chassis cooling issues".
These have been caused by Newey's constant drive to package his cars as tightly as possible to ensures the best possible aerodynamics.
His no-compromise approach has paid off time and again over the last two decades - whether at Williams, McLaren or Red Bull - but occasionally it trips his teams up, as it appears to have done in Spain.
Red Bull were up against it even to get to Jerez - they started their mandatory crash-test programme less than two weeks before going to Spain - and White also admitted that Renault had "created some moving targets" for its works team.
But the problem appears to be wider than a lack of preparation.
The word from inside Red Bull is that these issues, while they may have prevented them running in Jerez, are far from a disaster and should be relatively easy to fix in time for Bahrain.
That may well be the case, but one senior engineer from a rival team said he would be surprised if Red Bull had done enough running to discover whether they had overheating problems. Normally, he said, such things only properly reveal themselves after 10 or more laps of hard running.
The fact Red Bull were encountering problems almost as soon as they left the pits suggests, therefore, a relatively major problem, one that may not be easy to solve with a heat shield here and an extra hole there.

It is possible Ricciardo gave away a little more than he intended to when he said on Thursday: "Even if we go to Melbourne still a bit whatever, it's a long season. These guys know how to win and sooner rather than later we are going to get it together. It's still early days."
Indeed it is, but the problem for Red Bull now is that, if they want to be in decent shape for the Australian Grand Prix on 16 March, they really have to find a fix before the next test.
If they go to Bahrain and continue to struggle with fundamental issues that prevent them logging miles, then Red Bull will not be able to learn about the basic performance aspects of their car - how it works at speed, how the tyres behave, how best to set the car up, what its fuel consumption is like and how to control it, and so on.
Meanwhile, their rivals already have a fair chunk of that information from testing in Jerez, where, on an average-per-car basis, engine suppliers Ferrari and Mercedes did similar sorts of mileage.
Such is the complexity of the new F1 cars, with their new turbo engines, energy-recovery systems working off both rear axle and turbo, and fly-by-wire braking, that there was no question of going for lap times.
"The goal was to do a lot of miles," said Mercedes driver Rosberg. "We managed to achieve that quite well. It's a decent start.
"It's a surprise to get so many miles, but we have no idea where we are in terms of pace."
Be that as it may, there were some very early impressions created in Jerez.
Mercedes look to be in good shape, despite a front-wing failure for Lewis Hamilton on day one, banging in the mileage and always close to the top of the timesheets.
McLaren's new recruit, Kevin Magnussen, made an assured debut in his first test as a race driver, notwithstanding a harmless spin and a crash on the final afternoon.
And while Ferrari generally kept under the radar - and there may be signs that the car lacks a bit of grip - Fernando Alonso completed a series of impressive-looking runs on the final day.
The double world champion was fastest at various points before ending up second overall behind former team-mate Felipe Massa in his Williams.
Meanwhile, Red Bull were already packing up at the end of a week Horner described as "very difficult".
Red Bull's four world titles have not been won at a canter. There have been plenty of problems along the way, many of them created, like some of those in Jerez, by Newey's vacuum-like packaging. But from the outside this looks as if it could be as big as any of them.
Red Bull and Renault lack neither resources nor brainpower, but they will have to apply both around the clock over the next fortnight to prevent this problem developing some worrying momentum.
No-one expects Newey's gorgeous-looking car to be anything but quick. But that's not much good if it doesn't work.