Daniel Ricciardo: Red Bull reliability problems can be solved

By Andrew Benson
Chief F1 writer
Last updated on .From the section Formula 1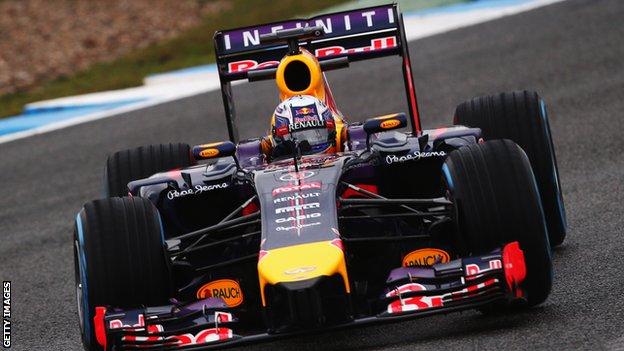 Red Bull driver Daniel Ricciardo says he is "confident" his team can solve the reliability problems that caused a nightmare first pre-season test.
The world champions completed only 20 laps over four days in Jerez after power-unit and cooling problems.
"Although we couldn't solve the issues here at the track, we know what needs to be solved," Ricciardo said.
"We have the best team in the world and they will turn this around. We have time to get back any track time lost."
Red Bull unveiled a new car ahead of testing, and team principal Christian Horner said the team thought they could solve the problems in time for the second of three pre-season tests, which starts in Bahrain on 19 February.
Formula 1 has introduced its biggest rule changes in a generation ahead of the 2014 season, with new 1.6-litre V6 engines fitted with complicated energy-recovery systems, as well as new regulations governing the design of the cars.
All of the teams suffered reliability problems in Jerez to one degree or another, but Renault and works team Red Bull were especially badly hit.
"We came here to drive, but we also came here to understand," Ricciardo said.
"It's a complex system that's not going to take 24 hours to solve. It's good we have some time away from the track."
The Australian said rivals Mercedes, McLaren-Mercedes and Ferrari managing to run relatively trouble-free was not a concern.
"I don't think it adds pressure," the 24-year-old added. "They could be racking up a lot of laps but they could be a second off the pace.
"We would have loved to do more laps, but we are not going to get down about it."
Renault engine chief Rob White described the situation as "unacceptable".
He said "several" of the problems were common to all three of the company's teams - Red Bull, Toro Rosso and Caterham.
The tight packaging of the power unit in the Red Bull has also led to cooling problems.
White said: "The underlying causes are not straightforward: there isn't a single component or system that has caused particular trouble. A number of related things have been troublesome."

He said the energy storage unit, the turbocharger and boost-control systems, and engine-management systems had all caused problems.
"We are very frustrated to face this litany of issues," White said, adding they should have been picked up during factory tests.
Insiders said the fundamental issue was caused by excessive vibration in the drive-train.
In comparison, teams using the rival Mercedes and Ferrari engines had relatively trouble-free tests.
Mercedes driver Nico Rosberg, who completed the most mileage in doing 188 laps, said: "The goal was to do a lot of miles and we managed to achieve that quite well. I'm pleased.
"It's a surprise to get so many miles, but we have no idea where we are in terms of pace."
Williams driver Felipe Massa set the fastest time on the final day, which started wet and dried through the afternoon.
The Brazilian's lap of one minute 28.299 seconds was 0.916secs quicker than his former Ferrari team-mate Fernando Alonso.
Force India reserve driver Daniel Juncadella was third fastest, ahead of McLaren's Kevin Magnussen, who had a spin at the chicane and then brought running to an end 10 minutes early when he crashed at Turn 10.
Mercedes' Lewis Hamilton, who crashed his car on day one of testing, was fifth overall.
The fastest time of the test was set by Magnussen, who managed a 1:23.276 on Thursday.
A Ferrari insider said the team were satisfied, but it is too early to get any sense of a competitive order because the teams were running at different power levels.
He added their test had gone relatively painlessly, although putting the car together and making the complex systems communicate was taking much longer than in past seasons.
That is a problem all teams are struggling with as they learn about engines that contain innovative technology.