Formula 1: Mercedes play down favourites tag despite Red Bull woe

By Andrew Benson
Chief F1 writer
Last updated on .From the section Formula 1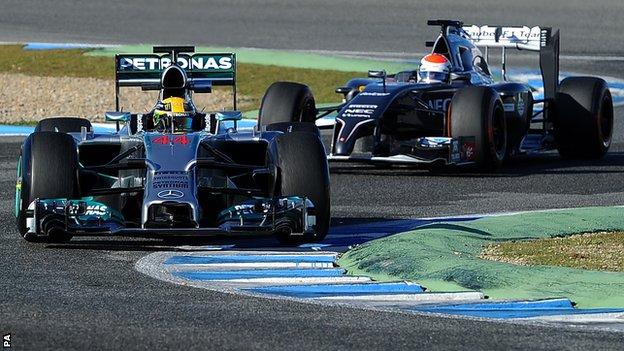 Mercedes have played down claims they can be considered favourites for this year's world championship.
"In past seasons, the favourites after the first test were not always in the same position at the first race," said Mercedes boss Toto Wolff.
"We have to have a degree of caution, especially at this early stage."
Of Formula 1's three engine manufacturers, Mercedes completed by far the most miles at the test in Jerez in Spain as they ran their new 1.6-litre V6 turbo 'hybrid' engines for the first time.
Ferrari, which provides engines for fewer teams, also ran reliably, while Red Bull and supplier Renault hit major problems with both the power-unit and the car.
But Wolff said it would be wrong to single out Mercedes as the clear leaders at this stage.
"A few different teams have looked strong so far in different ways, but we won't know the full story for a while yet; not even after the first couple of races, I would say," he said.
The season starts in Melbourne on 16 March, before which there are two further tests, both in Bahrain later this month.
Red Bull and Renault face a race against time to be in a position to do significant mileage by the time of the next test, which runs from 19-22 February.
Renault are suffering a number of problems with their power-unit, which affected all three of their teams who were running in Jerez - Red Bull, Toro Rosso and Caterham.
F1 is introducing new engines this season which, as well as seeing the return of turbos for the first time since 1988, also feature extensive use of 'hybrid' energy-storage technology.
This is at the heart of Renault's problems, with sources saying the company is at least two months behind schedule on its power-unit.
Renault were unable to run their turbo at even 50% boost in Jerez, and nor were they able to get the energy-storage system to run at anywhere near full capacity. They are also suffering severe vibrations in the drive-train, which show up in the car but not on the test bed.
Renault are trying some fixes for some of the problems at a 'filming day' with the Lotus team in Jerez on Friday - teams are allowed to run for no more than 100km on a test designated as for promotional work.
It is the first time the new Lotus has run, after the team failed to get the car ready in time for the Jerez test.
Red Bull also have to change the packaging of their car after running into severe overheating problems in Jerez almost as soon as it left the pits.
Red Bull motorsport chief Helmut Marko told Sport Bild magazine this week that chief technical officer Adrian Newey "has to redesign some elements in the rear of the car" but added that he expected the team to have solved that problem by the first Bahrain test.