Bernie Ecclestone: F1 chief expects to be cleared of bribery
Last updated on .From the section Formula 1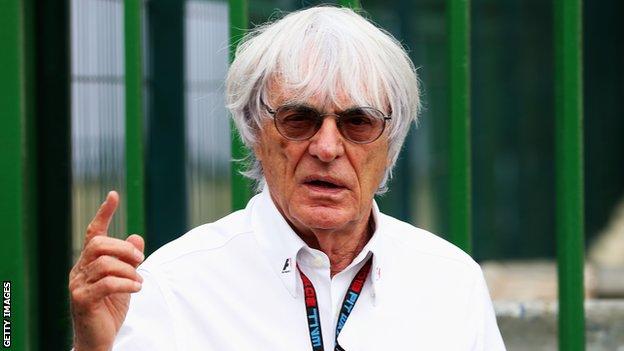 Formula 1 boss Bernie Ecclestone expects bribery charges against him to be dismissed before his trial begins.
The 83-year-old faces bribery and incitement to breach of trust charges related to a $45m (£37.4m) payment to German banker Gerhard Gribkowsky.
When asked about the trial by BBC Sport, Ecclestone said: "Bet you it doesn't happen... things happen in life and you have to get on with it."
The trial is scheduled for Munich between 24 April and 16 September.
The charges relate to allegations Ecclestone paid Gribkowsky, who is serving an eight-and-a-half-year prison sentence for corruption, during his takeover of F1 eight years ago.
Ecclestone admits paying Gribkowsky, but denies bribery and stepped down from the board of the company which runs Formula 1 in January after he was indicted.
Bribery convictions can result in prison sentences ranging from three months to 10 years in Germany, but Ecclestone has received support from the man he has anointed as his successor, Red Bull team principal Christian Horner.
"Formula 1 needs him more than ever at the moment, so he's absolutely the right man," said Horner.
Ecclestone is also awaiting the outcome of separate London legal proceedings also relating to the sale of F1 in 2005.
Former F1 shareholder Constantin Medien, a German media company, is suing Ecclestone and other defendants for up to $144m (£120m), claiming F1 was undervalued at the time of the sale to investment group CVC Capital Partners.