Lotus complete first test in new car after missing Jerez meeting

By Andrew Benson
Chief F1 writer
Last updated on .From the section Formula 1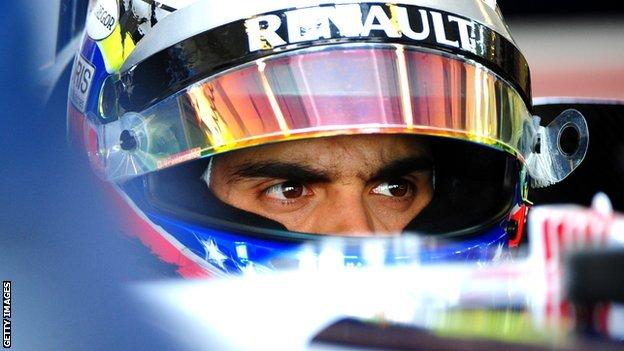 The new Lotus car completed its first test to give engine supplier Renault a boost after a poor start to pre-season.
Lotus ran their new E22 car "without any major problems" for the maximum 100km (62 miles) at Jerez on Saturday.
That is a huge step forward from the first pre-season test at the same track, which Lotus did not attend, when the Renault power unit did not run cleanly in any car.
New Lotus signing Pastor Maldonado was behind the wheel of the car.
Trackside operations director Alan Permane said: "We finished our running before 4pm on Saturday, due to the mileage restrictions imposed on a promotional event.
"Both the chassis and the new Renault power unit ran without any major problems. Pastor settled in very quickly and is already fitting into the team nicely.
"The car went together well and the design and build quality is another step up on the successful E21 of 2013.
"We are looking forward to a full testing program in Bahrain next week, where we will start to see the potential of the new package."
Renault Sport said it fitted the car with developments aimed at fixing the problems experienced at the Jerez test. These included minor hardware changes, software bug fixes and calibration improvements.
The news will encourage world champions Red Bull, as well as Renault's other teams, Toro Rosso and Caterham.
Red Bull completed only 20 laps at the first test as they struggled with the engine problems and their car overheating and catching fire.
All teams are coming to terms with the complicated new engines introduced this year following the biggest rule change for a generation.
F1 teams will use turbo-charged engines for the first time since 1988, and the new 1.6-litre V6s are fitted with extensive 'hybrid' energy-recovery systems.
Red Bull team principal Christian Horner told Sky there was "nothing major" wrong with the team's car.
But he admitted that the second pre-season test in Bahrain, which starts on 19 February, was "important", adding: "We don't want another week like Jerez."