Kimi Raikkonen knows he faces a tough challenge, say Ferrari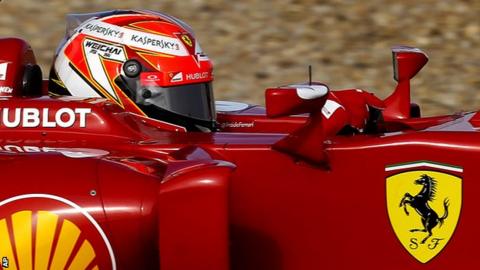 Ferrari say Kimi Raikkonen realises he faces a tough challenge on his return to the Italian marque as Fernando Alonso's team-mate this season.
Team boss Stefano Domenicali said the Finn had already proved "more mature" than in his first spell at Ferrari.
Domenicali said: "He knows his worth, the team he has returned to and what challenges he will face, having a champion like Alonso alongside him."
Raikkonen was "more closely knit to the team" than before, Domenicali added.
The 34-year-old Finn previously drove for Ferrari from 2007-9. He won Ferrari's last world title in 2007, but was paid off a year before the end of his contract to make way for Alonso.
At the time, Ferrari questioned Raikkonen's commitment to work outside the car, but Domenicali said that since his new contract started in January he "comes to Maranello almost every week to work with the engineers".
Domenicali said that Raikkonen "has respect for Alonso and will have to adapt to working with him".
He added: "Fernando is extremely intelligent and has managed to stay ahead in whatever car he has driven.
"He has an ability to interpret the race and to read it in an amazing way and I think he will make the most of the new regulations, which will require some stages of the race to be managed in a different way."
Alonso, who won two world titles for Renault in 2005-6, has generally been the closest challenger for Red Bull's Sebastian Vettel since joining Ferrari.
He narrowly missed out on beating Vettel to the title in both 2010 and 2012, taking the championship fight to the final race despite an inferior car, and was also runner-up to the German last season.
Domenicali described the decision to re-employ Raikkonen as "a rational choice, based on the need to have an expert driver pairing".
Ferrari chose the most experienced and highest calibre driver line-up it could because of the complexities of this year's rule changes.
The biggest for a generation, the new regulations focus on complicated new 1.6-litre hybrid turbo engines and a fuel limit.
Domenicali said he was cautiously optimistic about the season ahead following the performance of the team's new car in the first pre-season test in Spain two weeks ago.
"In Jerez, we saw the F14 T get off on the right foot, responding well to changes, while the basic data corresponds to the parameters established in the wind tunnel and there were no bad surprises," Domenicali said.
"Clearly there is still much to do because it's impossible to start with a perfect car in a season featuring so many changes.
"The start of the championship will be full of unknown quantities and it is far too early to make any sort of prediction. I think we will start to understand a bit more only at the last Bahrain test.
"My optimism is based on the fact we know which areas need working on: caution is always a good approach, but that doesn't mean the people working on this project lack the commitment or the will to show our competitors how well we can do things at Ferrari."
The second pre-season test is in Bahrain from 19-22 February, with the final preparations at the same track from 27 February until 2 March.