Formula 1 2014: Red Bull target stronger pre-season test in Bahrain
Last updated on .From the section Formula 1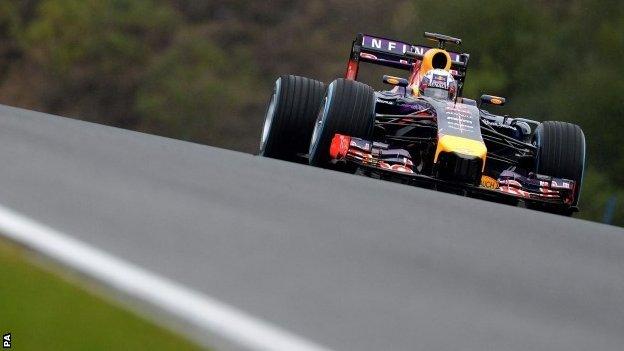 World champions Red Bull will target better reliability when the second pre-season test for the 2014 Formula 1 season begins in Bahrain on Wednesday.
Red Bull managed just 21 laps over four days in the first test in Jerez after power-unit and cooling problems.
Engineer supplier Renault said afterwards: "It's a difficult moment but we will get through this".
In Bahrain, Lotus will become the 11th and final team to run their car publicly for the first time.
This season, new rules have introduced 1.6-litre V6 turbo engines with extensive energy recovery systems, which means the teams are all on a steep learning curve.
Track-time mileage is important and the Mercedes, driven by Lewis Hamilton and Nico Rosberg, had a strong test in Jerez, completing 309 laps. Ferrari managed 251, while McLaren completed 245.
Crucially, those teams were able to complete car set-up and evaluation work so that when the four-day test in Bahrain starts, they can get down to working on the performance of their new cars.
The Renault-powered teams - Red Bull, Toro Rosso and Caterham - will need to do that baseline work in Bahrain after failing to do so in Spain.
As well as the power problems, Red Bull have had to change the packaging of their car after suffering overheating problems in Jerez.
However, the team will be boosted by the fact Lotus, who are also powered by Renault, were able to complete 100km - the maximum allowed for what was a promotional event - at Jerez last week, having missed the first official test.
Reigning world champion Sebastian Vettel will drive the Red Bull on the first two days, with Daniel Ricciardo taking over for the final two days.
A third test in Bahrain follows on 27 February-2 March before the season starts in Melbourne, Australian on 16 March.