Bernie Ecclestone awaits Formula 1 fate after judge criticism

By Dan Roan
BBC chief sports correspondent
Last updated on .From the section Formula 1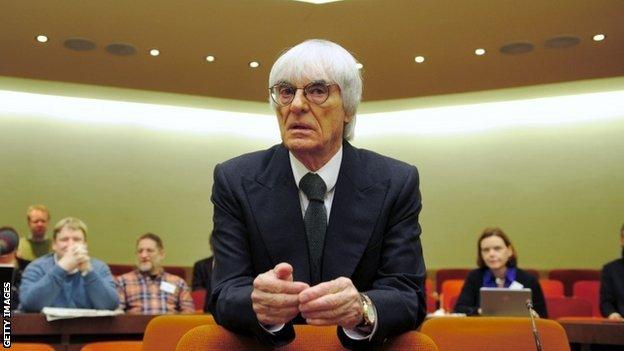 Bernie Ecclestone is awaiting the response of Formula 1 owner CVC Capital Partners after a High Court judge ruled the billionaire had committed bribery and lied about doing so.
In a hearing in London on Thursday, Mr Justice Newey rejected an £85m damages case against the F1 chief executive.
But he found Ecclestone, 83, had done a "corrupt" deal over F1 share sales.
There have been reports that his 40-year reign over the sport could be over in a matter of days.
But private equity group CVC, which has a controlling stake in F1, has not yet commented.
After the ruling on Thursday, Ecclestone said he was "relieved" that the judge had rejected the damages claim.
While Ecclestone won that case, the judge said the F1 supremo had been not "reliable or truthful".
Giving evidence last year at the High Court, CVC co-founder Donald Mackenzie said the sport's owners would sack Ecclestone if he was found guilty of a crime.
In January, Ecclestone stepped down from the board of the company which runs Formula 1 after it was announced he would have to stand trial on bribery charges in Germany, in a separate criminal case.
Ecclestone will go on trial in Munich in April to face allegations he bribed a German banker who is serving a jail sentence for receiving the payment. He admits paying Gerhard Gribkowsky, but denies bribery.
He continues to run F1 on a day-to-day basis, but can no longer approve or sign significant contracts.