Nico Rosberg: Mercedes driver sets blistering Bahrain test pace

By Andrew Benson
Chief F1 writer
Last updated on .From the section Formula 1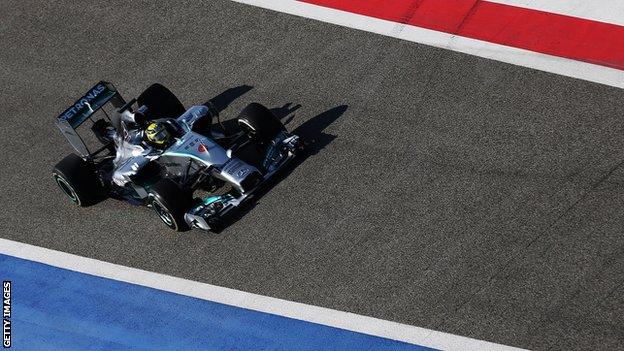 Mercedes driver Nico Rosberg set a searing pace on the final day of the second pre-season test in Bahrain.
The German impressed rival teams with a lap of one minute 33.283 seconds, the fastest time of the test and 1.627secs quicker than any other team's best.
McLaren's Jenson Button was second fastest on the day, 1.674secs behind Rosberg, with Ferrari's Kimi Raikkonen third, 3.435secs adrift.
World champions Red Bull continued to struggle with reliability issues.
With two-thirds of pre-season testing gone, Red Bull have done approximately a sixth of the mileage of Mercedes, and their fastest lap is more than six seconds slower than Rosberg's.
After a gearbox failure halted running on Friday, Daniel Ricciardo was stopped on Saturday morning with a power-unit problem.
The Australian completed just 15 laps compared to Rosberg's 89.
Red Bull and Renault have had problems with the new turbo hybrid engine that has been adopted by F1 this year, while the team have struggled with the car itself.
Renault's problems centre on the energy-recovery system, which they are struggling to run at full capacity.
Rosberg said the team had worked initially on qualifying preparation and then on simulating a race distance.
"It's been a good day," the German said. "We were doing lower-fuel stuff in the morning, really getting into the qually rhythm and finding a balance for that. That was working well.
"I felt comfortable in the car - it's important for me to feel at home, that everything is to my liking. I was really able to push it, which was cool, a good feeling.
"And then in the afternoon [I was] doing a race sim, which we managed to complete, which is a big step for us, but afterwards the car broke so still some way to go to sort out our reliability.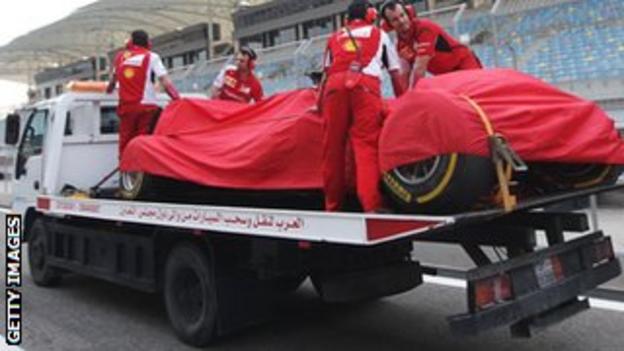 "The early races are going to be all about reliability, who can get to the end. We're looking among the best in terms of reliability but we are still in a difficult position."
Ferrari ran relatively trouble-free on Saturday following telemetry problems which restricted Raikkonen's running on Friday, but the team have not yet done any laps that give an indication of the car's absolute pace.
Raikkonen ended the day five minutes early when he crashed out - his car beached on a kerb.
The Finn's best lap time of 1:36.718 is 0.2secs slower than team-mate Fernando Alonso managed on Thursday.
"I was on a kerb and got some fairly massive wheelspin. I couldn't catch it any more and unfortunately it went directly into the wall and damaged the car," said Raikkonen.
"Things happen so I wouldn't say it's my fault. We improved the settings a lot and it's not too bad, but there's a lot of torque in the car."
Lotus, who missed the first pre-season test in Jerez last month, finally got some mileage on their new E22 with Pastor Maldonado at the wheel, with the Venezuelan completing 59 laps.
Maldonado's best time was more than eight seconds off the pace but the team were pleased with the car's performance.
Overall fastest times from second pre-season test, Bahrain 19-22 February:
1. Nico Rosberg (Ger) Mercedes one minute 33.283 seconds
2. Lewis Hamilton (GB) Mercedes 1:34.263
3. Kevin Magnussen (Den) McLaren-Mercedes 1:34.910
4. Jenson Button (GB) McLaren-Mercedes 1:34.957
5. Nico Hulkenberg (Ger) Force India-Mercedes 1:36.445
6. Fernando Alonso (Spa) Ferrari 1:36.516
7. Kimi Raikkonen (Fin) Ferrari 1:36.718
8. Felipe Massa (Brz) Williams-Mercedes 1:37.066
9. Esteban Gutierrez (Mex) Sauber-Ferrari 1:37.180
10. Valtteri Bottas (Fin) Williams-Mercedes 1:37.328
11. Sergio Perez (Mex) Force India-Mercedes 1:37.367
12. Felipe Nasr (Brz) Williams-Mercedes 1:37.569
13. Pastor Maldonado (Ven) Lotus-Renault 1:38.707
14. Daniil Kvyat (Rus) Toro Rosso-Renault 1:38.974
15. Daniel Ricciardo (Aus) Red Bull-Renault 1:39.837
16. Kamui Kobayashi (Jpn) Caterham-Renault 139.855
17. Sebastian Vettel (Ger) Red Bull-Renault 1:40.340
18. Adrian Sutil (Ger) Sauber-Ferrari 1:40.443
19. Jean-Eric Vergne (Fra) Toro Rosso-Renault 1:40.609
20. Romain Grosjean (Fra) Lotus-Renault 1:41.670
21. Marcus Ericsson (Swe) Caterham-Renault 1:42.130
22. Max Chilton (GB) Marussia-Ferrari 1:42.511
23. Robin Frijns (Ned) Caterham-Renault 1:42.534