Red Bull title a tougher challenge as Mercedes set pace in testing

By Andrew Benson
Chief F1 writer
Last updated on .From the section Formula 1212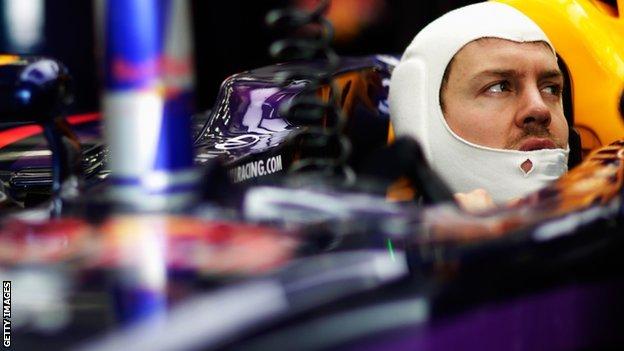 Just how much trouble are Red Bull in, exactly?
The bald facts do not look good for the world champions. After a first pre-season test last month in which they managed just 21 laps in four days, Red Bull and engine supplier Renault needed a good test in Bahrain this last week. They did not get it.
Red Bull drivers Sebastian Vettel and Daniel Ricciardo completed 116 laps between them - a vast improvement over their experience in Jerez - but that was still about a third of the mileage achieved by rivals Mercedes and Ferrari.
Reliability problems - with both the car and the Renault power-unit - continued to plague Red Bull, and when the RB10 was running it was not very fast. The team's best time of the week, set by Ricciardo, was a massive 6.554 seconds slower than the pace-setting lap of Mercedes driver Nico Rosberg.
And there are now just four days of pre-season testing remaining, in Bahrain next week, for Red Bull to learn everything they need to about their car before heading into the first race in Melbourne on 16 March. It's a tall order indeed.
That's the bad news. And it is quite bad, there is no doubt about that.
However, it is important not to get too carried away. While the general impression after two pre-season tests is that Renault in general - and Red Bull in particular - are in dire straits, it may not be as clear-cut as that.
Renault have ongoing reliability problems with their power unit; that is certain. But insiders say that in terms of performance it is looking very promising, even if it is not obvious from the lap times.
"It's where we think it should be," said a senior figure from one of Renault's lesser teams. "Reliability is a question mark, there is no doubt about that, but performance-wise, we're pretty sure it'll be there.
"We've certainly seen some very strong power figures. Of course there are problems, but we don't think they are anything they can't get on top of, and when it's working it will be fine."
Red Bull's reliability problems extend beyond their power unit. The car itself is also proving problematic.
As the team said on the final day of the test, the more running they do, the more problems they uncover.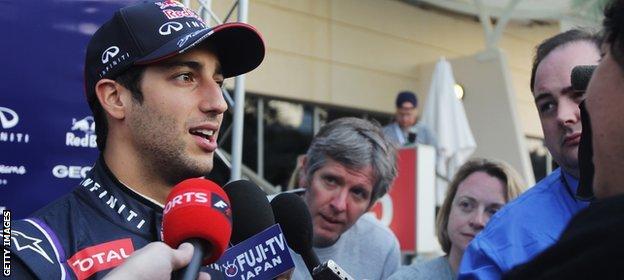 Reliability problems, though, are nothing new at Red Bull.
Their path to winning the last four World Championships has not been a smooth one. There were regular problems with various parts of the car, often caused by the desire of chief technical officer Adrian Newey to push performance to the limit, as has been the case with at least some of the current issues. But the team have proved time and again that they are capable of fixing them and winning races.
Red Bull have the biggest resources and some of the brightest brains in Formula 1. No-one in the pit-lane underestimates them, and everyone expects them to sort this out. And when they do, as one insider asked rhetorically in Bahrain: "Do you really think they've built a bad car?"
The question, however, is how long it will take before the car's performance can be properly unleashed.
Some believe that what Red Bull and Renault are experiencing is a result of a problem that runs far deeper than merely the bumpy start that is to be expected with this year's new rules. Producing such a complicated power-unit as the new 1.6-litre turbo hybrids F1 is using this year, on top of a simultaneous reworking of the aerodynamic rules, has been a problem for all the teams and manufacturers.
But there is a feeling that the model Red Bull and Renault have used for their partnership is now outdated, and that they are suffering for a lack of integration between the chassis and engine design teams - integration that both Mercedes and Ferrari have.
Compared with Mercedes and Ferrari, Renault Sport's base at Viry-Chatillon operates largely independently. To over-simplify slightly, they design the engines and then give them to their teams. That's how it worked even when Renault nominally ran its own team, the one that is now called Lotus.
There is much more cross-fertilisation at both Ferrari, whose two operations are literally both under the same roof, and Mercedes, whose aren't, but are just 30 miles apart and work very closely together.
Both have bought into the need for the car and engine to be designed as a single package under these new rules, which are by far the most complex F1 has ever had.
It's hard to see how it could be any other way, when energy-recovery is now such an integral part of both the power-unit itself and the performance of the car.
Under the previous rules, this was not the case. Engine specs had been frozen for several years, and aerodynamics came to be by far the predominant factor in determining car performance.
Red Bull exploited this with great success but, some of their rivals believe, they have focused so much on aerodynamics that they have let other areas slip - areas that are now much more important in the overall speed and reliability of the car than they were.
At the same time, the relative lack of importance of engines led to Renault downsizing its engineering team, an issue identified by Williams technical boss Pat Symonds - who has worked closely with Renault for a long time, but whose team now use Mercedes engines - as a key factor in the French company's current problems.
When Symonds's view was put to him, Renault engine boss Rob White admitted this had been "one of the challenges", although he denied it had been a "fundamental problem".
What has been seen on the track over the first eight days of pre-season testing, then, could well be the result of management decisions made two or more years ago by the various teams and companies involved as they began to assess the new regulations.
That does not mean Red Bull and Renault will not recover, but it does mean that winning again this year is likely to be a far bigger challenge than over the previous four.
The rules of the game appear to have changed, and at the moment it seems as if others have adapted better than Red Bull and Renault.
Chief among them look to be Mercedes, who are so far undoubtedly in the best shape of all the teams.
The car is generally running reliably and at a good pace - to say the least. One rival described Rosberg's fastest lap of the test on Saturday as "a (expletive) good time".
And Rosberg underlined the challenge facing Red Bull after the test when he said: "We learned a massive amount, and it's every lap - every lap you learn.
"We discovered a lot of reliability issues, which you only discover if you do a lot of laps and really push the car to the limit."
That does not necessarily mean Rosberg and team-mate Lewis Hamilton will be the dominant force come Melbourne next month, nor that they have the fastest car.
Fuel consumption under the new limit of 100kg per race has been added to the multitude of variables that already made it incredibly hard to extrapolate a genuine sense of relative performance from pre-season testing.
Nevertheless, any team that can complete two full race-distance simulations (and get not far off a third), do more laps than anyone else and set one-off lap times nearly two seconds quicker than any of their rivals, without trying that hard, has to be considered the favourite going into the season.
Much could change at the final test next week. McLaren also look in good shape, Ferrari are hard to read but seem to be keeping their powder dry for now and a Red Bull revival cannot be ruled out.
But, for now, McLaren driver Jenson Button probably summed up the state of play best.
"No-one knows who's going to be on pole in Melbourne," Button said in Bahrain, before glancing over towards Mercedes and adding: "I think I have a good idea."