F1 2014: Nico Rosberg plays down Mercedes testing success

By Andrew Benson
Chief F1 writer
Last updated on .From the section Formula 1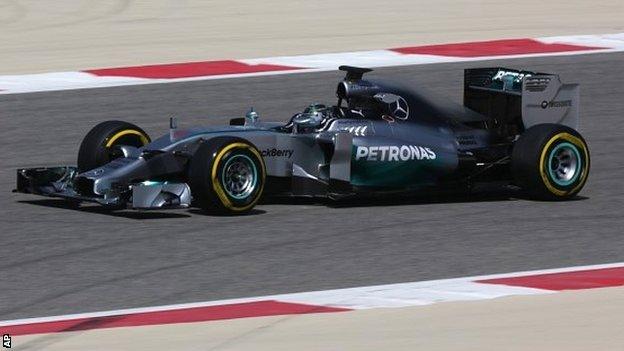 Nico Rosberg says it is "too early" to say his Mercedes team are favourites for the 2014 World Championship, despite their impressive testing form.
Rosberg and team-mate Lewis Hamilton set by far the two fastest times of the second pre-season test in Bahrain.
"The feeling is positive. We're looking quite good, even on pace, but I don't want to say more than that because I don't know myself yet," said Rosberg.
The German was 1.627 seconds quicker than the first non-Mercedes driver.
His pace-setting lap on Saturday was also nearly a second faster than the best time set by Hamilton the previous day.
But Rosberg pointed out that it was impossible to compare lap times in testing because teams were doing different programmes at different times, with the cars in different configurations.
"It's too early to say [who has the quickest car]," Rosberg explained after finishing the test on Saturday.
"Today we were doing qualifying-style practice and the other guys didn't take as much fuel out as we did, which explains the gaps.
"And it's impossible to know exactly what the other people were doing and there are so many different tyres here also."
But he admitted Mercedes had an advantage over world champions Red Bull, who have struggled with reliability in both pre-season tests and face a major challenge getting their car ready for the first race in Australia on 16 March.
"It's clear we are ahead [of Red Bull] with regard to reliability because they are struggling and we have done so many more laps than them and uncovered so many more problems, which we are now able to solve and cure, and by the time we get to Melbourne they should all be sorted, hopefully," said Rosberg.
"But the aim is to be bullet-proof by the time we get to Melbourne. But we are in a decent position compared to other people."
Rosberg said it was proving difficult to adapt to the new rules introduced by F1 this year.
The sport has introduced new 1.6-litre hybrid turbo engines and teams must complete races using no more than 100kg of fuel (about 130 litres).
The new engines have more power than the previous 2.4-litre naturally aspirated V8s but restrictions on aerodynamics mean the cars have less grip.
"The biggest challenge is all the new systems, hybrid power, there is a lot of complications in that," said Rosberg, who pointed out that Bahrain's Sakhir track was one of the most demanding in terms of fuel consumption, so has proved to be an effective circuit for testing.
"Then [there's] also the fuel saving, trying to get to the end of the race with the fuel.
"Bahrain is [one of] the most critical and it was tough out there today to get the race distance done with those 100 litres and I'm sure not only us but everyone else is struggling with that."