Williams recruit Ferrari engineer Rob Smedley

By Andrew Benson
Chief F1 writer
Last updated on .From the section Formula 1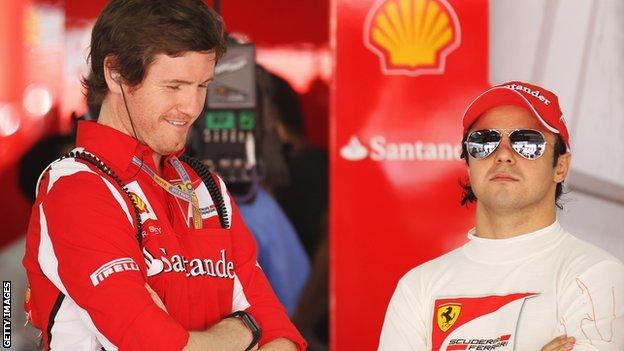 Williams have recruited Rob Smedley from Ferrari as part of an overhaul of the team's engineering department.
The 40-year-old, who has become known for his amusing radio communications with Felipe Massa, is to lead Williams's race operations.
Smedley's new role as head of vehicle performance is more senior than his position at Ferrari, who failed in an attempt to persuade him to stay.
Massa has also joined Williams from Ferrari as Valtteri Bottas' team-mate.
Smedley will officially join Williams prior to the Bahrain Grand Prix.
The Middlesbrough-born Smedley's no-nonsense, north east-accented conversations with Massa earned him a cult following among some F1 fans.
The most famous of these was Ferrari's controversial use of team orders - which were banned at the time - at the 2010 German Grand Prix.
Massa was leading from team-mate Fernando Alonso, and Ferrari wanted to swap their positions to boost the Spaniard's title chances. Smedley, who has described Massa as "like my little brother", said: "OK. So. Fernando is faster than you. Can you confirm you understood that message."
After Massa had let Alonso past, Smedley came back onto the radio and said: "OK, mate. Good lad. Just stick with him now. Sorry."
The uproar following the incident led to the rescinding of the ban on team orders, on the basis that it was unworkable.
At Williams, his role will run in parallel with that of former McLaren and Force India engineer Jakob Andreasen, who joined Williams last month as head of engineering operations.
Broadly, it is Andreasen's role to supply Smedley with the tools he needs for the team to perform at their best, and Smedley's to run the cars at the track.
Both men report to chief technical officer Pat Symonds, who was recruited last summer following the sacking of former technical director Mike Coughlan in the midst of the worst season in Williams's history.
Williams are hoping that these changes among others, including a switch from Renault to Mercedes engines, will see an upturn in their fortunes this season.
The team dominated F1 for large portions of the 1980s and '90s, but have slipped towards the back of the grid in the last few seasons.
Smedley's recruitment is the last of the major changes that Williams believe will lead to a revival and is accompanied by the arrival of Richard Lockwood, who joins from Marussia as head of race strategy.