F1 2014: Anxious Red Bull set for final pre-season test

By Andrew Benson
Chief F1 writer
Last updated on .From the section Formula 1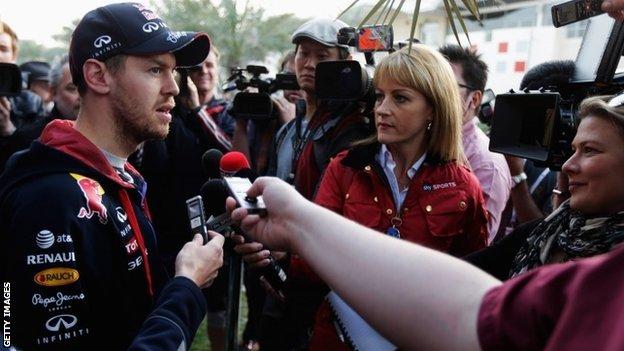 Red Bull and engine supplier Renault face a crucial four days in the final pre-season test in Bahrain.
The Red Bull car has hit a series of reliability problems and Renault's new turbo hybrid engine is lagging behind rivals Mercedes and Ferrari.
Renault has admitted it is "some weeks behind where we wanted to be".
Renault Sport deputy managing director (technical) Rob White added: "We are not back on schedule but we are moving in the right direction.
"The challenge is to improve the rate of progress, because the gap to where we wanted to be at this stage remains substantial."
Red Bull have won the drivers' and constructors' championships for the last four years, but their fastest lap at the last test in Bahrain last week was more than six seconds off the pace-setting Mercedes of Nico Rosberg. The team know they need to have a successful four days in Bahrain, from Thursday to Sunday, to have any chance of getting their preparations back on track.
Mercedes are showing both reliability and strong performance, and the German marque appears to have adapted best to the rule changes that have been introduced this season, which are the biggest for a generation.
All teams are struggling with reliability with the turbo engines and to adapt to the accompanying fuel restriction - races must be run on no more than 100kg of fuel.
Renault have not been able to run their engine at anything close to maximum power without encountering problems. Many of their issues surround the software, which is not able to make the various parts of the power unit work together effectively.
Red Bull's problems go deeper, though - they are also struggling with their car's reliability and last week they did only about a third of the mileage of rivals Mercedes and Ferrari.
Red Bull driver Daniel Ricciardo, who will conduct the first two days of the test before handing over to world champion Sebastian Vettel, said: "It was never going to be easy for the top teams nor the others.
"We'll figure it out and get on top of it. We have made progress - still not enough but we'll get there."
"Even if the first four or five races didn't go to plan and then we go and win the next 10, who cares? We want everything to go well in Melbourne and we will stay optimistic until after the race."
Ferrari also appear to have work to do at this final test.
Insiders say the Italian team's engine is lagging behind Mercedes on usable power within the fuel restriction.
Fernando Alonso, who will drive on Friday and Sunday this week with team-mate Kimi Raikkonen in the car on Thursday and Saturday, said: "We understand it better every day. We don't yet know the car properly and all the things we have available, [there are] still many things to discover and get on top of and exploit in terms of performance.
"It is going to be challenging for all the teams to be ready."