Double points plan not extended for final three races of season

By Andrew Benson
Chief F1 writer
Last updated on .From the section Formula 1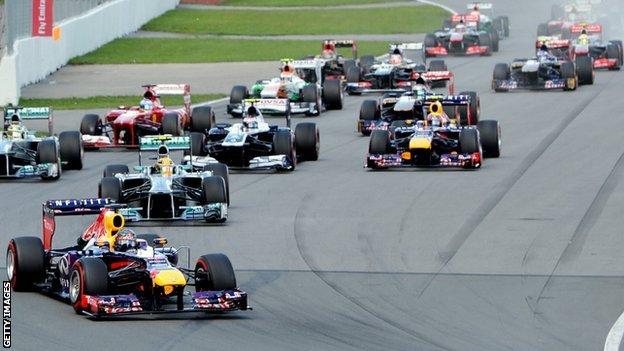 Formula 1 bosses have decided against extending the double points scheme to the final three races of the season.
Participants agreed not to reveal details, but a source close to the talks told BBC Sport that the plan was rejected.
Members needed to agree unanimously for the proposals to be passed.
The strategy group comprises Ecclestone, Jean Todt, the president of governing body the FIA, and six teams. Ecclestone and the FIA have six votes each and the teams six between them.
The introduction of double points for the final race of the season was met with uproar by fans, and most teams believe going further would be a mistake.
The group also decided not to make changes to the engine homologation rules after some teams supplied by Renault raised the idea of amendments.
Manufacturers must submit a reference engine by Friday, after which changes are allowed only on the basis of reliability, cost-saving or safety.
Renault has suffered a troubled pre-season with the new turbo hybrid engine which is required following a major rule change this season.
All four of the teams using Renault - Red Bull, Lotus, Toro Rosso and Caterham - struggled with reliability problems acompared their rivals, who use Mercedes and Ferrari engines.
Renault denied claims that it had asked for a two-month extension to the homologation deadline.
A spokeswoman said: "Renault is providing the reference power unit and appropriate supplementary material to the FIA, as per the homologation deadline.
"There is a background request from some teams for alternative proposals that regard some parts and components. However, the basic requirements of the homologation deadline will be delivered today as mandated by the FIA."