F1 2014 season: Get ready for the most dramatic start for years

By Andrew Benson
Chief F1 writer
Last updated on .From the section Formula 1253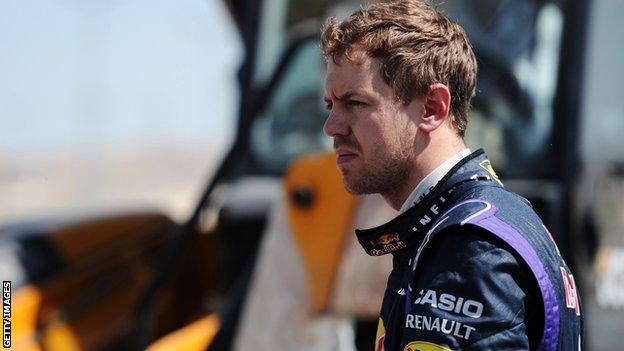 Formula 1 looks poised for a dramatic shake-up when the new season starts in Australia on 16 March.
That is the lesson from pre-season testing, which finished in Bahrain on Sunday with no obvious end in sight for the problems suffered all winter by world champions Red Bull and some surprise names looking like real front-line contenders.
Mercedes and their drivers Lewis Hamilton and Nico Rosberg remain the favourites for both the first race of the season and the Championship after a largely impressive performance over the 12 days of testing in Spain and Bahrain.
The one caveat is that reliability problems started to creep in over the final three days even at Mercedes.
The other teams who use Mercedes engines - Williams, Force India and McLaren - also look in pretty good shape, particularly Williams.
New rules for this season have introduced all-new 1.6-litre V6 turbo hybrid engines with extensive energy-recovery systems, and cars can use no more than 100kg of fuel throughout a race.
The Mercedes power-unit appears to have a significant advantage over those of Ferrari and Renault in terms of the amount of power it can produce for a given amount of fuel - a crucial element of the new F1.
It is no accident that Mercedes-powered cars set the four fastest times achieved over eight days of testing in Bahrain over the last two weeks. And it was the seven best times before Fernando Alonso finally unleashed some pace from the Ferrari on the final day.
Mercedes-powered cars have also topped the times in 11 out of the 12 test days this winter.
But it was a Williams, in the hands of former Ferrari driver Felipe Massa, that set the fastest time of all, rather than either Hamilton or Rosberg.
Headline pre-season testing times are notoriously unreliable indicators of true form, but Williams' insiders insist that their pace - which was equally impressive over longer, race-distance runs - is genuine. They were behind only Mercedes in the mileage charts, too.
As Ferrari team principal Stefano Domenicali said: "Mercedes and Williams seem to be in very good shape. That is what we have seen so far."
Williams, though, have put all their cards on the table - Massa's fastest lap was an all-out qualifying run on low fuel and the softest possible tyres.
The same is unlikely to apply to Hamilton's best lap, which was just 0.02secs slower than the Williams, albeit set the following day in different conditions. Indeed Hamilton admitted that there was "a lot more to come" from him and the car.

But even so, Williams look like being contenders close to the front in Melbourne on 15-16 March. And Force India appear not to be too far off, either.
The suspicion has to be that the factory Mercedes team have left some performance untapped, for it seems not to make sense that Williams and Force India, midfielders in 2013, can have cars of comparable pace to the team who finished second.
But even if Williams are somewhere close, they will have produced one of the great F1 revivals.
Last year was the worst in Williams' history - they scored only five points. Recognising they were in dire shape, a major overhaul of the team's engineering department has been undertaken, and already it seems to have made a big difference.
And their driver line-up of Felipe Massa and Valtteri Bottas, while not comparable to the stellar pairings of Hamilton and Rosberg or Ferrari's Fernando Alonso and Kimi Raikkonen, looks like a good blend of youth and experience.
The fourth Mercedes team, McLaren, share that with Williams, in teaming Jenson Button with Danish novice Kevin Magnussen, who has been turning heads with his obvious speed, flair and charisma.
Like Williams, McLaren have undergone major upheavals this winter, with chairman Ron Dennis staging an internal coup and ousting team principal Martin Whitmarsh following their poor season last year.
McLaren started testing brightly, but seem to have slipped backwards as time has gone by. And by the final Bahrain test this weekend Jenson Button was beginning to sound alarm bells about their performance.
"We've done some very good testing, we've been reliable, we've done some long runs, we've got a good understanding of the car," the 2009 world champion said. "But at the moment we're not quick enough."
McLaren, whose car has not changed much during testing, have a big upgrade package due for the first race, but the same will be true of all the other leading teams.
Ferrari have had a low-key winter testing programme, but the more time went on, the more it looked as if that was because they genuinely lacked a bit of pace rather than because they were trying not to show their hand.
Alonso finally got among the Mercedes-powered cars on the final day in Bahrain, with a lap of one minute 34.280 - Ferrari's first under the 1:35 barrier. But that was still a second off Hamilton's best lap, set at the same time and on the same type of tyres.
Alonso, incidentally, was 1.146secs quicker than Raikkonen overall, although as their times were set on different days and in different conditions that probably does not mean very much.
It would be unlike Ferrari to drain out all the fuel and go for what is known as a 'glory run'. So, despite the impression that they appear to be behind the Mercedes teams, especially on race pace, it would be foolish to write them off.
The concern for Ferrari seems to be largely their engine, which insiders say is some way short of the Mercedes in terms of power-for-fuel usage. Like at Mercedes, too, gremlins began to appear in the final test.
Reliability is a concern even for the team who have made that a trademark in the last decade or more.
But what of Red Bull, who have dominated F1 for the last four years?
Their winter testing programme has been nothing short of disastrous, with only similarly troubled Lotus doing fewer miles. And if the Ferrari power-unit is lacking compared to the Mercedes, the Renault appears to be even further behind at the moment, both in performance and reliability.
The Red Bull has suffered failure after failure. And while the Renault engine has been disappointing, to say the least, a fair number of those failures were Red Bull ones - including the apparent front brake failure that pitched Sebastian Vettel off the track on the final day in Bahrain.
Red Bull's longest run of the entire winter was just 20 laps - a third of a race distance - as they struggled with all manner of problems related to both the power-unit and the rear of the car.
Their best time - 2.5secs off Massa - was set by new recruit Daniel Ricciardo, but the brief promise of the Australian's running on Friday evaporated the next day when Vettel failed to complete even a single lap.
The world champion, whose best lap time in Bahrain was 4.25secs off the pace, admits the team's situation is "serious". How could he not? But Red Bull have a consolation some others don't - the car might not work yet, but it does at least appear as if it will be genuinely quick when it does.
"I'm always worried about Red Bull," Button said. "If they can put a few laps together you can see their pace. They're strong. It's a good-looking car; it looks like it should work from an aerodynamic point of view and I think when they do get reliability, if they do, they'll be very, very competitive.
"I was driving with Ricciardo for quite a few laps and he couldn't get past me on the straights. He overtook me around the outside of Turn 11 instead, which is a high-speed left-hander. I've never seen anything like that before.
"If they can complete a race distance, they'll be near the front."
At the start of a season that heralds the biggest regulation change in a generation, and the introduction of the most complex engines ever used in F1, that qualifier about reliability applies to all the teams. But to Red Bull and Lotus far more than anyone else.