Lewis Hamilton: Red Bull will still be title contenders

By Andrew Benson
Chief F1 writer
Last updated on .From the section Formula 1
Mercedes driver Lewis Hamilton expects Red Bull to be contenders this year despite a disastrous pre-season testing programme.
But Hamilton said: "They look like they have a stunning car and usually the more beautiful it is, the faster it is.
"So I'm sure they've got a pretty quick car. Once they get the engine sorted, or the systems they might be struggling with, they'll be very hard to beat."
Pre-season testing ended in Bahrain on Sunday with Hamilton, 29, setting the fastest time.
The 2008 world champion said he was hopeful Mercedes would be contenders this season, which sees the biggest rule changes in a generation with the introduction of turbo hybrid engines and a fuel limit.
"I know my team is stronger than ever so hopefully we'll be able to fight with them," Hamilton said.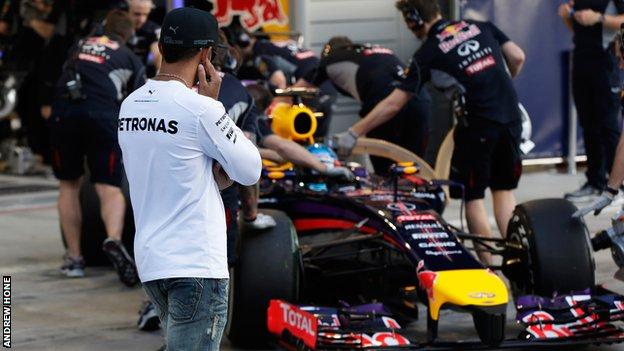 "I don't think anyone will feel ready but I am as ready as I can be.
"I'm still learning how to set the car up but I feel like I'm in a pretty good position. There is a lot more to come."
Hamilton said the new rules and the reliability problems associated with introducing such complex new engines made it difficult to predict who would start the season on top in Australia on 14-16 March.
"I definitely think we will be shooting for the top five. That's all I can really say," Hamilton said.
"It's definitely the weirdest and most difficult pre-season testing to be able to judge where everyone is.
"There's still things we're learning, things we haven't covered, there's tonnes of stuff.
"So as we go into the race weekend it will be a bit like a test on the Friday. We'll be learning and learning.
"There will be mistakes through the whole paddock I'm sure, and hopefully we'll make the least."
Red Bull have done fewer miles than any other team except Lotus - who missed the first of three pre-season tests - and have suffered a series of problems with both their car and the Renault power-train.
Red Bull driver Sebastian Vettel, who has won the last four world championships, admitted the team were not yet competitive.
"For sure we cannot do the times the guys in the top are doing for a couple of reasons," Vettel said. "But at the moment we have bigger problems to solve than just the pace."
Asked to rate his chances in Melbourne, the German, 26, said: "It's very difficult. I am not calling us the favourites, for that we haven't done enough laps and the speed is not there compared to some other teams, so we have to wait and see when we get there.
"Things will calm down if we use the two weeks we have until then and fit new parts to the car and build it to the best knowledge that we currently have."
Ferrari team principal Stefano Domenicali said he thought Mercedes and Williams, who use Mercedes engines, had looked the strongest teams in testing.
"Mercedes and Williams seem to be in very good shape," Domenicali said. "That is what we have seen so far.
"I think we have a good base and we need to develop it and make sure we solve all the things that are on the table, there is a lot of potential to be deployed or discovered.
"This is the objective our engineers have to fix as soon as possible because the points we will score at the beginning of the season will be very heavy, even if they are not double.
"There are some teams who have shown they are a little bit ahead of the others but let's wait and see when it counts."
Domenicali said he was hopeful Ferrari could compete for the championship with their all-star driver line-up of Fernando Alonso and Kimi Raikkonen.
"In such an environment where the new power-train has been introduced we have seen Mercedes acting very well so far," Domenicali said. "But they are a monster, we are smaller, and we want to show even if we are smaller we can do a fantastic job."