Schumacher, Fangio, Senna & Vettel: Can stats find the greatest?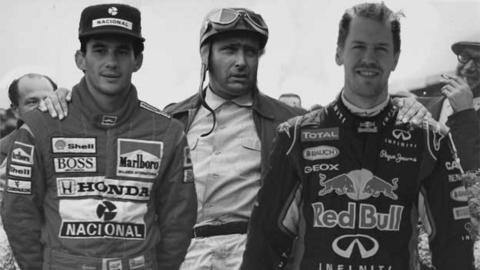 Who would top the ultimate Formula 1 league table?
BBC Sport has examined all the data from every race between 1950 and 2013 to see if the numbers can provide an answer.
We've chosen four driver-based categories - best win ratio, most points per grand prix start, all-time total number of points scored and best pole per grand prix average - and two nationality-based categories ranked by world titles and wins.
While statistics cannot tell the whole story they provide a fascinating insight into driver performance across the decades ahead of the season opener in Melbourne, Australia, on Sunday.
Five-time world champion Juan Manuel Fangio comes out on top in three of the four categories, but there are also surprise findings, such as Lewis Hamilton being 10th on the list of most points per grand prix start.
When broken down by nationality, Britain tops the tables both in terms of race victories and world championships, with Germany a close second.
For the first three tables, the current points system - 25, 18, 15, 10, 8, 6, 4, 3, 2, 1 - has been applied to every season. Only drivers with at least 20 grand prix starts have been included.
Here's the top 10 in each category, plus analysis from BBC Sport's F1 chief writer Andrew Benson and links to the complete tables.
Best win ratio
RANK
DRIVER
NATIONALITY
GP STARTS
WINS
WIN RATIO
1
Fangio J-M
ARG
51
24
A win every 2.13 races
2
Ascari A
ITA
32
13
2.46
3
Clark J
GB
72
25
2.88
4
Vettel S
GER
120
39
3.08
5
Schumacher M
GER
306
91
3.36
6
Stewart J
GB
99
27
3.67
7
Prost A
FRA
199
51
3.90
8
Senna A
BRZ
161
41
3.93
9
Moss S
GB
66
16
4.13
10
Hill D
GB
115
22
5.23
No matter how many times you hear them, Juan Manuel Fangio's Formula 1 career statistics are still gobsmacking.
Twenty-four wins in 51 races - every other race, give or take. With four different teams, over seven years. An incredible achievement. All the more so given the man did not come to Europe until he was 39.
It is no wonder that even now, 60 years after his heyday, many still regard the Argentine as the greatest racing driver that ever lived.
But this table also underlines the claim to greatness of Stirling Moss, as well as the importance of machinery in the overall statistics of F1.
Talented and determined though he was, very few experts would pick Damon Hill as one of the 10 greatest drivers in history. But there he is in 10th place, the result of spending the vast majority of his career at Williams during one of their golden eras.
Most points per grand prix start
RANK
DRIVER
NATIONALITY
GP STARTS
POINTS
POINTS AVERAGE
1
Fangio J-M
ARG
51
867
17.00
2
Ascari A
ITA
32
444
13.88
3
Vettel S
GER
120
1,641
13.68
4
Farina G
ITA
33
433
13.12
5
Schumacher M
GER
306
3,865
12.63
6
Prost A
FRA
199
2,472.5
12.43
7
Clark J
GB
72
839
11.65
8
Senna A
BRA
161
1,867.5
11.60
9
Gonzalez J-F
ARG
26
301
11.58
10
Hamilton L
GB
129
1,477
11.45
It's not surprising that this list, formulated by applying the current points system, is remarkably similar to the best-win-ratio list - there are, of course, most points for a win.
But the differences are just as interesting. Lewis Hamilton, 11th on win ratio, is there in 10th place, a reflection of the excellence of his career so far. Likewise the remarkable Sebastian Vettel is even higher in this list, the result of the superlative standards he and Red Bull have set since 2009.
And there are some interesting names on it that rarely feature in F1 'best ofs' - Nino Farina, the first world champion, and Jose Froilan Gonzalez, Ferrari's first winner. They may have been overshadowed by their brilliant 1950s contemporaries Juan Manuel Fangio and Alberto Ascari, but this underlines their quality.
Most striking of all is that Fernando Alonso, who holds the record for most career points based on the traditional scoring system, is not in the top 10 on a points-per-start ratio once all seasons are converted to the current system. He's not far off, though - just outside in 11th.
All time total number of points scored
RANK
DRIVER
NATIONALITY
GP STARTS
WINS
POINTS
1
Schumacher M
GER
306
91
3,865
2
Prost A
FRA
199
51
2,472.5
3
Alonso F
SPA
215
32
2,449
4
Raikkonen K
FIN
192
20
1,889
5
Barrichello R
BRZ
322
11
1,880
6
Senna A
BRZ
161
41
1,867.5
7
Button J
GB
247
15
1,697.5
8
Coulthard D
GB
246
13
1,694
9
Piquet N Snr
BRZ
229
23
1,647
10
Vettel S
GER
120
39
1,641
A telling list, this. Skewed to the modern era for two reasons - the better reliability of the cars and the increased number of races.
Alonso's appearance in third behind just Schumacher, whose points from the 1997 season have been included in the table despite him being stripped of his second place in the championship, and Alain Prost underlines the remarkable consistency he has shown in his career. Rubens Barrichello's fifth place is due to the record-breaking length of his time in F1.
And David Coulthard in eighth is a reminder that, although he wasn't on the level of Schumacher and Mika Hakkinen, the now ace broadcaster was a mean old pedaller himself over a long period.
Best pole per grand prix average
RANK
DRIVER
NATIONALITY
GP STARTS
POLES
POLES/ START
1
Fangio J-M
ARG
51
29
One pole every 1.76 starts
2
Clark J
GB
72
33
2.18
3
Ascari A
ITA
32
14
2.29
4
Senna A
BRZ
161
65
2.47
5
Vettel S
GER
120
45
2.67
6
Moss S
GB
66
16
4.13
7
Hamilton L
GB
129
31
4.16
8
Schumacher M
GER
306
68
4.50
9
Hill D
GB
115
20
5.75
10
Stewart J
GB
99
17
5.82
The natural reaction is to assume that Ayrton Senna would top this but of course there's that man Fangio again.
Like Jimmy Clark, the Argentine's pole-ratio record is even more remarkable than his wins, which underlines the extent to which each dominated his era.
Sebastian Vettel is the highest modern driver but Lewis Hamilton's position just a couple of places behind him despite the superiority of Vettel's equipment over the last five years underlines why Hamilton is regarded as the out-and-out fastest of his era - and one of the fastest ever.
Most world championships by nationality
RANK
NATIONALITY
TITLES
DRIVERS
1
GB
14
Stewart J (3), Hill G, Clark J (2), Hawthorn M, Surtees J, Hunt J, Mansell N, Hill D, Hamilton L, Button J (1)
2
GER
11
Schumacher M (7), Vettel S (4)
3
BRZ
8
Piquet N Snr (3), Senna A (3), Fittipaldi E (2)
4
ARG
5
Fangio J-M (5)
5=
AUS
4
Brabham J (3), Jones A (1)
5=
AUT
4
Lauda N (3), Rindt J (1)
5=
FRA
4
Prost A (4)
5=
FIN
4
Hakkinen M (2), Rosberg K (1), Raikkonen K (1)
9 =
ITA
3
Ascari A (2), Farina G (1)
10=
USA
2
Hill P (1), Andretti M (1)
10=
SPA
2
Alonso F (2)
The headline here is buried in fifth place. Britain's 14 world titles is a remarkable achievement and one to be celebrated - how many people in the street would know that?
But comfortably the most successful country, when population is taken into account, is tiny Finland.
Germany ranks highly but this mighty nation owes its position to the remarkable success of just two men. Without Michael Schumacher and Sebastian Vettel it would not feature at all.
Most wins by nationality
RANK
NATIONALITY
WINS
TOP DRIVER
DRIVER WINS
1
GB
227
Mansell N
31
2
GER
145
Schumacher M
91
3
BRZ
101
Senna A
41
4
FRA
79
Prost A
51
5
FIN
46
Hakkinen M
20
6
ITA
43
Ascari A
13
7
AUT
41
Lauda N
25
8
ARG
38
Fangio J-M
24
9
AUS
35
Brabham J
14
10
SPA
32
Alonso F
32
Britain, Germany, Brazil - no surprises in the top three. But France's position in fourth will shock anyone who came to F1 in the last 20 years and knows nothing of what preceded it.
France invented Grand Prix racing and through the 1970s and 1980s provided a long succession of top-drawer drivers, from Francois Cevert and Jean-Pierre Beltoise through Jacques Laffite, Rene Arnoux and Didier Pironi to the brilliant Alain Prost.
But then, as the money that funded their rise dried up, so did the river of talent. And then France lost its race, too. There's something not right about that. Oh, and Spain is in 10th through the efforts of just one man - Fernando Alonso.
Conclusions
One of the great lessons of this exercise is to underline the dubiousness of using only statistics to back up any argument about who is the greatest racing driver of all time.
After all, which statistics do you use?
Some argue that having the most wins automatically makes Michael Schumacher the greatest ever. But on wins-per-start ratio he is 'only' fifth, behind Juan Manuel Fangio, Alberto Ascari, Jim Clark and Sebastian Vettel.
Equally, racking up points is ultimately what win world championships, so should that list be used instead, even if that approach lacks the visceral appeal of wins?
Whichever statistics you choose, none takes into account machinery - or, to be more precise, drivers doing mesmerising things in sub-standard cars.
Many of the defining moments of F1 history have come as great drivers battled the odds in what was not the fastest car.
Statistics alone cannot explain the remarkable achievements of Gilles Villeneuve in taking two victories at twisty Monaco and Jarama in 1981 in his agricultural Ferrari, or Fernando Alonso in winning three races and almost the title in the fourth or fifth fastest car in 2012.
Statistics are an important part of an argument about the relative merits of different drivers, but they certainly cannot provide a definitive answer.
The fact is, there isn't one. And that's the fun of it.
Statistics compiled by Mike Sheppard. Correct at time of publication
For the latest Formula 1 news, follow @bbcf1 on Twitter