McLaren: Ron Dennis believes team will win races this year

By Andrew Benson
Chief F1 writer
Last updated on .From the section Formula 1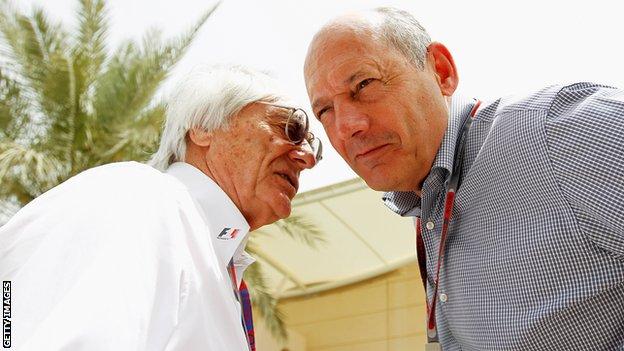 McLaren boss Ron Dennis is convinced the team will win races again this year now he is back in control.
"I believe we will win races this year," he said. "How many? I don't know. How soon? I don't know."
"If everyone matches my passion, commitment and focus, we will most definitely win."
Dennis moved into a non-executive role as chairman last year but regained executive status in January, installing himself as chief executive officer of the McLaren Group and taking responsibility for the F1 team for the first time since March 2009.
"The company was a little unfit, it needs to get fit and there is pain to getting fit," said Dennis, in his first news conference since staging the internal coup.
"Hopefully everybody has got the right mindset to understand what we expect of each other and what I expect of them.
"You've got to give people time to understand what's expected of them and if they don't get there, they won't be with the company."
Under Whitmarsh, Dennis believed the team had become "distracted" from its core focus of success in F1.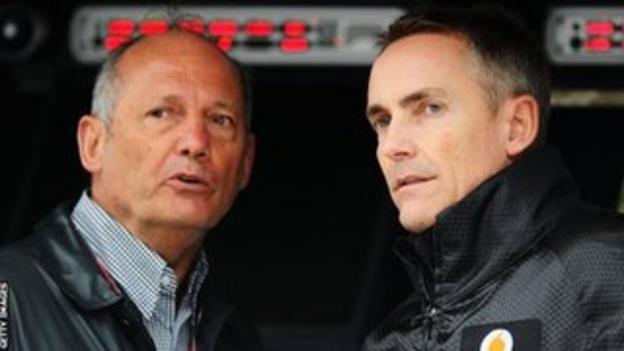 The 66-year-old took Whitmarsh's position as McLaren Group chief executive and ended the role of team principal, saying it was part of an outdated model.
But he refused to say whether Whitmarsh still held other roles within McLaren, or give any information on what the future might hold for his "friend".
McLaren have recruited former Lotus team principal Eric Boullier as racing director, essentially making him responsible for running the F1 team.
Asked how he regained control, Dennis said he made it clear to his fellow shareholders what he wanted to do at the beginning of the year.
"They had six days to decide," he said. "That was the window. On the sixth day, the decision was taken."
Dennis will attend races this year "to observe" but will not wear team kit and "won't be active at the circuit".
The Englishman praised the team's driver line-up of Jenson Button and novice Kevin Magnussen.
He described Button as "dedicated and intelligent and quick" and said Magnussen would have "an exceptional year", adding: "He has a steely determination and will keep Jenson on his toes."
Dennis also made it clear he was opposed to governing body the FIA's attempts to impose a cost cap on F1 in 2015.
He said policing a cost cap was "almost impossible", adding: "It's pie in the sky. People spend what they have. If you can't afford to be in F1, don't be in F1."
Dennis said this year's new engine regulations, which introduce new turbo hybrid technology, had produced "the most expensive engine in the history of motorsport".
He added: "The same people who took us down this path are now going down another path, saying we need to reduce costs.
"How contrary to logic is that?"