Williams admit surprise over 'competitive car' for F1 season

By Andrew Benson
Chief F1 writer
Last updated on .From the section Formula 1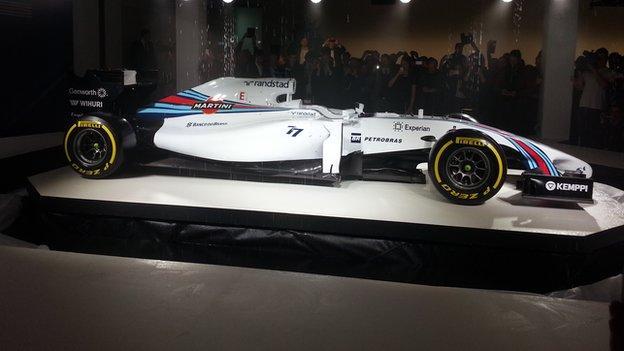 Williams admit they are "relieved" that they appear to have a competitive car in 2014.
But the car has been quick and reliable in testing and they are considered as one of the pre-season favourites.
"I'm surprised and relieved we have what's looking like a competitive car," said deputy team chief Claire Williams.
"But you have to temper that because you don't know what the other teams are doing."
Williams was talking at the launch of the team's new livery, which reflects their new title sponsorship deal with Martini.

The drinks company's white, blue and red livery is an important part of motorsport history, having been used on iconic cars such as the 1974-5 Brabham F1 car, Le Mans-winning Porsches in the 1970s and the successful Lancia rally cars of the 1980s and early 1990s.
Williams said that a significant part of their upturn in form was down to their switch to Mercedes engines.
The German company has adapted better to the rule changes governing technology that will be in place this year than rivals Ferrari and Renault.
Renault, in particular, has had a dreadful pre-season, as have its works partner Red Bull, the world champions.
But Williams also emphasised that the restructure of the team that has been completed in the last few months had also had an effect.
Last summer, Williams sacked their technical director Mike Coughlan when they realised how deep their problems lay and replaced him with a new chief technical officer, the highly experienced Pat Symonds.
Symonds and Williams have overseen an overhaul of the engineering department, also hiring a number of experienced and well-regarded engineers.
But Williams said it was impossible to say whether the team could compete for wins and podiums.
"I don't know, we'll have to wait and see," she said. "We've never come out and laid our targets out. F1 just doesn't work like that.
"We know we have done a good job over the winter and it's all about what everyone else is doing. We have to keep the momentum going and keep developing our car in order to stay on top. But to get some success would be fantastic. It would be magical.
"I think everyone will catch up. I would be gobsmacked if Red Bull did not. They are not going to be taking this lying down. They are going to be fighting. We go to Australia in a good position but we really have to take advantage of the first few races."
Williams driver Felipe Massa, recruited from Ferrari, sounded a note of caution ahead of the first race in Melbourne on 16 March.
"We may be more ready than some other teams, but I don't know how quick we are compared to other teams," the Brazilian said.