Michael Schumacher: Condition of F1 legend 'not changed'
Last updated on .From the section Formula 1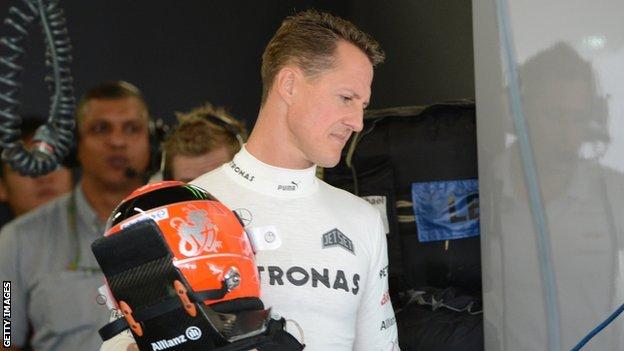 Doctors treating injured Formula 1 legend Michael Schumacher are still working to bring him out of a coma.
"Michael is still in the wake-up phase," said his manager Sabine Kehm in a statement on Friday. "The situation has not changed."
The German has been in a medically induced coma to help reduce the swelling in his brain.
Last month, Schumacher's family said they still "strongly believe" in his recovery, adding: "We are aware the wake-up phase can take a long time."
Investigators probing the accident said Schumacher had been going at the speed of "a very good skier" at the time of his crash in the resort of Meribel.
He had been skiing 8m off-piste when he fell and hit a rock, investigators said.
Experts reconstructed events leading up to the crash after examining Schumacher's skiing equipment and viewing footage filmed on a camera attached to his helmet.
Schumacher retired from racing in 2012 after a 19-year career.
He won two titles with Benetton, in 1994 and 1995, before switching to Ferrari in 1996 and going on to win five straight titles from 2000.