Lewis Hamilton: Why the 2008 champion is on track again

By Allan McNish
BBC F1 analyst
Last updated on .From the section Formula 1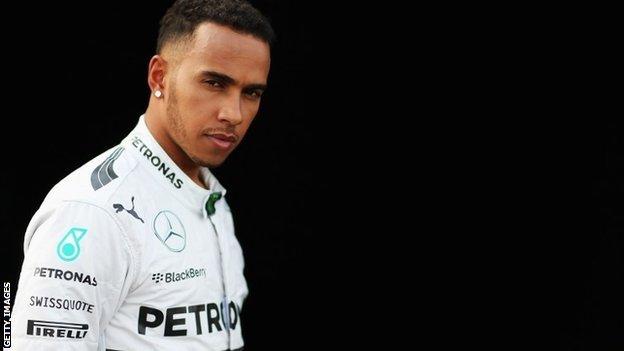 Lewis Hamilton made a dramatic Formula 1 entrance in 2007, just missing out on the title in his debut season.
The then 22-year-old made amends the following year, pipping Ferrari's Felipe Massa to the crown in what was a stunning finale in Brazil.
But, after promising so much, the 2008 triumph for McLaren remains the Englishman's only success.
Now 29 and with Mercedes, he goes into the new campaign as favourite after some impressive testing times under F1's new rules for 2014. Allan McNish, the BBC's F1 analyst, examines the attributes that make Hamilton such a formidable driver.
Talent
You're either born with talent or you're not.
I remember watching Hamilton in a Pro-Am karting event when he would have been eight or nine years old. He simply stood out from the rest. Why? Because he knew how to race.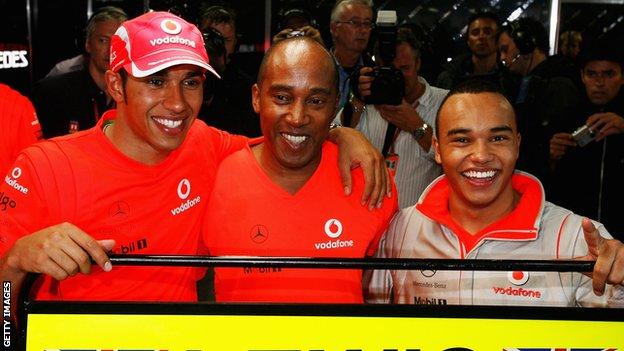 He was just quicker than anyone else. There were other kids there who were racing karts but he was different because he knew exactly what he was doing.
Every turn of the wheel was instinctive. He didn't have anyone telling him what lines to take or how to approach the race in terms of strategy. He would just go out and do it.
His career followed a familiar pattern. He would enter a racing series, spend the first season learning, then dominate the championship the following year to win the title.
He repeated that all the way into Formula 1. In 2007, when he made his debut for McLaren, he seized his chance. He was fresh, confident and could absorb pressure.
He proved more than a match for team-mate Fernando Alonso, the reigning double world champion, and came close to winning the title.
In the end he lost out to Kimi Raikkonen by a single point.
Attitude
Hamilton never gives up. He is like a British bulldog, always getting stuck in.
I remember when I saw him compete in his second Monaco Grand Prix in 2008. He was caught out by the tricky conditions and tapped the barrier coming out of Tabac corner.
He suffered a puncture as a result and everyone thought that was his race over. But he came into the pits, changed tyres and got straight back on the attack, winning the race from Robert Kubica in the BMW Sauber.
It is that ability to salvage a lost cause that makes him different. He wants to win and feels that nothing is ever impossible.
I don't think there is a driver on the grid who is faster over one lap. He carries a lot more speed into corners than other drivers.
Sometimes, it looks like he is going to have an accident, that he's overdriving and on the very edge of control, but that is his style, that's his comfort zone.
Technical know-how
I think Lewis accepts he has to focus more than ever on developing his working relationship with the team because of the big regulation changes that have come in this year.
It is no longer enough for him to rely on his instincts and talent alone. Mercedes team-mate Nico Rosberg is very much a thinking driver and gets more out of the team around him. Hamilton needs to follow suit.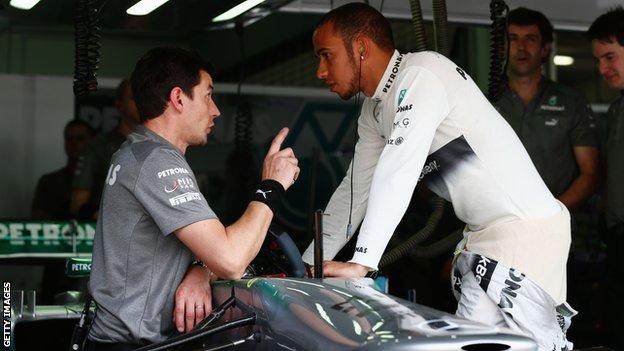 His time at McLaren shows he can get a team and a car working for him, but he needs to replicate that at Mercedes.
Can he do it? During the final test in Bahrain last month, the last two drivers in the paddock were Rosberg and Hamilton.
Even when he wasn't out on the track, Hamilton was listening and speaking to his engineers, trying to understand the car better. He appears to have stepped up to the mark.
Focus
Hamilton's life away from the track has been a major source of interest for the media, especially his relationship with pop singer Nicole Scherzinger.
In the past, he has often turned up for a Grand Prix and been quizzed about the parties he has gone to rather than his hopes for that particular race.
He has been very visual on social media over the last two years too, letting people know what he has been up to, whether it is spending time in music studios or travelling the world.
For any sportsman, not just an F1 driver, it is about getting the balance right between work and play. It is important to channel your energy and use it wisely.
The 2011 season was a particularly difficult year for Hamilton. His McLaren was struggling for performance while Hamilton himself was making mistakes.
He had numerous clashes with Felipe Massa on track when racing in the midfield and spoke out after feeling he was being singled out by the stewards following a number of penalties for on-track incidents.
He was getting frustrated. Everyone was getting on his back when he did not produce the goods, and the situation snowballed.
It also came in the season following his decision not to be managed by his father Anthony any longer. It helps when your family gives you the determination to fight through the difficult times as a racing driver.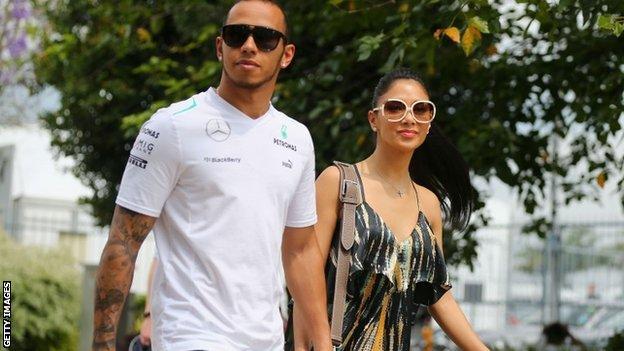 So I think it is positive that Hamilton has since made up with his father. I can understand that a young driver would want to break away, be his own person and do things his own way.
But he now appears to have put the past behind him and he has also matured and grown as a person and as a driver as a result of the experience. He seems to understand how important it is to have your family there.
His father, mother and brother attend more races than they have done, just as they did when he first came into F1.
They are a constant presence in his life and I think that's hugely important. No-one knows you better than your parents.
Confidence
When Hamilton is feeling good about himself, he is unbelievable and can do anything. When he is down, that is when things slip from his grasp.
Mercedes need to make sure they create an environment when he is 'up' all the time. If they do that, then he can add a second title.
Lewis is driven to win. You can tell that by the way he reacts in certain situations, such as when he felt the stewards were punishing him unfairly over the course of a series of races in 2011 which was impacting on his championship challenge, and by the way he drives - he's always on the edge.
Sometimes he has gone over the edge and pushed it too far but that is because he is so focused on winning. An example would be in 2009 when he crashed on the last lap of the Italian Grand Prix as he tried to chase down Jenson Button.
When he is out on the track, racing is the only thing that matters. It's black and white for him. He either wins or he loses.
His desire to be successful was one of the reasons he made the move to Mercedes.
He had outgrown McLaren, the team that had nurtured him, and wanted to become his own person. The decision he took demonstrates he is not afraid to make big decisions.
Physical strength
Drivers need to cope with huge demands on their bodies.
They must be able to cope with forces of up to 5G when cornering and need to be strong enough to last a race distance. At 29, I would say Hamilton is at his peak physically.
Aside from the gym work, he keeps fit by hiking, water skiing, wakeboarding and jet skiing. All those sports are great for your core stability as well as your arms and legs.
The need to be strong was drummed into Hamilton from a very early age by McLaren. Ron Dennis, who was his mentor, said that he did not just want a driver who could do a bit of running, he wanted a pure athlete.
Being physically strong allows a driver to be more focused mentally. The brain definitely benefits from a fit body.
This season, Hamilton will need that extra brain power to cope and control all the new changes that have come in.