Are Fernando Alonso and Kimi Raikkonen a Ferrari dream team?

By David Coulthard
BBC F1 co-commentator
Last updated on .From the section Formula 1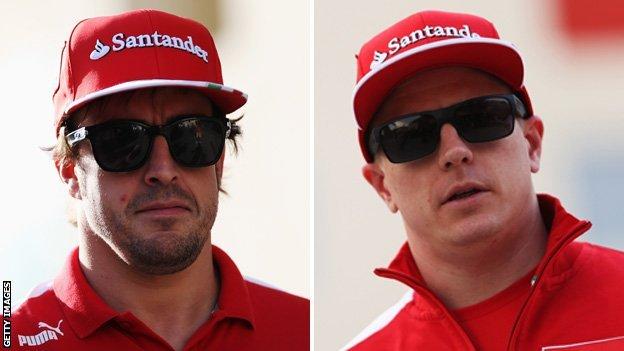 Ferrari's decision to team Kimi Raikkonen with Fernando Alonso is a brave one but has already created excitement and interest in the new season.
Teams usually like to keep the big beasts of the Formula 1 jungle apart because of the potential for disharmony.
Think Alain Prost against Ayrton Senna and Alonso and Lewis Hamilton at McLaren or Nigel Mansell versus Nelson Piquet at Williams.
But the decision of Italian car giants Ferrari to field two former world champions in the same team at least gives fans of Formula 1 the chance to see how two of the stand-out drivers of the last decade measure up against each other in what will be near-identical cars.

A HISTORY LESSON, PART I
Spaniard Alonso has talent, speed, confidence, knowledge of the team and he speaks Italian. Finn Raikkonen, who is returning for a second spell at Ferrari four years after leaving at the end of 2009, has all that apart from the language skills.
What Raikkonen has that Alonso does not is a "turn up, drive the car and go home" attitude. He does his best, accepts it for what it is, and moves on.
Historically, being the acknowledged lead driver in a team has been more important to Alonso. For Raikkonen, as long as he feels he is being given a fair opportunity, he will plough his own furrow. But that should not be mistaken for a lack of motivation, focus and determination.
The common link between the two until now has been Felipe Massa, who was Raikkonen's team-mate at Ferrari from 2007 to 2009, then Alonso's from 2010 to 2013.
There is no doubt Alonso out-performed Massa much more comprehensively than Raikkonen did. On balance, in their two-and-a-half seasons as team-mates, Raikkonen and Massa were evenly matched.
Alonso, by contrast, very quickly established himself as the number one at Ferrari when he arrived there in 2010 and pretty much dominated the Brazilian throughout their four years together.
Massa did have a better qualifying record against Alonso last year than he had had before, but Alonso was far more convincing in races.
STRENGTHS AND WEAKNESSES
At this stage, it is impossible to judge who has the most talent. What we do know is that they are both exceptionally gifted.
Easier to judge is their application and attitude.
When I was team-mates with Raikkonen at McLaren from 2002 to 2004, he was either asleep in the back of the truck or driving very quickly. There was nothing in between. Fair play to him for having the talent to do that and still be as competitive as he was.
He might not sleep as much now as he did back then, but his fundamental approach is the same: drive the car, do as quick a debrief with the engineers as possible and go home. Everything else is a waste of time and energy, as far as he is concerned.
The Alonso I know, both as a rival and former colleague at the Grand Prix Drivers' Association, has more application.
In the end, sport is only about the results, not how you get them. But if I was to put my house on one of them right now, I'd bet on Alonso for a number of reasons.
For example, if I was asked to decide which driver was more likely to say he'd had enough midway through the season and walk away, like Niki Lauda or James Hunt, I'd pick Raikkonen.
Looking at their careers so far, I would expect Alonso, who has been incredibly consistent for several years, to come out on top over the course of a season. If he does not, that goes against what I and the majority of people probably think.

WILL THERE BE FIREWORKS?
A lot of people will expect there to be some kind of explosion, just as there was when Senna was teamed up with Prost and Mansell raced alongside Piquet. I think that's unlikely.
Ferrari are very good at providing drivers with the same opportunities and machinery. If they avoid favouring one over the other as far as equipment is concerned, then there is less chance of any fallout.
But there is still the potential for fireworks if a driver is given a strategic advantage over the other in races.
Raikkonen, in his second spell in F1 after a two-year break to pursue other challenges, will not stick around at Ferrari if they mess with him. The same goes for Alonso. And Ferrari would only go down that path if they wanted one of them out.
The 34-year-old's personality will also be a factor. Raikkonen is an uncomplicated individual and uninterested in annoying his team-mates. If he feels something did not go his way, he will tell the team, he will tell the media, then he will go home and move on.
Because Raikkonen does not give a stuff about anything anyone else does, it would be pointless for Alonso to try to get under his skin. It just wouldn't work. The duo will also be wise to any attempts by the media to drive a wedge between them.
They are both old enough, wealthy enough and confident enough in their abilities not to be fazed if the other guy is quicker in a qualifying session.

A HISTORY LESSON, PART II
The only time in Alonso's career that a team-mate has been a match for him was in 2007, when he was joined at McLaren by Lewis Hamilton. That season did not go well for the Spaniard.
Alonso's relationship with the team deteriorated to the point that he almost brought it to its knees by threatening to reveal incriminating information about the 'spy-gate' scandal to the governing body.
The two drivers tied on points at the end of the season but lost out to Raikkonen in the championship.
Alonso or Hamilton really should have won. They didn't and Alonso quit the team just a year into a three-year contract. The 32-year-old returned to Renault, agreeing to drive a less competitive car so he could be in a happier place.
Some people suggest that demonstrates Alonso's inability to handle a competitive team-mate. But the truth of the matter is that he felt the team - particularly boss Ron Dennis - had let him down.
The Alonso of 2014 is at a very different stage of his life and career than the one of 2007. And if he was able to re-live that season, I bet he would behave differently.
He is older and wiser. He has been married and divorced. He has been seven years without winning a championship.
With the passing of time, you don't sweat the little stuff. You unload your ammunition when it makes a difference.
When it comes to F1, Alonso now knows you never choose happiness over performance. That's because performance gives you the ultimate high of winning. Every driver craves that, the Spaniard more than most.

IS THE FERRARI GOOD ENOUGH?
The potential flashpoint could centre on the car. If it is not good enough again - consigning Alonso to a fifth year with Ferrari without a title - then that could pose more problems than any rivalry between the drivers.
Even then, as long as Alonso is beating Raikkonen and getting the lion's share of the results, he will be fine.
He will be able to convince himself he is still a brilliant racing driver and will point the finger of blame at the team if he does not win the title.
If Ferrari provide another bad car and he is getting beaten by Raikkonen on a regular basis, then it might be a different story.
But I don't expect that to happen.
Details for BBC coverage of the 2014 F1 season
For the latest Formula 1 news, follow @bbcf1