Australian GP 'an absolutely fascinating sporting contest'
Last updated on .From the section Formula 1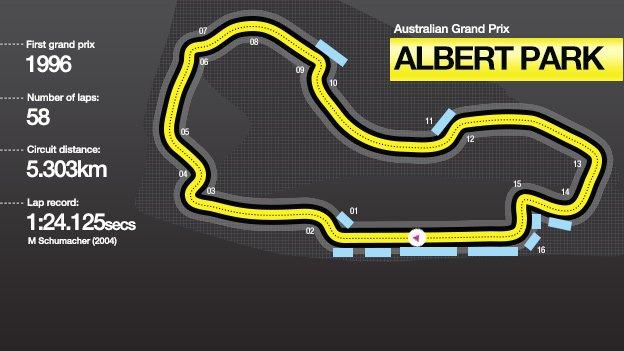 The 2014 Formula 1 season is just days away, yet the major new rule changes have already had a telling impact.
World champion Sebastian Vettel, unbeaten on the track since July, and his Red Bull team have had a torrid time in testing.
Is the Formula 1 king about to be dethroned? The answer could become clearer at the Australian Grand Prix this week.
The track
Albert Park is popular with the drivers, but more for the atmosphere than the difficulty of the track. The circuit is fast, but not overly challenging with overtaking opportunities rare because there are few proper straights.
The 5.303km track is not used outside of the Australian Grand Prix, meaning it is extremely slippery on Friday in particular, before grip levels improve over the course of the weekend.
Turn Three often proves to be the trickiest for drivers, with the tight right-hander coming after a long straight, meaning late braking can result in a trip to the gravel. That said, good driving here can open up probably the best chances to overtake.

The venue
With the Melbourne cityscape as its backdrop, this palm tree-lined street circuit, which circles the man-made Albert Park lake is a popular venue for fans and drivers alike.
Given its glamorous location, and the fact it starts the season, the Australian Grand Prix is a popular destination for celebrities, and the paddock on race day is often filled with famous faces.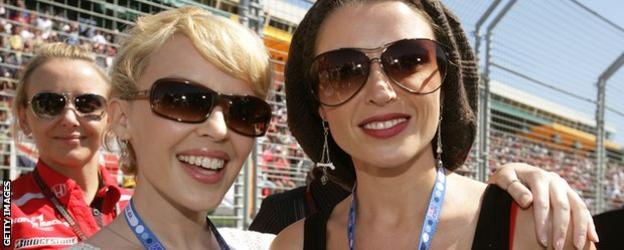 What the drivers say...
Mercedes driver Lewis Hamilton: "I think we're as ready as we can be for Melbourne and I'm more fired up than ever. With all the changes within the sport, and the hard work that's been going on within the team, I believe this can be our year to really show what we're capable of. That's not to take anything away from our opposition, who will be incredibly tough to beat as always, but I feel like I'm equipped with the tools I need to succeed. I can't wait to get started."
McLaren driver Jenson Button: "I think this year's Australian Grand Prix is going to be an absolutely fascinating sporting contest. Even with stable regulations, Melbourne is usually unpredictable. This year, I don't think anybody knows quite what to expect - will we see more than half the field at the end of the race? Will we see good, close racing? Will the pecking order pan out as we expect? Those are all questions that we've yet to see answered, and part of what makes for such a fun weekend."
Sauber driver Esteban Gutierrez: "It's quite special to be back in Melbourne, as this is where I had my Formula 1 debut last year. Now we are returning to Albert Park, and it's a new era for Formula 1. This is an opportunity for everyone, and it's my role to extract the most out of the tools I'm given by the team."
Force India's Nico Hulkenberg: "It's been three races in Melbourne and I've still not completed a racing lap! They say bad luck comes in groups of three so hopefully attempt number four will work out better! The car has come a long way since Jerez. We made steps at each test and I think we made very good use of the time we had available."
Marussia driver Max Chilton: "There have been some very positive signs in testing, which lead us to believe that we can have a good season. Until we get through the first race, it's difficult to expand on that, but the performance is there and we haven't even scratched the surface yet."
Caterham driver Kamui Kobayashi: "We start the season in Melbourne and I'm excited about getting back to racing F1 cars again! Last time I raced in Melbourne [in 2012 with Sauber] I was sixth and, while I don't think that's a realistic target for us this year, I think the race will be very interesting. There could be reliability problems for lots of teams, us as well obviously, but by the end of the tests our reliability was OK, certainly better than a few other teams, and that could be very important on Sunday in Melbourne."
A classic Australian GP
Just like this year, the 2009 race was the first after some significant rule changes, providing an air of uncertainty.
Britain's Jenson Button claimed his first victory of a world championship-winning season - all the more remarkable given, just one month earlier, he had faced the prospect of leaving the sport following Honda's departure.
He was given a second chance when Ross Brawn took over the team, reforming it as Brawn GP, just days before the season began.
Expectations were low for a team that had spent the previous two years near to the back of the grid, but impressive performances in testing meant they arrived in Melbourne as contenders - and Button duly delivered.
After comfortably securing pole position, he was rarely challenged throughout the race and went on to win at a canter, with team-mate Rubens Barrichello finishing second to complete a remarkable turnaround for the team.
For the latest Formula 1 news, follow @bbcf1 on Twitter.