Australian GP: Lewis Hamilton unsure of what to expect in 2014

By Andrew Benson
Chief F1 writer in Melbourne
Last updated on .From the section Formula 1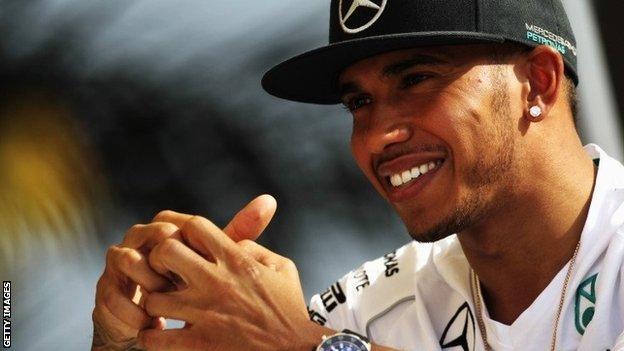 Lewis Hamilton says the new Formula 1 season is the most unpredictable of his career so far.
The Mercedes driver and 2008 world champion is the favourite to win the season-opening race in Australia but says he has no idea how he will fare.
"You had a better idea of where you would be in previous years," he said.
"All the media are talking us up - favourite driver, favourite team. I just don't know what's going to happen this weekend."
F1 has introduced its biggest set of rule changes for a generation, with the advent of high-tech turbo hybrid engines that are restricted by a fuel limit as well as significant changes to the cars.
Hamilton admitted that Mercedes were in a good position after completing the most mileage of any team in pre-season testing and setting competitive-looking times.
But he stopped short of saying this was his best chance of winning the title since his championship-winning season six years ago.
"A lot of people are asking that," he said. "We'll have better understanding after this first race.
"Last year in testing the car felt good but we didn't really know where we were. Red Bull looked a little stronger. This year we have done the most mileage and seem to be as quick as anyone.
"So it appears we have one of the strongest packages but you don't know who is going to go the distance, who is going to come out with the better strategy. It is going to be really tough."
World champions Red Bull have suffered a disastrous pre-season testing programme plagued by unreliability and are apparently struggling for performance, especially from their Renault engine.
But Hamilton said it would be foolish to write them off after winning four consecutive world championship doubles with Sebastian Vettel.
"It looks like Red Bull have a great car," Hamilton said. "Maybe not the engine package just yet but they did a really good run in the second to last day of testing that looked really competitive."
Asked if it was fair to say that Red Bull would find it hard to win a fifth title, Vettel replied: "It's not fair to. It's a long year.
"Our preparation hasn't been ideal. We are not in the best position for this race but it is a different situation when we talk about the championship."
Ferrari's Fernando Alonso, runner-up to Vettel in three of the last four years, said he did not know whether his team would be able to fight at the front.
"It's very difficult to tell how competitive we are at the moment," the Spaniard said.
"The cars in F1 this year are a little complex for everyone and we are learning and developing the car every day we work on it."