Formula 1: Wind of change swirls in Melbourne air ahead of opener

By Andrew Benson
Chief F1 writer
Last updated on .From the section Formula 1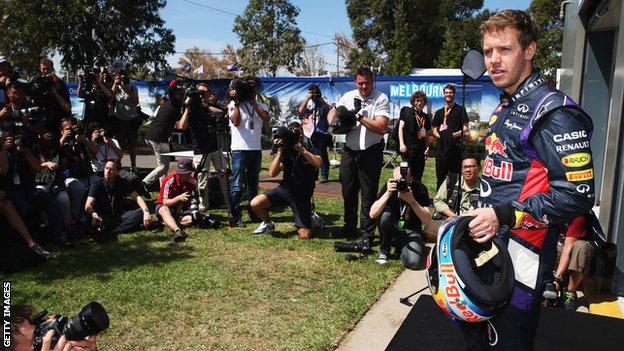 A cool breeze tempered the bright autumn sunshine in Melbourne's Albert Park on Thursday as the Formula 1 teams assembled for the first race of a hotly anticipated new season; it was hard to escape the impression it was the wind of change blowing through the sport.
That breeze has been more chill for some than others.
The Australian Grand Prix comes with the promise of a new competitive order, unfamiliar names at the front and an end to the bullet-proof reliability that has come to characterise F1 in the modern age.
If those sound like welcome changes after four years of Red Bull domination, the world champions themselves would not agree.
Sebastian Vettel and his team are doing their best to play it down, but the team know that F1 2014-style will be a painful experience for them, at least initially.
Vettel admitted Red Bull's "preparation hasn't been ideal". What he meant was that an appalling winter testing programme, littered with reliability problems with car and engine, has left them badly underprepared for a season in which F1 is introducing the biggest set of rule changes for a generation.
Some of that is down to Red Bull themselves. The new car is gorgeous to look at but design chief Adrian Newey's pursuit of aerodynamic perfection appears to have led to a series of failures over the winter. It remains to be seen how well they have solved these in the two weeks since the last pre-season test in Bahrain.
But the main reason for Red Bull's struggles has been their engine supplier. Renault's attempts to build a 1.6-litre V6 turbo hybrid 'power-unit' to the most complex engine formula ever used in F1 have fallen well short of those of rivals Mercedes and, to a lesser extent, Ferrari.
Not only has the engine and its associated energy-recovery system been unreliable, but it also appears to be severely lacking in performance compared to Mercedes.
Judging by winter testing, it is questionable whether any Renault-powered car will be able to make it to the end of the race. And the French company's two best teams - Red Bull and Lotus - have had comfortably the worst pre-season of any.

One senior figure with in-depth knowledge of Renault's situation predicted this weekend would be "ugly" for the French manufacturer.
The Mercedes engine is producing much more power for a given amount of fuel - the crucial ingredient in F1 this year following the introduction of a maximum limit of 100kg of fuel for a race. It has been lasting much longer, too.
Red Bull's car, all the drivers who have watched it on track agree, may well still be the class of the field in terms of aerodynamic downforce. But under this new set of rules engine performance is expected to be the dominant factor in performance, initially at least.
As the engine specifications are frozen for the year, in theory Red Bull are facing a season in the midfield. In practice, the rules allow manufacturers to apply to make changes on grounds of "cost-saving, reliability and safety". These are a backdoor way of making performance upgrades, and all three engine builders will be trying to exploit them to the limit.
That is just one of several potential areas of controversy this season. There will doubtless be more as the season develops, and perhaps already this weekend. But so also will there be the joy of novelty and surprise.
Fresh from the worst season in their history in 2013, Williams have made a dramatic step forward, only part of which can be attributed to switching from Renault to Mercedes engines.
The new car appears genuinely competitive and they and their unheralded but extremely talented driver Valtteri Bottas could be in line for a sensational start to the season.
The Finn's team-mate Felipe Massa set the fastest overall lap time in the two final tests in Bahrain but the word is that it was Bottas who was the more impressive of the two, and by a considerable margin.
"We have a good feeling," Bottas said. "We've seen the car is reliable, good quality, well built and quite quick.
"We have made some good progress as a team. What's unknown is how much quicker everyone else can go."
Williams showed their true absolute pace in testing and they doubt Mercedes did the same. So they don't believe they can out-qualify the factory Mercedes cars of Lewis Hamilton and Nico Rosberg here. But over a race distance Williams could be a real threat. What a turnaround that would be.
Of the other Mercedes teams, the impression so far is that Force India are in better shape than McLaren, although that may be because McLaren saved their upgrade package for this weekend.
What is certain is that there has been a distinct change in atmosphere at McLaren.
Ron Dennis's pre-season coup, in which he reinstalled himself as head of the F1 team, has ended the convivial, approachable vibe that existed under the now-banished former team principal Martin Whitmarsh.
It has been replaced with an atmosphere Dennis would describe as more focused but which others say looks very much like the obstructive, prickly McLaren of old. It remains to be seen how much difference that makes to their on-track performance.
The smart money ahead of the weekend is on Hamilton and Rosberg's Mercedes being the team to beat, perhaps even dominating, Williams pushing them closest and Ferrari maybe getting in amongst the Mercedes-powered cars.
The Italian team, whose driver Fernando Alonso is desperate to win an elusive third title after coming so close in 2010 and 2012, admit they "do not start the season as favourites".
"We believe," a spokesman said, "the Mercedes-powered teams - first and foremost the works team - are ahead. How far ahead needs to be confirmed on the track this weekend."
Ferrari appear to have decent one-lap pace for qualifying but may well struggle compared to Mercedes and its customers on fuel usage over a race distance.
But that is not to say that would necessarily set the tone for the season.
"If we happen to look good in Australia," Mercedes co-team boss Paddy Lowe says, "that doesn't mean much because it will be a very dynamic season in terms of people's progress."
And if Renault can get on top of their engine issues, no-one expects Red Bull to be down for long - least of all their lead driver.
"We're a strong team," Vettel said. "We have a lot of good people on board, we have strong resources so I'm confident we should progress as the season goes on."
In the official news conference, Vettel sat centre-stage flanked by Hamilton and Alonso, their locations a reflection of their finishing positions in last year's championship and also their status as the acknowledged three best drivers in the world.

Alonso, his face portraying an even more glowering intensity than usual, said: "It's very difficult to tell how competitive we are at the moment.
"We will know some answers in 24-48 hours. The cars we have this year are a little complex for everyone and we are learning and developing them every day we work on it.
"It is a little bit unknown for everybody. We just need to put everything together and see where we are."