Lewis Hamilton and Nico Rosberg prepare to renew childhood rivalry

By Andrew Benson
Chief F1 writer in Melbourne
Last updated on .From the section Formula 1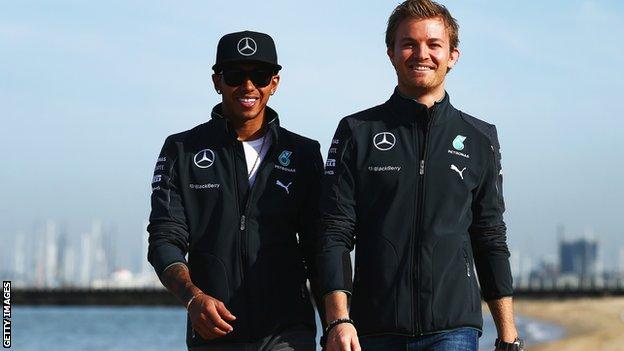 Lewis Hamilton laughs as he tells a story about the first time he and Mercedes team-mate Nico Rosberg saw each other this year.
They had spent their winter training to get in the best possible physical shape for the long, hard season ahead - as usual - but this year there was an added dimension.
Teams are struggling to get their cars, with their complicated new turbo hybrid engines, down to the minimum weight limit. As any extra weight means a performance penalty, the onus is on the drivers to be as light as possible.
"We got back to the team, I hadn't seen Nico for ages, and everyone was interested to see how much weight we'd lost," Hamilton says.
"I said, 'So Nico, how much weight have you lost?' And he was like: 'I'm not saying.'
"That's exactly how he reacted. No lie. And I'm like: 'Really? You're going to get in the car in a couple of days and we're going to find out.' 'I don't even know.' 'You liar!'
"That is how the competition is. So I didn't tell him either."
The competition between Hamilton and Rosberg goes back a long way - to their childhood, in fact, when they were teenage team-mates in the same karting team. But it is about to step up a level in intensity. It already has, in fact, as Hamilton's anecdote makes clear.
Back in their karting days, Hamilton beat Rosberg to win the championship they were competing in, and if the pre-season indications are correct they could be in a similar situation again in Formula 1 this season.
Hamilton has always said that his reason for joining Mercedes last year was that he felt they would give him the best chance of winning the title under the new rules in 2014. So it appears to have turned out.
After an impressive testing programme in which they have proved to be not only faster than their rivals but also more reliable, Mercedes are hot favourites to win the season-opener in Melbourne this weekend - and also the World Championship.
Of the two Mercedes drivers, Hamilton has the bigger reputation, and far more impressive record - 22 wins and a World Championship to Rosberg's three race victories.
But within the sport there is a sizeable proportion of people tipping Rosberg to beat him.
The German, a year younger than Hamilton at 28, may not have his team-mate's star quality or global fame - yet - but Hamilton knows he underestimates him at his peril.
The Englishman came out on top last season, his first with Mercedes, but by the slender margin of 18 points, and Rosberg won two races to Hamilton's one.
One of the German's wins was at the British Grand Prix, a race Hamilton was leading comfortably until he suffered a tyre failure. But the threat Rosberg poses to Hamilton's hopes of adding a second world title to the one he won with McLaren in 2008 is clear.
This is Rosberg's ninth season in F1, but only now is he beginning to earn the respect his talent has deserved from the start.
Christened "Britney" by his first team-mate Mark Webber, on account of his blonde hair and boy-band good looks, the difficulty for F1's Leonardo Di Caprio lookalike was that it was always difficult to assess his ultimate potential.
Pipped by Webber in his debut season at Williams, Rosberg then had a succession of journeymen team-mates. And even when he joined Mercedes in 2010 as partner to the returning Michael Schumacher and started beating him, the general perception was that the great man was past his peak.
The doubts remained until Hamilton joined Mercedes and still Rosberg held his own. Hamilton out-qualified him 11 times in 19 races last season.
Few doubt Hamilton's credentials as the out-and-out fastest driver in F1 - least of all Hamilton, who considers only Ferrari's Fernando Alonso to be on his level.
"Having the edge on Nico; everyone expects that," Hamilton said at one point last year. "It doesn't make any difference to me at the moment, especially as I'm not getting the most out of the car. When I get the most out of the car, then it will be a lot easier."
But success in F1 is about more than pure speed, and that is the case more this year than for some time.

The introduction of a fuel-limit along with the new engines will mean drivers will have to think their way through races more than in the past.
As they juggle trying to make 100kg of fuel - a third less than last year - last for nearly 200 miles, finding ways to drive quickly but as efficiently as possible will be key.
And Rosberg is an especially cerebral racing driver. Well-educated and fluent in five languages, he was on the verge of going to university to study engineering before his driving career took off.
His father is the 1982 world champion Keke Rosberg, who was known for his exciting, dramatic driving style, the most flamboyant of his day.
It is actually Hamilton whose driving bears more resemblance to Rosberg senior; his son races with a more understated stylishness. But while his driving lacks the drama of Hamilton's, he is still deceptively fast.
Rosberg brings a studiousness to his driving more in keeping with one of his father's team-mates - Alain Prost.
The French four-time world champion was known as "The Professor" for his analytical approach to driving. Rosberg, meanwhile, is described by his race engineer Tony Ross as "the cleverest driver I've worked with in terms of the educational side" and "the very opposite of lazy".
Any suggestion that Rosberg is the more "technical" of the Mercedes team-mates, however, irks Hamilton.
He might have the public image of a driver who relies on blinding natural talent rather than intelligence to achieve his success, but Hamilton is far better at setting up his car and working with engineers than many believe. Getting the better of Rosberg in this area, though, will not be easy.
Rosberg is well aware he will often be out-qualified by his team-mate. But like the Englishman's previous team-mate, Jenson Button, he works hard at finding other ways to beat him.
"It is always going to be tough against him," Rosberg says. "He is very quick, but that is what I really enjoy about the sport - these challenges."
The two Mercedes team-mates' shared past means they are friends, but with limits.
Rosberg admits the competitiveness between them is high, and that he expects that occasionally things may get "heated" - but return to normal afterwards. Hamilton says he expects their relationship to stay the same as it always has.
But it would be no surprise if things became more heated if they are staging a private battle for the title this year.
It is the sort of scenario that tends to lead to trouble in F1. Two team-mates, evenly matched, both gunning for the biggest prize of all.
Hamilton has already won one battle - the stand-off over their weights.
"It turns out I'm a little bit lighter than him, which is good," Hamilton says. "And the funny thing is I have got to a weight now where I can start eating again. So the other day I told Nico what I had for dinner the previous night and he was like, 'Man, I can't eat anything.'"
But how will the one on the track turn out?
Hamilton did a photo shoot for a magazine earlier this month in which he is squaring up to the camera, throwing boxing moves, looking not unlike a young Muhammad Ali.
In terms of the relationship with Rosberg both on and off the track, the metaphor may turn out to be not that far off.