Australian GP: Fernando Alonso top, Lewis Hamilton breaks down

By Andrew Benson
Chief F1 writer in Melbourne
Last updated on .From the section Formula 1
Ferrari's Fernando Alonso was a surprise pace-setter in the first practice session of the new season as Lewis Hamilton hit trouble.
Alonso was more than half a second quicker than McLaren's Jenson Button as pre-season favourite Hamilton's Mercedes broke down on his first serious lap.
World champion Sebastian Vettel, who had a disastrous pre-season, was seventh fastest after just 10 laps in the Red Bull.
The German's car failed on its way into the pits towards the end of the session.
Finn Valtteri Bottas, tipped to compete at the front for Williams this weekend, was third fastest, ahead of team-mate Felipe Massa, Vettel's team-mate Daniel Ricciardo and the second Mercedes of Nico Rosberg.
There were five different cars in the top six, all covered by less than 0.8 seconds.
Vettel was 0.953secs off Alonso's pace-setting lap of one minute 31.840 seconds - a smaller margin than some had expected after Red Bull's testing programme was hit by a series of problems.
The German appeared to have suffered an overheating problem - distortion to his car's bodywork was visible after the team ran down the pit lane to push the car out of sight into the FIA's scrutineering garage.
His team-mate Daniel Ricciardo had a less troubled session, completing 26 laps on his way to fifth fastest time.
Red Bull's reliability concerns are clearly not over, but BBC F1 analyst Allan McNish said: "On balance, that was an encouraging session for Red Bull. I think they will be a bit more comfortable than they were 24 hours ago."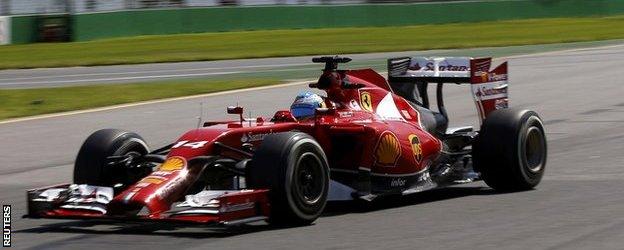 McNish added: "Testing has been a reasonable guide to form but it looks a little more open than we expected."
Alonso 0.517secs quicker than Button, who was 0.046secs clear of Bottas.
The Spaniard's team-mate Kimi Raikkonen was ninth fastest, behind McLaren's Kevin Magnussen and 1.007secs slower than Alonso.
Hamilton's car shut itself down at the start of his first run after an oil-pressure alarm was activated.
It meant he had to sit out the session, a significant blow to his preparation for the first race of a season that heralds the introduction of the biggest rule changes for decades.
F1 has introduced revolutionary high-tech turbo hybrid engines, and races will be governed by a fuel limit - cars can use no more than 100kg of fuel over a grand prix.
It means the experience of watching the cars out on track has changed.
The new engines are much quieter than the 2.4-litre V8 engines they replace, and have a lower, more muscular sound.
With restricted aerodynamics, the cars are more skittish in the corners and the drivers can be seen to be fighting to manage the increased power and torque of the new engines.
And each of the three engines being used - Mercedes, Ferrari and Renault - sounds different.
The second practice session begins at 05:30 GMT, with commentary on 5 live sports extra and online.
Full Australian Grand Prix first practice results