Lewis Hamilton expecting tough Australian Grand Prix for Mercedes

By Andrew Benson
Chief F1 writer in Melbourne
Last updated on .From the section Formula 1
Lewis Hamilton is expecting a tough race after taking pole position for the season-opening Australian Grand Prix.
Hamilton starts ahead of Red Bull's Daniel Ricciardo and Mercedes team-mate Nico Rosberg in the first race with new engines and a fuel restriction.
Hamilton said: "The race is to finish. We have done race simulations in testing but they haven't been easy.
"It's going to be a challenge for fuel, for tyres. It's a learning process. By no means is it going to be easy."
Hamilton starts the season as favourite to win the race and the world championship, but said there was great uncertainty about what would happen as F1 embarks on a new era using highly complex new turbo hybrid engines and with drivers restricted to 100kg of fuel for the race.
"We don't know what's going to happen," he said. "Obviously we want to win. We are going into it with the focus of trying to win. Of course it would be a dream to get a one-two for the team.
"But it's just about trying to get that first race under the belt as good as we can get it and just get to the end of the race. We're going to learn a lot about fuel saving and all those things."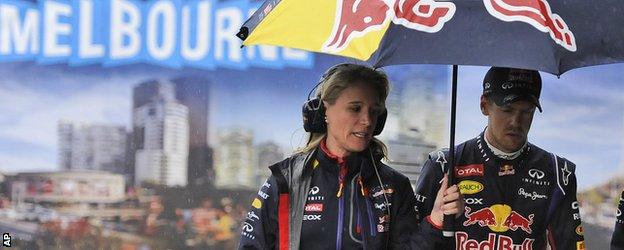 Red Bull have been impressively reliable and fast in Melbourne after a trouble-hit pre-season programme, although world champion Sebastian Vettel starts 12th after problems with his engine's computer control systems in qualifying.
"They were very competitive on one of their long runs [in winter testing] so we definitely can't rule them out," Hamilton said.
Mercedes appear to have a pace advantage over the field and the race is expected to devolve into a battle between Hamilton and team-mate Nico Rosberg.
The team have pledged to let their drivers race, although they have held detailed discussions about circumstances under which team orders could potentially be used.
Mercedes co-team boss Toto Wolff said: "They are completely free to race. We have had some discussions about it. I don't think this is going to be an issue."
Rosberg said: "The main thing is to have a clear picture of what's going on. But I can tell you now there will be battles between Lewis and me.
"That's important, for the TV, for us as a team. That's racing. That's what we're here for. But within certain limits.
"Of course you can't go crazy as team-mates. We're both here racing for Mercedes. We're both here to have great success for Mercedes and help bring them to the front of F1.
"At the same time we want to go racing, have a good time and do some exciting stuff on track.
"So you need to find the fine line. We have done so, we have prepared for it, we've gone through it in detail so we know what to expect and that's the most important thing."
Ricciardo said the race would be a journey into the unknown for Red Bull as they have so far not completed anything like a race distance run with their 2014 car.
"Each lap we do in the race we are going to understand more and more how we're looking," he said.
McLaren's Kevin Magnussen starts fourth for his first grand prix, with Ferrari's Fernando Alonso in fifth.
The Spanish double world champion said he did not know whether he would be in a position to battle for a podium finish.
Vettel said: "It's a long race and we don't know what the [weather] conditions will be like, but there are plenty of opportunities in the race.
"We've never done a race distance in one go. We know the car is quick and we will try to finish as high as possible, but priority number one is to finish the race."
Full Australian Grand Prix qualifying results