Australian GP: Fernando Alonso unhappy with Ferrari car

By Andrew Benson
Chief F1 writer in Melbourne
Last updated on .From the section Formula 1
Fernando Alonso admitted Ferrari were "not happy" with their performance after finishing fifth in the Australian Grand Prix.
The Spaniard finished 35 seconds behind race-winner Nico Rosberg's Mercedes.
"We need to improve," said Alonso, who has been runner-up in three of the last four world championships.
"We learned a lot but even if we are happy to finish and get these points, we are not happy with the gap to Rosberg and we need to improve."
But he said it was too early to say that he would not be able to battle for the championship this season - and he pointed out that likely rivals Lewis Hamilton of Mercedes and Red Bull's Sebastian Vettel had both failed to score after retiring.
"It is just the first race of the championship," Alonso said. "No-one can say who will win the championship after just the first race or who will lose it.
"We need to be calm, to do better next time and just to try to understand the areas to improve and the areas we seem strong.
"Mercedes looked very strong in winter testing and they were very strong here and they won the race because they deserve. They are a little bit ahead of everyone.
"We need to improve and reduce that gap to minimum and hopefully finish in front of them and finish the race.
"Mercedes are very strong but we have 10 points more than Hamilton with a very strong car. And 10 more than Vettel."
Alonso and team-mate Kimi Raikkonen, who finished eighth, had problems with their energy-recovery systems but Alonso said they had not affected his finishing position behind Red Bull's Daniel Ricciardo and the McLarens of Kevin Magnussen and Jenson Button.
"We need to look at the start, the first stint, when the electric part of the car was not working perfectly," Alonso said.
"These first races will give us a good input on what are the areas we need to improve.
"I would like to win the first race and be on the podium but today it was not possible, but I think we did a solid race. We need to keep on scoring points until we are a little bit faster."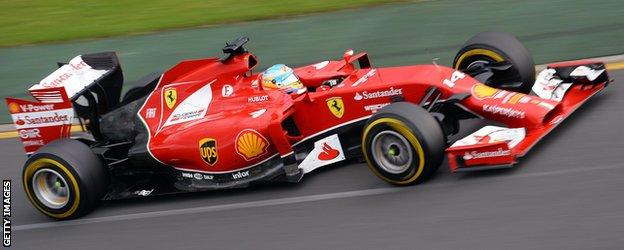 Raikkonen lagged behind Alonso all weekend, struggling to feel confident with the behaviour of the car.
The Finn said: "It is not the easiest thing but I'm sure we will find a solution for it at some point. We work until we fix it. If it takes a week or a month, I don't care. This is how it goes sometimes.
"We know more or less what we want to do. Things do not happen overnight, to produce certain parts or ways to do things, we cannot promise it will fix things once we get what we want, we can hope it will work. Sometimes it takes a while.
"It is not the most easiest position right now but we still got something out. It could have been worse, we can only get better from here."
Ferrari team boss Stefano Domenicali said: "We know we are behind. We need to concentrate on trying to speed up the work. There are still 18 races to go. It was a very disappointing race.
"We did not take away the maximum from our performance but realistically we have seen Mercedes too strong, no doubt.
"We have a lot of things to do. We need to solve the problems."
Full Australian Grand Prix race results