Australian GP: Ricciardo 'should not feel too down over expulsion'

By David Coulthard
BBC F1 co-commentator
Last updated on .From the section Formula 1
Daniel Ricciardo was still wearing his trademark broad, white smile as he sat eating with the Red Bull mechanics waiting for a stewards' verdict that he must have known could well mean his disqualification from the Australian Grand Prix.
That is indeed what the officials decided to do after his Red Bull was found to have been using a fuel-flow rate beyond that which is permitted under Formula 1's new regulations.
While the Australian awaits the results of his team's appeal against that exclusion, Ricciardo will not be feeling too down.
Of course he will be disappointed at losing 18 points, but the positives of the weekend outweigh the negatives for him.
In his first race for Red Bull's senior team, Ricciardo fully justified the decision to promote him from Toro Rosso.
Red Bull chose to give Ricciardo his chance rather than pursue the idea of signing either Fernando Alonso or Kimi Raikkonen, two of the biggest names in the sport.
Ricciardo repaid them in Melbourne with a flawless weekend.
He was close to team leader and four-time world champion Sebastian Vettel on pace in Friday practice. He took full advantage of wet conditions that flattered the car's performance deficit to Mercedes to qualify an excellent second. And he drove an impeccable race to lead home everyone bar the dominant Mercedes of Nico Rosberg.
To put the icing on the cake, Ricciardo was able to bask in the adoration of his home fans on the podium, giving them a new darling in the first race following the retirement from F1 of their previous hero Mark Webber, whose seat Ricciardo has filled.
That counts as a good weekend's work, whether or not his performance is ultimately found, following Red Bull's appeal, to have been assisted by using too much fuel.
All in all, the Australian Grand Prix was a good start to F1's new era of turbo hybrid engines, a maximum fuel limit in the race of 100kg and a fuel-flow rate limited to 100kg per hour.
The new turbo hybrid engines are immensely complicated and I predicted only half the field would finish. That didn't happen. I predicted the race result would be a lot more dependent on the car-engine package than it was.
Clearly the Mercedes delivers more power more efficiently than their rivals and they pretty much ran away with the race.
The Mercedes is clearly a good chassis, but I'm sure a lot of their performance advantage is to do with the power-unit.
Following Ricciardo's disqualification, Mercedes-engined cars filled the top three places. And out of the top, six only Alonso's Ferrari was not powered by a Mercedes engine.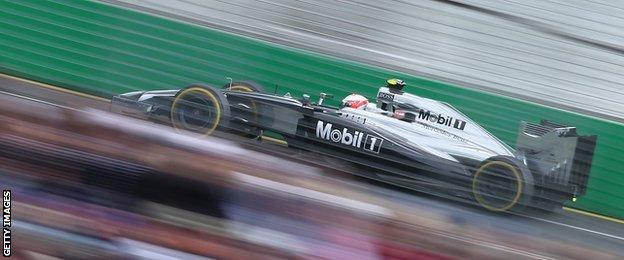 OK, the Mercedes finished 25 seconds ahead of a McLaren using the same engine. But we should remember that Mercedes finished second in the world championship last year having won three grands prix and for the first half of the season being the fastest car in qualifying. McLaren's car was nowhere near that level, and clearly still is not.
As a whole, the race was a great reminder that F1 is about finding technical solutions to engineering challenges.
These new engines are ground-breaking technology. We are familiar with hybrid cars that recover energy to charge batteries from which it is then reapplied as power - but not to the capacity used by these engines within the weight and packaging of a modern F1 car.
That is what makes F1 unique and why these new engines will help road-car development.
Mercedes can be caught, but it will not be easy. History shows that anyone who racks up a lot of points in the first part of the season tends to be very difficult to beat to the world championship.
Mercedes are in that position on merit and it's for the others to work up to them, in the same way Mercedes had to work hard in the last few years to try to catch Red Bull.
So gold star number one goes to Mercedes - how many more can they get through the season?
Lewis Hamilton will be disappointed not to have finished but there is a long way to go in the championship and it could easily have been Rosberg's car that had the problem.
Before Ricciardo's disqualification, Red Bull were Mercedes' closest rivals.
They and engine partner Renault have made impressive strides in the three weeks since the end of their troubled pre-season testing programme.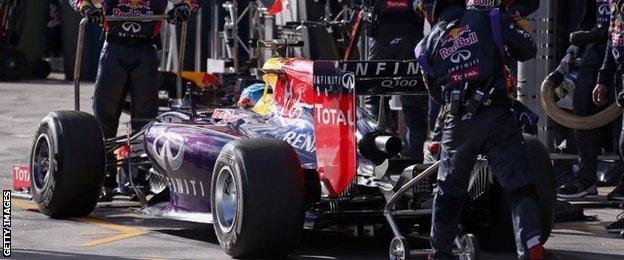 But the problems suffered by Ricciardo's team-mate Sebastian Vettel proved Red Bull still have some way to go.
Engine software problems left the world champion down in 13th place after qualifying and he retired after four laps of the race with a broken cylinder.
Vettel betrayed some frustration on the radio at the start of the race as the problems started to emerge but a driver not frustrated when things are not going well is not competitive. And Vettel is certainly competitive.
That sort of thing is what drives a team forward and every member of that team should be frustrated by the difficulties they are facing.
All the same, Red Bull have reason to be satisfied with the progress they have made since testing and Ricciardo has shown himself to be a very worthy replacement for Webber.
Elsewhere, Kevin Magnussen produced a flawless performance in the McLaren and fellow rookie Daniil Kvyat was also impressive in the Toro Rosso. The future of F1 seems to be in great hands.
David Coulthard was talking to BBC Sport's Andrew Benson.