Formula 1: New engines good for F1 - Rosberg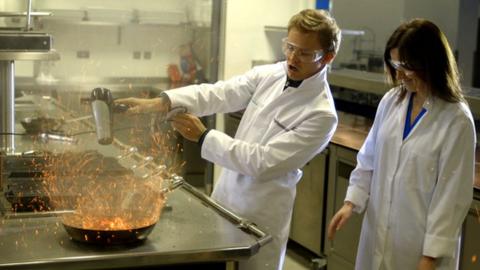 Mercedes driver Nico Rosberg has defended Formula 1's new format in the wake of criticisms of the spectacle and the sound of the new engines.
F1 boss Bernie Ecclestone has said the new turbo hybrid engines, governed by a fuel limit, are too quiet.
Rosberg, who won the season's first race, said: "It's been all good for F1. It's changed around the pecking order.
"That's definitely good for everybody because the same guy winning [so much] last year, we needed a change to that."
But Red Bull's world champion Sebastian Vettel, who won the last nine races of the 2013 season on the way to his fourth consecutive title, echoed Ecclestone's criticisms.
The German, who retired in Australia two weeks ago and is close to Ecclestone, used a derogatory swear word in describing the sound produced by the V6 turbo engines, and added: "I was on the pit wall during the race, and it is quieter than in a bar!
"For the fans it is not good. F1 has to be spectacular - and the sound is one of the most important things.
"I remember when, although I don't remember much because I was six years old, we went to see the cars live in free practice in Germany, and the one thing I remember was the sound.
"I remember how loud the cars were, and feeling the cars through the ground as it was vibrating. It is a shame we don't have that any more."
Rosberg's team-mate Lewis Hamilton, who was on pole position in Australia before retiring with engine problems, said the extra power and torque of the new power-units made the 2014 cars rewarding to drive.
"It's OK," Hamilton said. "It's not special like it used to be, but it's a lot of power, so it's special in other ways."
Ferrari's Fernando Alonso, a two-time world champion, said it was too soon to judge the new rules.
"This is a very uncomfortable matter to speak about because if I say I like it, I will be criticised because this is not F1 any more for most of the fans; if I say I don't like it, the fans criticise because I say I only like it when I win," the Spaniard said.
"We need to give the races a little more time.
"I understand the disappointment of the Australia race from the fans' point of view, because the race was not probably as we thought.
"There was a lot of talk before the race about how exciting will be the new F1, how many cars will finish, will it be none, and what will they do then?
"When 15 cars finish and there were not many problems and not much overtaking; people were not expecting that."
Alonso added that this weekend's Malaysian Grand Prix could just as easily produce a "fantastic" race, influenced by the tropical rainstorms that often affect the Sepang track.
And McLaren's Jenson Button says that if some drivers were unhappy with the rule changes then they should consider leaving F1.
"Go and race something else if you are not happy. As drivers we don't have an opinion of where the cars are in terms of sound and feel.
"When you cross the finish line first you have won a grand prix. You don't care what it sounds like or what it looks like.
"You have beaten the best in the world and that is all you care about."
Rosberg said he expected his Mercedes team to continue to be the team to beat this weekend.
"The chances are that we will be right at the front because it seems that we have a bit of an advantage over the other people," Rosberg said.
"Of course Melbourne is not a benchmark, as a race, so we need to be a bit cautious with that but I think we're looking good, so for sure it will be possible to do a great result again here."