Red Bull's Christian Horner critical of fuel-flow sensors

By Andrew Benson
Chief F1 writer
Last updated on .From the section Formula 1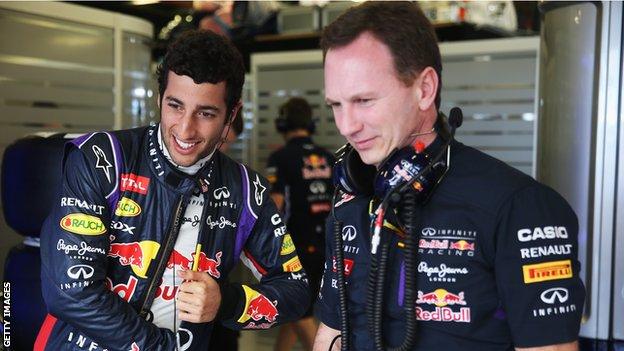 Red Bull team boss Christian Horner says that the fuel-flow sensors at the heart of the new Formula 1 are "not good enough".
Horner has appealed against the decision and said governing body the FIA needs a better way to police rules.
But the FIA insisted the sensors were the best technology available.
F1 has introduced new turbo hybrid engines this year with two fuel restrictions - a maximum of 100kg for a race distance and a maximum fuel flow of 100kg per hour.
Red Bull were warned during the Australian race that Ricciardo's car was exceeding the fuel-flow limit but they believed the sensor was faulty and chose to ignore it and run the engine off their own readings.
Horner insists the team complied with the limit at all times. The appeal will be heard on 14 April.
At the Malaysian Grand Prix on Friday Horner questioned whether the sensors were an appropriate way of measuring fuel flow.
"We need to work with the FIA to find a better solution," he said, "because there's too much hanging on it.
"There is so much invested in a grand prix and for a sensor [reading] to drift, move around and fail, that's not good enough for this level of motorsport."
The FIA contends that the sensor was not drifting and that its reading was accurate.
Fabrice Lom, the FIA's head of engine performance, said the governing body was "working to improve the sensors", but insisted they were the best solution available.
Horner also said fuel-flow formula limit should be abandoned, leaving only the maximum amount of fuel for the race as a restriction.
"We need a better way of measuring and monitoring the fuel flow, or say you get rid of it and you have 100 kilograms for the race and that's it," Horner said.
"Personally, I think it would be easier to get rid of it."
Lom said it would be "very dangerous" to abandon the fuel-flow formula. He said it would lead to teams running levels of turbo boost - and therefore power and speed differentials between cars - that varied too greatly during a race as they sought the best tactical approach to a grand prix distance.
In a separate interview with BBC Sport, Horner suggested F1 could adopt the approach used in civil aviation, which he said uses three sensors and takes an average.
Renault's engine has a deficit to that of rivals Mercedes on power per unit of fuel - it produces its power less efficiently, and Horner has admitted Red Bull are losing "a second a lap on the straights" as a result.
The FIA has a procedure in place to measure fuel flow if a sensor proves to be faulty, using readings from the engine's inlet valves in combination with an offset supplied by the FIA based on the readings from the engine and the sensor up to that point. All the other teams complied with its guidelines in Melbourne even if the sensor readings varied.
The concept of a fuel flow is central to the new engine rules, which were adopted to make F1 more attractive to road-car manufacturers.
Switching from the old 2.4-litre naturally-aspirated V8s ensured Renault, Red Bull's engine manufacturer, remained in F1 and has attracted Honda back to the sport from next season.
Technical experts added that the fuel-flow restriction was central to the principle of a formula founded on efficiency.
They said fuel-flow rate was as critical a parameter for turbo-charged engines as cubic capacity for atmospheric engines and that it was not the trivial thing it has been made out to be. They added there was an issue of sporting equity to be considered as engines have been and are being developed to the fuel-flow rate.