Malaysian GP: Ferrari will improve - Fernando Alonso

By Andrew Benson
Chief F1 writer
Last updated on .From the section Formula 1
Fernando Alonso insists his Ferrari team "will improve" despite being outpaced by rivals Mercedes and Red Bull in the first two races this year.
The Spaniard finished fourth for the second consecutive time this season in Malaysia on Sunday.
"It is not the perfect start to the championship but the team is doing a massive effort to catch up," he said.
"We will improve, that's for sure. We are analysing the areas we need to improve. They seem very clear to us."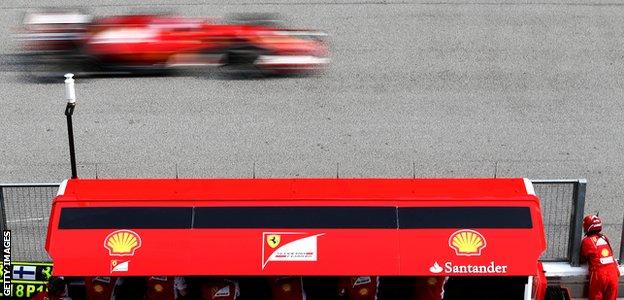 The Ferrari has good performance in high-speed corners but its engine is uncompetitive compared to the Mercedes, which can produce much more power per unit of fuel, the key measurement of performance under F1's new efficiency-focused rules.
The Ferrari car is also lagging behind the Red Bull in areas such as traction.
"I felt slow all the race, to be honest," added Alonso. "I felt not competitive enough. I was not fast enough in the first stint to compete with the guys in front, and I was not comfortable with the balance and the brakes. It was a little bit of a nightmare out there."
Despite the problems, Alonso's consistency and Ferrari's reliability means the 32-year-old double world champion is third in the championship, only one point behind Malaysian Grand Prix winner Lewis Hamilton of Mercedes.
Hamilton's team-mate Nico Rosberg is 18 points ahead after adding second place in Malaysia to his victory in Australia, while Red Bull's Sebastian Vettel is seventh after scoring his first points with third place on Sunday.
"Looking at the performance we have in these two races we have one point less than Hamilton and nine points more than Vettel is the less negative thing from these two races," said Alonso, who finished second in the championship behind Vettel in three of the last four years, twice taking the battle to the last race of the season.
"We have a strong car with no mechanical problems so we could finish both races and score some strong points. We know we miss a little bit of performance at the moment compared to the top guys. I was not quick enough to follow Mercedes and Red Bull. We need to improve."
He insisted Ferrari were less far behind Mercedes in Malaysia than they had been in Australia because the flowing nature of the circuit better suited their car.
Ferrari team principal Stefano Domenicali said: "I don't think the gap with Red Bull was so big.
"We were suffering with the hard tyres, the drivers were struggling with traction and did not feel the car as they wanted.
"With Mercedes I see a big gap but with the others we are close. It is not easy to solve but I am asking my engineers to put in place a plan to close it.
"I think the car has improved but not enough."