Red Bull boss defends Sebastian Vettel's criticism of engines

By Andrew Benson
Chief F1 writer
Last updated on .From the section Formula 1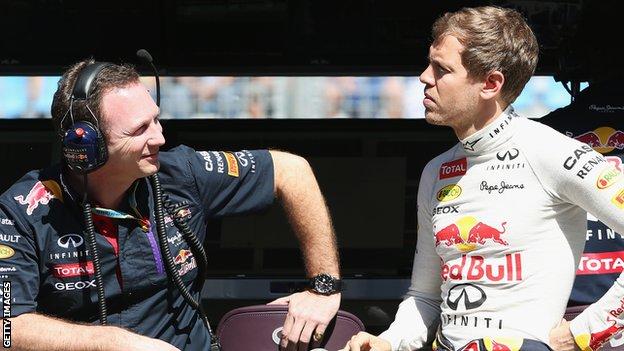 Red Bull team boss Christian Horner has defended Sebastian Vettel after the driver swore when criticising the sound of Formula 1's new engines.
Horner said that he had not been contacted by Jean Todt, president of governing body the FIA, who is reported to be unhappy about Vettel's remarks.
"No-one's spoken to me about it over the weekend. He should be applauded for saying what he thinks," Horner said.
The FIA denied Todt had warned Vettel about using bad language in public.
However, the Frenchman wrote to all drivers in November 2012 warning them not to swear in media interviews, after both Vettel and Kimi Raikkonen did so live on television on the podium after that year's Abu Dhabi Grand Prix.
In Malaysia at the weekend, Vettel used a four-letter word to describe the sound of the new V6 turbos, complaining they were too quiet.
Horner added: "We live in quite a politically-correct world but part of Red Bull's philosophy, which has sometimes been quite uncomfortable, is to allow the drivers freedom of expression.
"Sebastian has expressed his opinion and I don't think anyone would blame a driver for making an opinion. He's not alone. There are different opinions and he's entitled to his."
The F1 regulations contain a catch-all clause forbidding drivers from "bringing the sport into disrepute" which could potentially be used by Todt in such circumstances if he wanted to punish someone.
This was a tactic used regularly by his predecessor Max Mosley to prevent drivers offering critical opinions on issues in F1.
Vettel's view that the sound of the new turbo hybrid engines, which is quieter than last year's naturally aspirated V8s, has removed some of the appeal of F1 is one shared by F1 boss Bernie Ecclestone, to whom the world champion is close.
But Ecclestone heard the new engines in person for the first time in Malaysia this weekend and admitted they were "better than I thought".
On Friday, he told BBC Sport that he had made inquiries with the teams about making the engines louder, adding: "You'll have to ask the engineers. I've asked them and they've said no."
But on Saturday he reversed his position, saying: "They're working on it and I think we're going to get it done."