Lewis Hamilton's Malaysian GP win reveals his technical prowess

By Andrew Benson
Chief F1 writer
Last updated on .From the section Formula 1553
Lewis Hamilton put in as close to a perfect performance as it is possible to get in winning the Malaysian Grand Prix.
It was not just a victory; it was a demolition - and not just of all his rival teams either. Hamilton was in a different league even from his Mercedes team-mate Nico Rosberg.
More than a second clear of the German in wet qualifying. Two seconds clear after one lap; a further 1.2secs in front the next time around. By then, the race for the lead - such as it had ever been - was over.
From there, Hamilton concentrated on consolidating his position and conserving the car, but still he pulled away by chunks of a second every lap.
He underlined his superiority with three laps to go, when he set a fastest lap which at the time was 1.5secs quicker than anyone else. Rosberg set his own next time around - but was 0.894secs slower.
The result was exactly what Hamilton needed after retiring in Australia two weeks ago while Rosberg won.
That had given the German an immediate 25-point lead over Hamilton in a championship that already looks likely to be a contest between the two Mercedes drivers, even if Red Bull and Ferrari still harbour hopes they can get Sebastian Vettel and Fernando Alonso up there with them.
The question of how Mercedes will handle this situation, giving the team every chance to win the championship while also allowing their drivers to race each other, has been a hot one since before the start of the season and events further down the field in Malaysia were a reminder of how sensitive such things can be.
Williams ordered Felipe Massa to let team-mate Valtteri Bottas by in the closing stages so he could have a go at passing Jenson Button's McLaren for sixth place.
It was a logical enough call - Bottas had fresher tyres than both and Massa was nursing an overheating engine - but it went down predictably badly with the Brazilian, who is fresh from four years of playing back-up to Alonso at Ferrari.
The expressions on both men's faces, and the discomfort at the team, after the race made it clear all was not well at Williams.
And that was over seventh and eighth places. Imagine how much more potentially toxic that sort of situation would be with a World Championship at stake.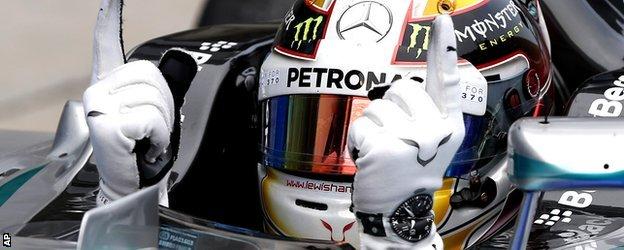 Mercedes are aware of the issue. "The same could happen to us," non-executive chairman Niki Lauda said. "We have two drivers fighting with no team orders, but we might have the same problem soon."
The last thing Hamilton needed in Malaysia, then, was to finish behind Rosberg, or not finish at all, and see that points gap grow. He knew he needed to beat him, which given the performance of the Mercedes car at the moment realistically meant winning the race.
But if he felt any pressure, he did a good job of disguising it in public. Relaxed and calm all weekend in his media duties, when the issue of the championship and Rosberg's advantage was raised he deftly dodged it.
Perhaps the most striking aspect of Hamilton's victory, though, was the subtleties involved in it.
F1 in 2014 is a more technically challenging sport than ever before. The new efficiency formula and turbo hybrid engines, with restrictions to both maximum fuel flow and total fuel usage, require an intellectual engagement from the drivers of considerable depth.
Hamilton's image is of a man who drives by the seat of his pants, and whose extravagant natural gift means he can get away with paying relatively little attention to the technical side of the car, where Rosberg is considered to excel.
It is a misleading and inaccurate - not to mention mildly patronising - view of a man who is much better at working with his engineers and setting up his car than many realise. And, unsurprisingly, Hamilton is a little put out by it, and has been doing his best this season to belie it.
But a performance like that in Malaysia on Sunday spoke more loudly than a million interviews.
Not only was Hamilton blisteringly quick over one lap, his command of his car seemed total on every level.
While he pulled away in the early laps, it was Rosberg struggling with excessive tyre usage, not Hamilton. And when the fuel-usage data were displayed it showed that the car in the top 10 using the least of its 100kg allowance was the number 44 Mercedes.
All this at a fast, flowing track in high temperatures in which Hamilton's naturally aggressive driving style might be expected to take more from the car than Rosberg's more understated approach.
So much for questions about whether Hamilton could adapt to the demands of the new F1.
Hamilton said after the race that his Mercedes was the "best car I've ever driven". It certainly has a bigger advantage over the field than any car he has ever had before.
It is arguable, in fact, whether in his seven previous years in F1 Hamilton has ever had the best car, but he certainly does now.
In the dry, Mercedes appear to have an advantage of at least a second a lap, perhaps as much as a second and a half.

"It's a big gap," said Red Bull team principal Christian Horner. "They have plenty up their sleeve."
Horner expects that advantage to increase next weekend in Bahrain, a track where engine power has a greater influence on lap time than it does in Malaysia.
In which case, another private battle between the Mercedes drivers can be expected.
Hamilton was deprived of one at the season-opening race in Australia when he retired early with an engine problem after also starting from pole, allowing his team-mate to coast to victory.
Rosberg never had any illusions about just how quick his team-mate was, but now he has seen the full extent of what he is up against this year.
"I would have preferred to win," Rosberg said, "but Lewis was just better today. I need to analyse what I can do better and try again in Bahrain."
Discussing why Rosberg might have been so far off Hamilton's pace, BBC F1 co-commentator David Coulthard said: "It could be a lot of things. He might have not been comfortable with the car; he might have had a technical problem Mercedes don't want to talk about.
"But if that was a pure driver-to-driver battle, then Nico psychologically will have taken a bit of a hit."