Formula 1 gossip and rumours from international media
Last updated on .From the section Formula 1
SATURDAY, 26 APRIL
Swiss driver Simona de Silvestro has had her first Formula 1 test in a re-liveried 2012 Sauber at Fiorano.
Ex-Ferrari boss Cesare Fiorio says he still has the letter of intent that he faxed Ayrton Senna to join the Italian team for 1991 and 1992.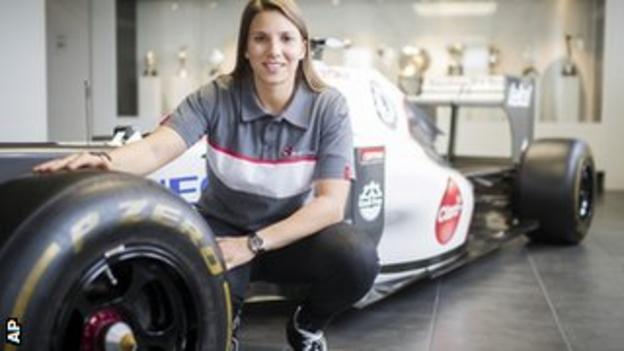 F1 will not be returning to Long Beach in the short term after the circuit announced it has extended its contract with IndyCar until 2018.
Former Red Bull driver Mark Webber, who retired at the end of last season, says he was "very close" to quitting F1 in 2012.
Force India's Nico Hulkenberg says the sacrifices the team made last season are behind their good form this year.
Felipe Massa is driving with more freedom since swapping Ferrari for Williams, according to his former race engineer Rob Smedley.
FRIDAY, 25 APRIL
Formula 1 boss Bernie Ecclestone insisted he remained "confident" as he arrived in court in Munich for the start of his bribery trial, which could see him jailed for 10 years.
Former F1 driver Takuma Sato believes the sheer scale of the work required to bring the Long Beach street circuit in California up to grand prix standard makes a mooted Formula 1 return unlikely.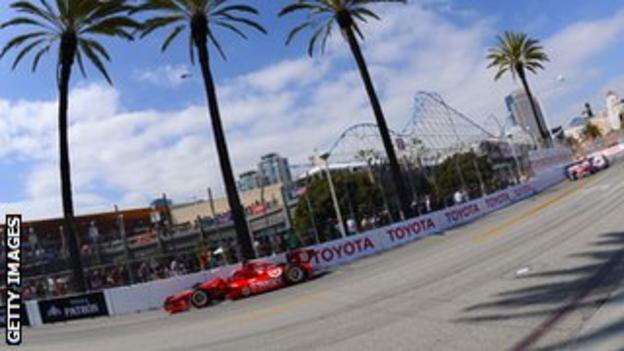 Mercedes executive director Toto Wolff has admitted that the pace Ferrari's Fernando Alonso and Red Bull's Daniel Ricciardo showed at times at the Chinese GP in Shanghai is something of a concern for the Brackley outfit.
Marussia sporting director Graeme Lowdon says F1 is on the brink of being branded a failure if it is unable to implement much-needed cost control measures.
McLaren racing director Eric Boullier says he has no concerns over Kevin Magnussen as the rookie gets to grips with life in F1.
THURSDAY, 24 APRIL
Formula 1 boss Bernie Ecclestone could be ordered to pay as much as £250m to avoid jail as he faces bribery charges in a German court.
Full story: Times (subscription required)
Mercedes non-executive chairman Niki Lauda says he does not want his team to win all of the races this season because it would not be good for the sport.
Ferrari president Luca Di Montezemolo has ordered the team to "step up a gear" as they look to build on Fernando Alonso's podium in the Chinese Grand Prix following a slow start to the season.
Ferrari driver Kimi Raikkonen has hit back at critics who claim he has lost his motivation after being comprehensively beaten by team-mate Fernando Alonso in the opening races.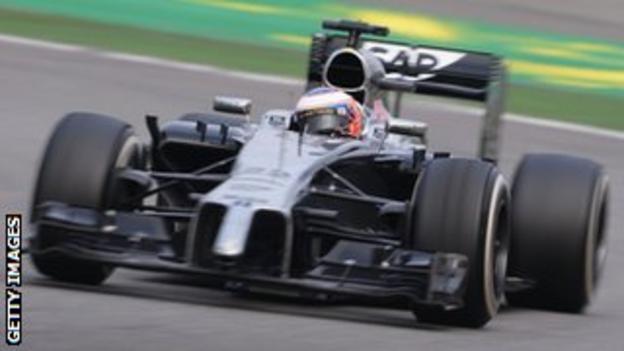 Mercedes executive director (business) Toto Wolff says the team's start to the new F1 season has exceeded even his own expectations despite such a strong pre-season.
Romain Grosjean says Lotus is now the second best Renault team in F1 after running in the top 10 in China.
McLaren are edging closer to naming a new title sponsor, according to racing director Eric Boullier.
Pirelli has praised Valtteri Bottas's bravery after the Williams driver managed to hit 197mph in wet conditions during qualifying for the Chinese Grand Prix.
Marussia sporting director Graeme Lowdon says it is business as usual despite the collapse of the car company behind their name.
WEDNESDAY, 23 APRIL
Mercedes driver and championship leader Nico Rosberg has expressed his annoyance at technical issues at the Chinese Grand Prix.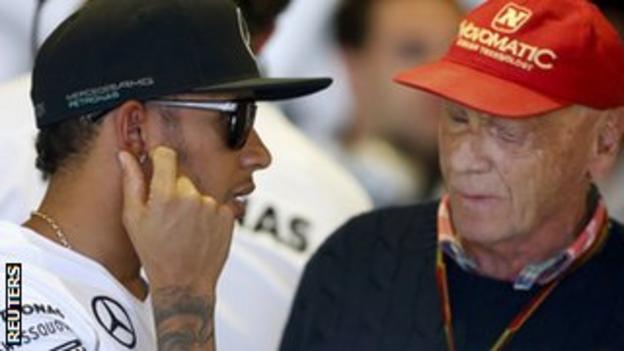 Rosberg's team-mate Lewis Hamilton, who won in China, returned to Europe in Mercedes' non-executive chairman Niki Lauda's private jet, having been promised the treat if he completed a hat-trick of victories.
Felipe Massa admits that he is frustrated by the bad luck that has affected his results in the first four Formula 1 races of his Williams career.
Struggling world champion Sebastian Vettel will be "back with a bang" once he masters Red Bull's RB10, team principal Christian Horner has predicted.
TUESDAY, 22 APRIL
Jenson Button says McLaren have fallen further behind their rivals and hopes the team can sort out their problems before the start of the European season with the Spanish Grand Prix on 11 May.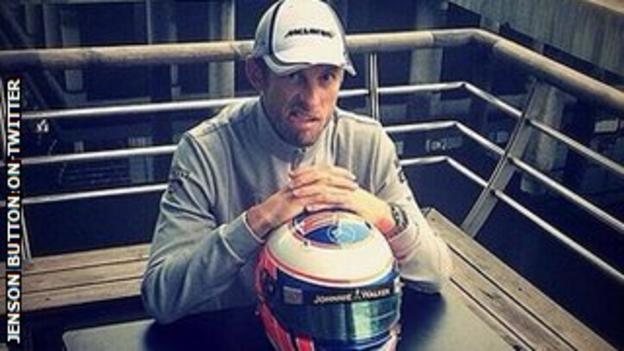 McLaren racing director Eric Boullier has told his team not to panic following their struggles so far this season.
Red Bull team principal Christian Horner has denied world champion Sebastian Vettel defied team orders during the Chinese Grand Prix.
Ferrari driver Kimi Raikkonen believes his driving style was the reason he finished five places behind team-mate Fernando Alonso, who was third, at the Chinese Grand Prix.
MONDAY, 21 APRIL
McLaren boss Ron Dennis is planning legal action over a contract dispute involving Red Bull head of aerodynamics Dan Fallows. Dennis says Fallows has reneged on a deal he signed to join McLaren last year.
Red Bull team principal Christian Horner has hit back at Dennis for questioning his team's integrity over the Fallows dispute.
Former world champion and Mercedes non-executive chairman Niki Lauda has warned his team not to get carried away despite their excellent start to the season, which has seen either Lewis Hamilton or Nico Rosberg win all this season's races so far.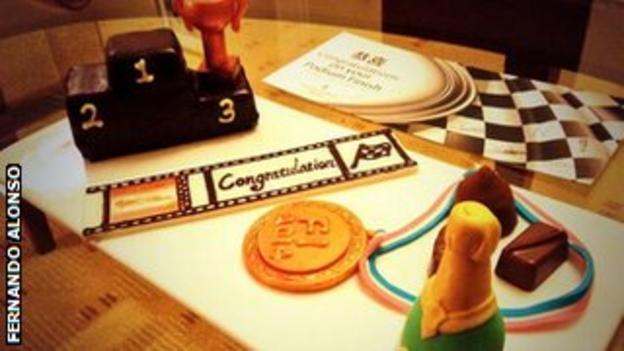 Ferrari's Fernando Alonso was given a cake to mark his third place in China, his first podium finish of the season.
SUNDAY, 20 APRIL
"Wow a hat-trick of wins! This car is just unbelievable. A massive thanks to my incredible team here and back home!"
Chinese GP winner Lewis Hamilton on Twitter
The Chinese Grand Prix ended two laps earlier than scheduled after the chequered flag was waved before the end of the race.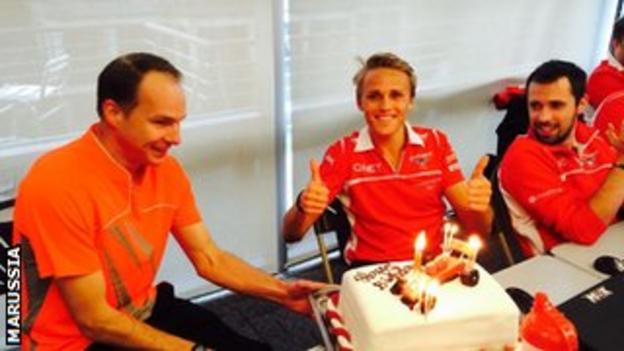 Having been bumped at the start followed by a shoddy pit stop, Felipe Massa says his Chinese GP was nothing short of a "nightmare."
Nico Rosberg admitted second was a remarkable return after nearly seeing his race jeopardised by a lack of telemetry between his car and the pit wall.
Max Chilton celebrated finishing a 23rd successive race, and his 23rd birthday, with a special cake after the Chinese Grand Prix.
A cake hand-delivered by Niki Lauda, the Mercedes chairman, was rejected by Red Bull as they closed ranks against their rivals.
Full story: Sunday Times (subscription only)
SATURDAY, 19 APRIL
McLaren is planning to take Formula 1 rival Red Bull to court in their dispute with the team over head of aerodynamics Dan Fallows.
Jenson Button is praying the sun shines over Shanghai on Sunday if he is to salvage something from his Chinese Grand Prix weekend.
Red Bull suffered a fuel-flow sensor failure on Sebastian Vettel's car during qualifying for the Chinese Grand Prix.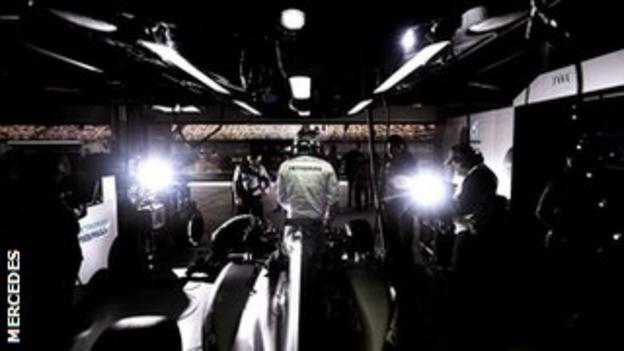 "Awesome driving, incredible lap for pole…equally amazing photo! A good day at the office for Lewis Hamilton."
Kimi Raikkonen said his Ferrari's unpredictable handling was to blame for his poor showing during qualifying for the Chinese Grand Prix.
FRIDAY, 18 APRIL
Formula 1's big teams should stand up for the smaller outfits in the fight to keep a lid on costs, claims Sauber team principal Monisha Kaltenborn.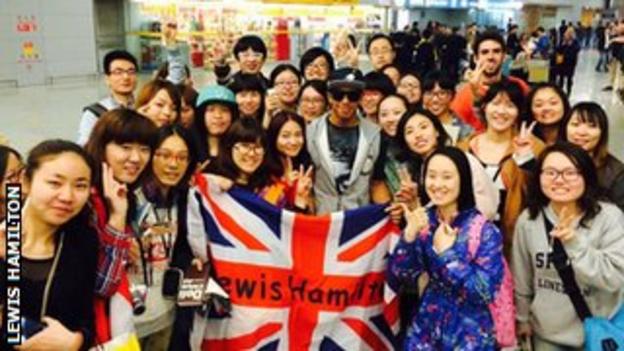 Ferrari president Luca di Montezemolo has said he will be more involved in the day-to-day running of the racing outfit after the appointment of Marco Mattiacci as team principal in place of Stefano Domenicali.
Lewis Hamilton has had clear-the-air talks with team-mate Nico Rosberg after their explosive battle in Bahrain.
"I had a nice welcome to Shanghai when I arrived at the airport, I've got the best fans :)"
Mark Webber believes his former team Red Bull are no longer the benchmark in Formula 1, but is confident they will bounce back from their early season woes.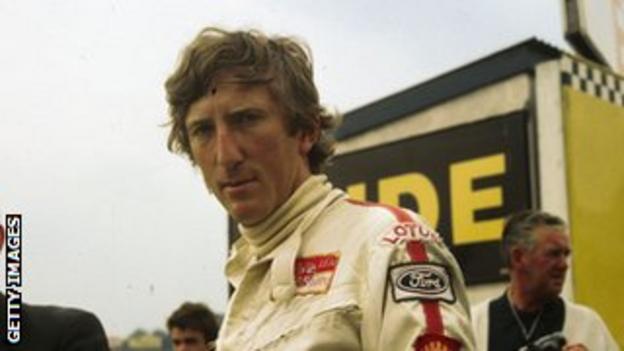 Full story: Sydney Morning Herald
On this day in 1942, Jochen Rindt was born. He was the first, and to date only, posthumous Formula 1 world champion. In 1970, the Austrian driver was killed when he crashed during practice for the Italian Grand Prix at Monza. He was leading the world championship standings at the time, four races before the end of the season, and his points total was not overtaken.
THURSDAY, 17 APRIL
Formula 1 boss Bernie Ecclestone says the sport is planning a 'masters' series for former drivers.
Former F1 driver Juan Pablo Montoya says Gene Haas's plan to run his team from America is "mad".
Ferrari president Luca Di Montezemolo says he will be more involved in the running of the Formula 1 team in order to help new team boss Marco Mattiacci.
Full story: Gazzetta dello Sport (in Italian)
Force India vows to keep up the pressure for Formula 1's governance to be reformed, as it believes the current structure is unacceptable.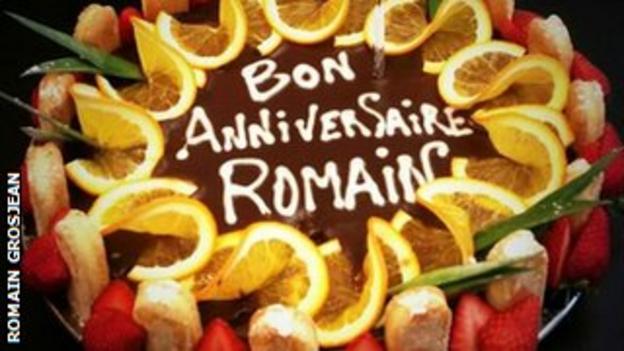 "Thanks you @Lotus_F1Team catering#f1 team for this nice birthday cake and surprise."
Full story: Romain Grosjean on Twitter
"It's a grey day in Shanghai but stopped raining. Looking forward to speaking to @SChecoPerez later."
Full story: BBC F1 reporter Lee McKenzie
TUESDAY, 15 APRIL
Ferrari admit their immediate goal is to establish themselves as the second-best team on the grid after accepting that runaway championship leaders Mercedes are currently out of reach.
The ban on active suspensions could be lifted as Formula 1 teams examine further ways to control costs.
SUNDAY, 13 APRIL
Formula 1 supremo Bernie Ecclestone says the sport's largest shareholder, private equity group CVC, is in "no hurry to sell" after reports a group of teams were keen to buy a stake.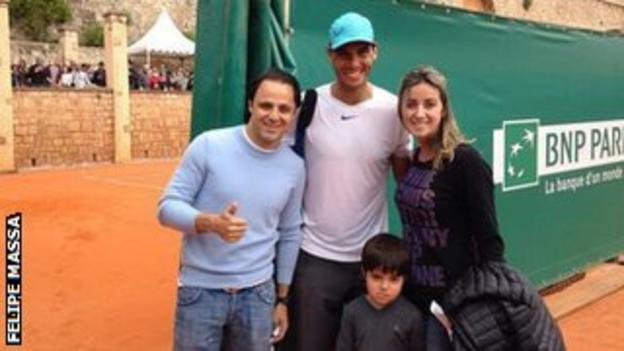 Williams driver Felipe Massa posted a photograph on Twitter of himself, and wife Raffaela and son Felipinho, with world number one tennis player Rafael Nadal at the Monte Carlo Masters in Monaco.
Full story: Felipe Massa on Twitter
Former F1 champion Mario Andretti, who won the title with Lotus in 1978, believes Fernando Alonso could walk away from Ferrari if the team do not improve quickly after a difficult start to the season.
Former FIA president Max Mosley admits the contentious new noise being emitted by F1 cars is largely down to him, but insists switching to greener technology was a must for the future of the sport.
McLaren boss Ron Dennis says his team must end the 2014 season with at least one victory despite Mercedes' dominance so far.
SATURDAY, 12 APRIL
Sao Paulo officials say the city has signed a deal to continue hosting F1's Brazilian Grand Prix until at least 2020.
Full story: New Zealand Herald
Sergio Perez admits he almost quit F1 after losing his McLaren seat last season.
Lotus are on the verge of breaking into the top 10 on merit, despite their torrid start to the season, according to technical director Nick Chester.
Niki Lauda says Bernie Ecclestone and Luca di Montezemolo were wrong to openly criticise F1's new rules, because they risked destroying the sport.
FRIDAY, 11 APRIL
FIA president Jean Todt has hinted that he could reconsider the decision to award double points in the final race of the season - but not until the end of the year.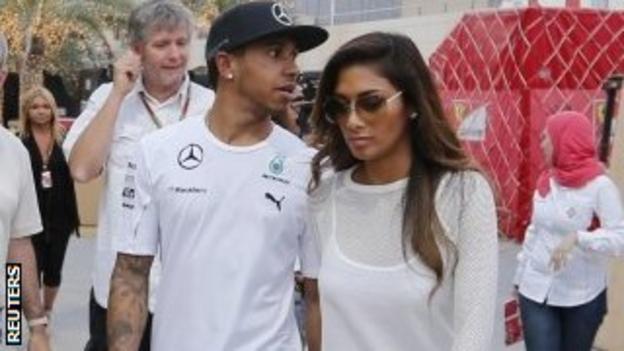 American businessman Gene Haas will be allowed to enter a team for the 2015 F1 championship, chief executive Bernie Ecclestone has revealed.
Mercedes technical executive director Paddy Lowe has hit back as those calling for changes to F1 rules - dismissing the idea as "absurd".
Pop star Nicole Scherzinger showed her loyalty to boyfriend Lewis Hamilton by wearing a Mercedes baseball cap as they touched down at Heathrow Airport after returning from testing in Bahrain.
THURSDAY, 10 APRIL
Mercedes driver Nico Rosberg is proud that the exciting race in Bahrain will help "silence" the critics of the sport following rule changes this year.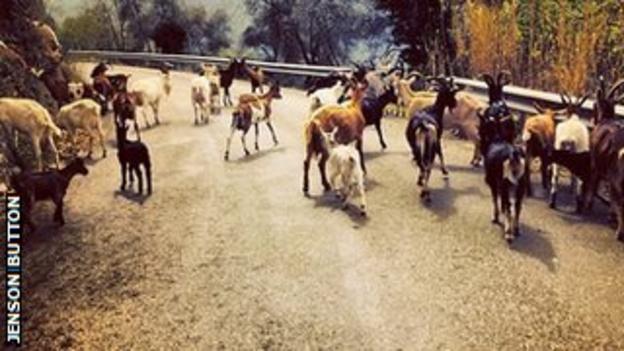 Kimi Raikkonen insists Ferrari know where they are going wrong after their difficult start to the season. "We are not stupid people, we have good things going on," he said.
Williams' head of vehicle performance Rob Smedley believes the team's "freedom of headspace" will help get the best out of Felipe Massa.
Force India deputy team principal Bob Fernley has hit out at Formula 1's decision to drop plans for a cost cap in 2015. "You can't enrich and empower five very strong teams, disenfranchise six and expect the six to be happy," Fernley said.
Pole Robert Kubica, who sustained serious injuries in a rallying crash in 2011, still dreams of a return to Formula 1 but accepts that the limitations to the right side of his body are currently making it impossible.
WEDNESDAY, 9 APRIL
FIA president Jean Todt is canvassing for ideas to make the sophisticated petrol-battery power engines louder to quell the criticism from Bernie Ecclestone, F1's chief executive about the sport's lack of an appealing noise.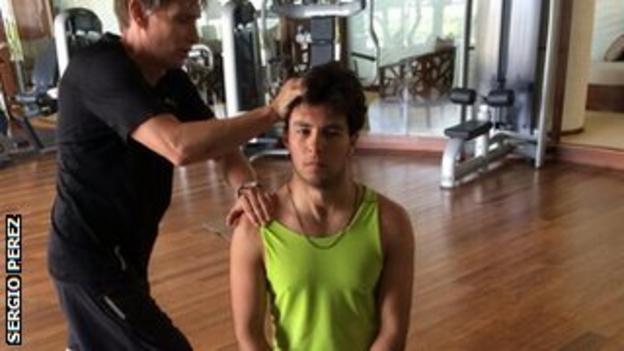 Formula 1 chief Ecclestone has dismissed suggestions a battle with president Jean Todt is on the cards because of opposing views on a number of subjects.
Mercedes technical executive director Paddy Lowe is happy for Lewis Hamilton and Nico Rosberg to race freely against each other rather than follow team orders.
Teenager Sergey Sirotkin revealed shoes that were too small for him cost vital speed during testing in Bahrain for Sauber as he works towards his FIA super license.
TUESDAY, 8 APRIL
Lewis Hamilton will study Mercedes team-mate Nico Rosberg's data from the Bahrain Grand Prix in order to find out where he can close the gap on the extra speed his German rival had during the race.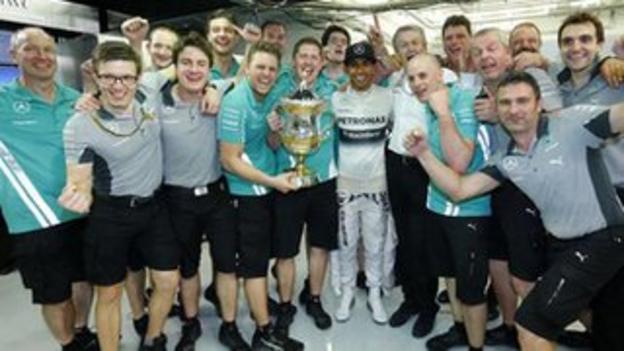 Hamilton, Rosberg, Ferrari driver Fernando Alonso and Red Bull's Daniel Ricciardo will be among the field as the first in-season, two-day test of the Formula 1 campaign gets under way in Bahrain on Tuesday. World champion Sebatian Vettel, of Red Bull, will not take part as he works in the simulator in the United Kingdom.
Toro Rosso driver Jean-Eric Vergne says his weight loss regime resulted in him being admitted to hospital after the season-opening Australian Grand Prix.
FIA president Jean Todt played down concerns drivers being forced to diet to meet the weight requirements are having an impact on their safety.
MONDAY, 7 APRIL
Jenson Button says McLaren's double retirement in Bahrain disguises the fact that the team is currently the fastest behind Mercedes.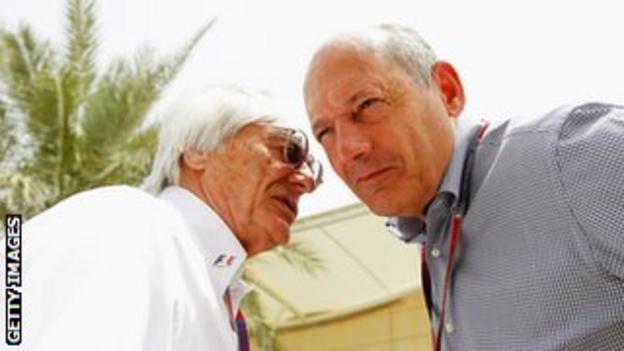 McLaren boss Ron Dennis claims that criticism of new regulations is driven by those who have failed to master them.
Team principal Vijay Mallya is confident Force India can continue to challenge at the front of F1 after Sergio Perez's podium finish at the Bahrain GP.
Sakhir Circuit chairman Zayed Al Zayani said the decision to turn the 10th anniversary of the Bahrain Grand Prix into a night race was a statement of intent for the future of motorsport in the country.
The teams, the FIA and Bernie Ecclestone have reached a unanimous agreement that the engines need to be louder and will investigate ways of making them so.
SUNDAY, 6 APRIL
Mercedes believe not allowing Lewis Hamilton and Nico Rosberg to race each other wheel-to-wheel in the Bahrain Grand Prix would have been the wrong thing for Formula 1.
F1 has abandoned plans to impose a budget cap in 2015 and will seek to reduce costs instead through regulation changes.
A small explosion was heard in the centre of the Bahraini capital Manama on Sunday, but the Bahrain Grand Prix went ahead undisrupted.
Marussia driver Max Chilton said he had "a seriously fun time in his office" after finishing 13th in Bahrain in what was his 22nd consecutive F1 finish.
Full story: Max Chilton on Twitter
McLaren chairman Ron Dennis has criticised Red Bull's four-time world champion Sebastian Vettel for his "disrespectful" attitude to F1.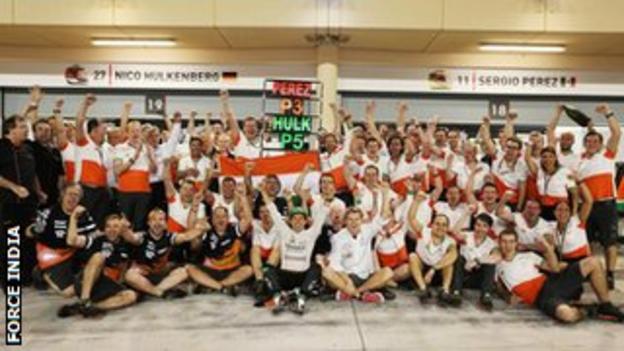 Force India celebrated the biggest points haul of their career after claiming third and fifth in Bahrain.
Full Story: Force India on Twitter
Lotus' Pastor Maldonado says Esteban Gutierrez "left him nowhere to go" leading to the crash which saw the Sauber barrel-roll.
FRIDAY, 4 APRIL
Williams have apologised to driver Felipe Massa and assured him there are no team orders after telling him over the radio during the Malaysian Grand Prix that Finnish team-mate Valtteri Bottas was quicker, which was a prompt for the Brazilian to move over.
Lewis Hamilton has denied that the new F1 regulations and Mercedes' early-season dominance has made for "boring" racing.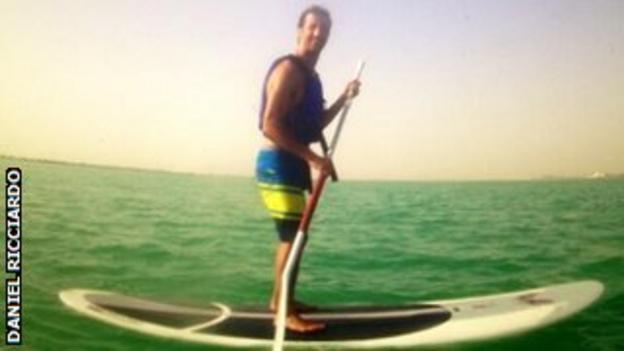 Hamilton and Mercedes team-mate Nico Rosberg live in the same block of flats in Monaco, but the Briton warns they are set to become nasty neighbours as their rivalry on the track hots up.
Red Bull driver Daniel Ricciardo has been preparing for the Bahrain Grand Prix with sunshine and time on the water.
Full story: Daniel Ricciardo on Twitter
Former world champion Kimi Raikkonen has admitted it will take a little longer before he feels completely comfortable with the new Ferrari F14 T - but the Finn is confident both he and the team will soon make a breakthrough.
Bahrain security chief General Tariq Hasan has assured F1's 1,000-strong travelling band that all measures have been taken to keep them safe from anti-government protesters this weekend.
THURSDAY, 3 APRIL
Formula 1 owner Bernie Ecclestone says a new team run by American businessman Gene Haas is on track to join F1 next year. Haas is co-owner of the Stewart-Haas Racing team, which competes in the Nascar stock car series.
McLaren driver Jenson Button describes himself as the "Duracell bunny" and has no plans to slow down as he contemplates his 250th F1 race in Bahrain this weekend.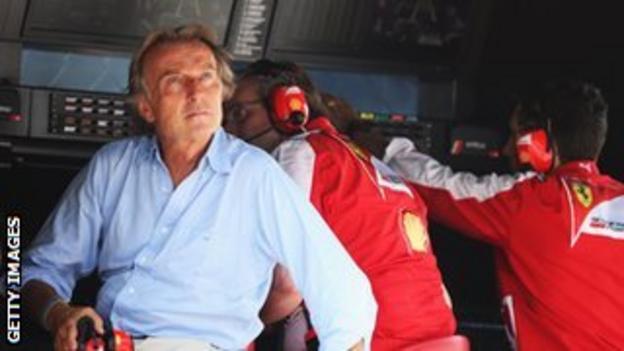 Lewis Hamilton has hailed Jenson Button's longevity and the Mercedes driver says he has "huge respect" for his fellow Briton.
Ferrari boss Luca di Montezemolo has flown to London for talks with Bernie Ecclestone to discuss problems with the new F1 regulations and the sport's future ownership.
Renault believe there is nothing the engine manufacturers can do to increase the noise produced by this season's F1 cars without a change in regulations.
WEDNESDAY, 2 APRIL
Ferrari might be struggling to be competitive, but two-time world champion Fernando Alonso is pleased to be beating team-mate Kimi Raikkonen so far this year.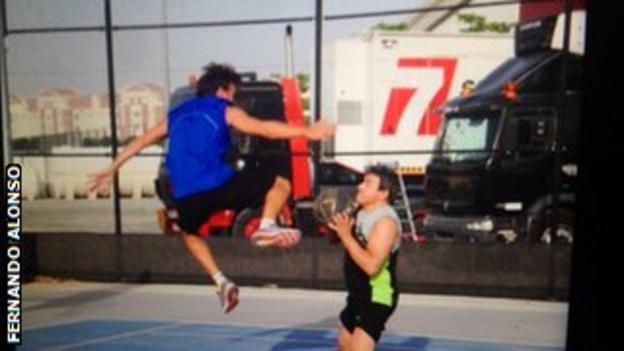 The Spaniard took time out from his preparations for this weekend's Bahrain Grand Prix to play basketball with a friend.
Full story: Fernando Alonso on Twitter
Current champion Sebastian Vettel of Red Bull insists he will not crack under the pressure of seeing Mercedes dominate the start of the F1 season.
Full story: the Sun (subscription required)
Red Bull say the FIA cannot dispute that there are problems with Formula 1's fuel sensors, following another failure for the team in the Malaysian Grand Prix.
McLaren racing director Eric Boullier is hopeful Kevin Magnussen will grow quickly as a Formula 1 driver under his teaching after the Danish driver hit the back of Kimi Raikkonen's Ferrari at Sepang and was hit with a five-second stop-go penalty.
TUESDAY, 1 APRIL
Lewis Hamilton was more than comfortable in claiming victory in Malaysia and Red Bull team principal Christian Horner says the reigning world champions have plenty of catching up to do.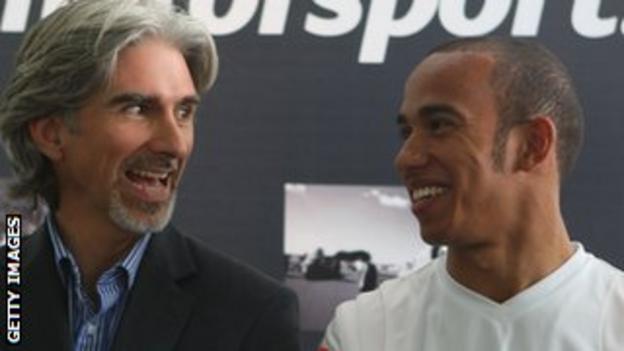 Former F1 champion Damon Hill believes Hamilton has it in him to dominate the world championship rankings over the next two years.
Red Bull says that the FIA cannot dispute that there are problems with Formula 1's fuel sensors, following another failure for the team in the Malaysian Grand Prix.
Mercedes motorsport boss Toto Wolff believes Red Bull have provided his team with "a necessary wake-up call" following their remarkable early-season revival.
Williams believe they can achieve a podium position at this weekend's Bahrain Grand Prix despite two disappointing results at the first two races.