'Lewis Hamilton and Mercedes have the whole package'

By Allan McNish
BBC F1 analyst
Last updated on .From the section Formula 1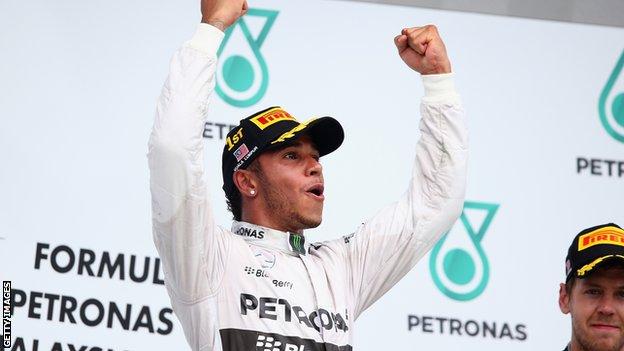 Lewis Hamilton was in stunning form at the Malaysian Grand Prix.
Hamilton pushed for the first 10 laps, built a comfortable advantage and then controlled the race until the end.
Together with his engineer, he had obviously done some good work on how the circuit would change overnight and evolve on race day.
That's why Hamilton's team-mate Nico Rosberg was so far behind. It was not all driving. A lot of it would be to do with not having quite the right set-up, which would mean he was uncomfortable with the stability of the car.
It was also interesting to note that Hamilton was using a little less fuel than Rosberg.
Hamilton really did have everything in his pocket. He was faster - he set a stunning fastest lap 0.9sescs quicker than Rosberg, who was the next quickest. He was able to look after his tyres. And he was using less fuel.
When the car works for you, you're confident and everything is running your way, days like that happen, and when they do it's fantastic.
Exciting intra-team tussle at Mercedes
The battle between the two Mercedes drivers is brewing up quite nicely, and is already getting quite exciting.
They are very different characters and come at their jobs from very different angles.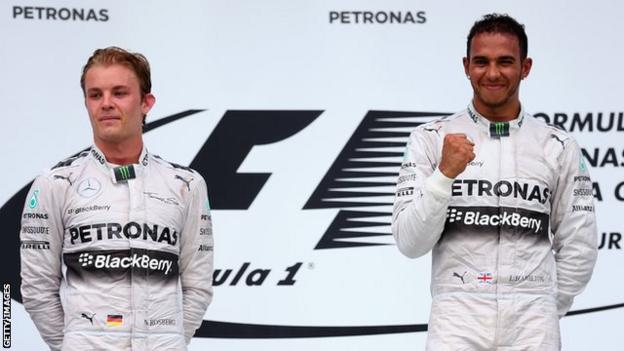 Hamilton's fundamental approach is an attacking, racing one, and he is working hard to manage the other areas of the job. F1 is so technically complicated now that he cannot just use his natural talent to get the job done.
Rosberg starts with a technical approach and works from there.
That intra-team tussle means that, even though Mercedes are dominant at the moment, there is plenty of interest at the front.
Why are Mercedes so fast?
There are many reasons - and it is not just down to the engine.
They started developing the car and power-unit early, they invested the right amount of resources, they were reliable in testing and did the most number of miles pre-season.
That meant that, by the time they got to the first race of the season in Australia, they were better prepared than anyone else.
So they would be most calm when they needed to make changes to the car, and they would already have an idea what those changes were.
By contrast, Red Bull had hardly done any laps before Australia, and only had information from simulation tools as to how good their car could be. They did not have the experience with the car they needed to get the best from it.
If you know roughly how the car will handle, how it reacts to the tyres and how it is over a race distance, and your competitors don't, that is a huge advantage.
It means you are significantly closer to the performance window of the car and extracting the maximum from it.
Beyond that, it is clear from the speed-trap figures that the Mercedes power-train has an advantage over the rival units from Renault and Ferrari.
Teams can play with that - more power and efficiency means you can adapt your car around that, taking advantage in different ways. Whereas if your car is lacking power and efficiency, you are much more restricted in what you can do with it in terms of extracting performance.
The timing data in Malaysia makes the qualities of the different cars very clear.
Sector One includes two longish straights from a low-speed corner, and engine power and acceleration are the predominant performance definers there. The Mercedes was 0.4 seconds quicker than the Ferrari, and 0.5secs quicker than the Red Bull.
However, Mercedes' advantage is not all about power.
Sector Two in Malaysia is the part of the track with the highest average cornering speed. It is where efficient downforce really matters. There, Hamilton was 0.3secs quicker than Vettel, and Rosberg was 0.1secs quicker in qualifying.
You could see an example of the Mercedes' cornering ability at Turn 12 at Sepang - a difficult, fast left-hander. There was a question mark over whether the cars would be able to take that flat on the throttle - and the Mercedes drivers could.
So while Mercedes have more power, know their car better and have better reliability than Red Bull, the basic chassis is also obviously very good.
The car clearly gives the drivers confidence from the off, as there has only been one session this season - the very first practice session in Australia - when anything other than a Mercedes was fastest.
How much faster are Mercedes than the rest?
Both qualifying sessions have been wet so far this season, which has made it more difficult to judge their absolute pace advantage.
Final practice, though, was dry in both Australia and Malaysia. That is when the teams run close to qualifying trim and Mercedes were 1.391secs clear in Australia and 1.148secs ahead in Malaysia.
Their advantage is not as big when it's raining, and I suspect that's maybe because a lack of power can sometimes be a help in making the car more driveable in wet conditions.
But still Mercedes were on pole at both races. And that proves the car is good in all conditions, because in the wet you also need downforce to generate tyre temperature.
It is virtually impossible to say at this stage whether, in terms of the chassis alone, the Mercedes is slightly better, about the same, or slightly worse than the Red Bull.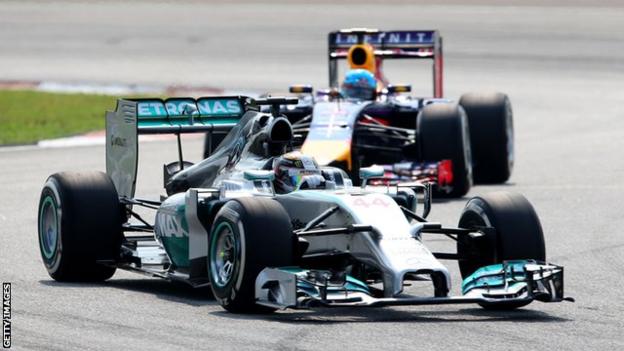 But a car is the sum of all its parts, and the speed it goes is a function of its performance, the skill of the driver and the way the team operate the car.
It only takes one part to be slightly off to make a difference, and while Red Bull have strong drivers and a good car, the engine is weak.
Likewise, because the engine is so much better, it is clear that the other Mercedes teams - Williams, Force India and McLaren - currently have slower chassis, apparently lacking downforce, than Red Bull and Ferrari.
We can expect those three teams to all be relatively stronger in Bahrain this weekend than they were in Malaysia because of the point-and-squirt nature of the circuit, which has very few fast corners.
Mercedes, on the other hand, have virtually no weaknesses at the moment.
On Sunday night in Malaysia, Mercedes co-team boss Toto Wolff said Red Bull were still the benchmark in F1, but I think that position is now occupied by Mercedes.
Nevertheless, the pace of the Red Bull car in the corners means that if they and Renault can get their performance right in the areas in which they are weak at the moment, then the race will be on.
Allan McNish is a former F1 driver and a three-time winner of the Le Mans 24 Hours. He was talking to BBC Sport's Andrew Benson.