Lewis Hamilton: I'm a lot happier in my new Mercedes
Last updated on .From the section Formula 1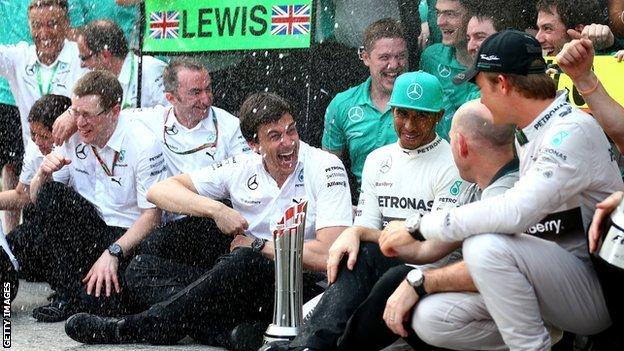 I've had a few days to reflect on my victory in the Malaysian Grand Prix and I have to say it feels like it was one of my best races.
It's very difficult to pick an absolute best, because each one is so different in terms of the demands required to do well, especially over seven years with different sets of rules.
I have favourites, though.
Beating Fernando Alonso at the 2007 US Grand Prix, when we were both at McLaren, was a hardcore defensive race.
What made that special was that I defended fairly, with perfect timing in my manoeuvres, to keep him behind despite being under attack for a long time.
Another race that stands out for me was the 2008 British Grand Prix in the rain, when I was really the only driver able to keep temperature in the tyres and brakes so they worked effectively and I ended up 60-odd seconds ahead.
Before the victory last weekend, it had been a while since I had won a race - Hungary last July, in fact - and Malaysia felt like one of the most controlled races I've had.
A race like that all flows from the start: how quick your reaction to the lights was, how you controlled your acceleration, how late you braked into turn one, the line you choose on the way in terms of defence, how you handle the first lap and build a gap.
It's easy to lock up into the first corner and go wide, or brake too early and lose positions.
During the race, it's easy to make a mistake, run wide and lose time, but I managed not to. And as I was told about anything my team-mate Nico Rosberg was doing behind me, I was able to react and pull out a gap to balance that out.
I felt very calm and collected throughout. It felt like one of my best races for some time.

Before it starts, you're never quite sure how a race will go.
Take Hungary last year, for example. Generally, we were struggling that weekend. Our long runs, when we do race preparation in practice, did not look that good. We got to qualifying and I put it on pole and then in the race I just pulled away. It was strange.
Yet in other races, a driver might have done good long runs and then the race just falls away and they're nowhere.
In Malaysia, Nico looked to be in a little better shape than me in Friday practice. He was a fraction quicker, he looked after the tyres and ran a little longer, and then it just flipped around for the race.
Some of that, I think, was down to making the right choices in preparation for the race.
In practice this year, we have to minimise the laps we do, because we only have five engines to last the whole season.
In each session, I might have three runs of three timed laps, and in those laps I have to be absolutely on it, get as good a feel for the car as possible, and then apply that to how the track is developing as the race weekend goes on.
I will ask myself: is the track heading towards giving the car more front grip or more rear grip? Then I will adjust the car accordingly. There are so many factors to take into account, so much information to go through.
It helps that I feel much more at home in this year's car than last year's.
I was never that happy with the way the car was last year, and even in pre-season testing this year I wasn't sure whether I would be, but since the first race of the season in Australia, it's just clicked.
It's really difficult to say how things will go in the future, but both the car and my Mercedes team are performing really well at the moment and there is no reason why it won't continue that way.
I feel as if I am only going to improve. I was learning so much, even during the Malaysia race, about things I can improve on.
It was kind of weird this year to have people asking whether I could adapt to the new Formula 1 rules. I was like: "Are you serious?" I've adapted to every car I've ever driven. It's what we do.
But it was great to be able to show that. I even used a bit less fuel than nearly everyone else - although I used a bit more in the last couple of laps just exploring what the car could do.
I set the fastest lap, which was great, but it wasn't for fun.
The car felt good and I thought it was important to learn what it was able to do in case I needed it in any situation that might arise in the future this year.

Staying calm and cool
We have to expect there will be things that go wrong through the season - and I already had one with my failure to finish in Australia.
In Malaysia, a lot of media were asking me about already being 25 points behind Nico and what I felt about that, but I was quite relaxed. I wasn't thinking: "This weekend I have to do this or change that."
There is a long, long way to go this season, and I have learned that so much can happen. You're not always in control of that, so you just have to enjoy it as you go along, work hard and do your best.
I went into the race in the same frame of mind as I did in Australia, and then when I saw the gap increasing the way it did, I was like: "Wow." I was expecting to pull away, because that's what you work towards, but not to get that kind of gap.
I like leading from the front from pole, but if I'm honest it's not always what I enjoy the most.
Of course, I want to qualify on pole all the time. But leading from the front is different from coming through from the back and, ever since I was a kid, it's the races where you come from the back that really create an impression with people. I want it both ways!
Hoping for another good weekend
We're in Bahrain this weekend and Mercedes should definitely be very competitive again here.
We did a lot of winter testing here, so we should have a good understanding of the balance and where the car should be.
I was in Dubai for a couple of days between the races, getting my feet back on the ground and resetting my targets and goals.
I can't predict what will happen, but I feel fit and ready for whatever the weekend brings.
You can follow Hamilton on Twitter @lewishamilton and you can see exclusive content on his website www.lewishamilton.com
Lewis Hamilton was talking to BBC Sport's Andrew Benson