Formula 1 rule change talk absurd says Mercedes' Toto Wolff

By Andrew Benson
Chief F1 writer in Bahrain
Last updated on .From the section Formula 1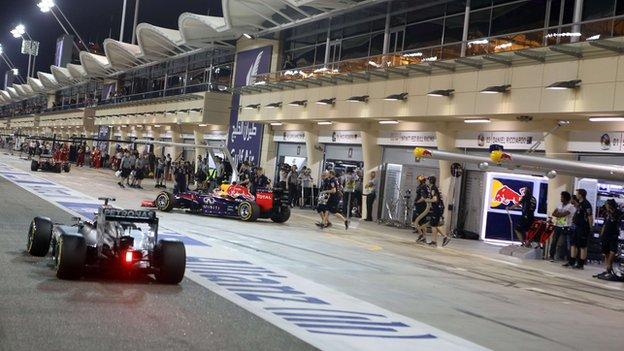 Mercedes co-team boss Toto Wolff says the push by Red Bull and Ferrari to change new Formula 1 rules is "absurd".
Red Bull are keen to ditch the fuel-flow limit that is central to the new efficiency-based F1 and Ferrari want to shorten races or increase the maximum fuel allowance.
Wolff said: "This whole discussion is absurd. The rules are the rules.
"If you want to change the rules, you can do it for next year but I don't see that happening."
Since the introduction of the new turbo hybrid engines there has been discussion about whether the sound of the cars is exciting enough, about whether fuel efficiency is right for F1 and the accuracy of the sensors that measure the fuel-flow rate.
Ferrari president Luca Di Montezemolo has called the new F1 "taxi-cab driving" and Red Bull design chief Adrian Newey has said in Bahrain this weekend that the rules had been introduced "without proper thought".
Di Montezemolo is flying to the Bahrain Grand Prix on Sunday for talks about F1's future with Jean Todt, president of governing body the FIA, and F1's commercial boss Bernie Ecclestone.
Wolff said: "We are 0.8secs off pole from last year, with a heavier car that is 25% down on downforce, with much harder tyres.
"We are at the beginning of the season, with 30% more efficient car, 30% less consumption, with more power, more torque, and with better straight-line speed. So what we are we talking about?
"We are in a brilliant technical revolution and we talk the sport down."
Mercedes are in a dominant position with a car that is as much as a second a lap faster than their closest rivals.
Asked if he was worried Red Bull and Ferrari were trying to change the rules to curtail their advantage, Wolff added: "If this is the agenda, we shouldn't talk the sport down as a total. Then we should say, hold on a minute, Mercedes has done a better job; the engine is more efficient.
"The interesting bit is that apparently some engine manufacturers or teams are saying 'we haven't managed to make the car efficient and fast with 100kg, so we are trying to add 10kg. Sorry, we didn't manage to do our job in the way we should have done'. I find this whole discussion absurd."
Mercedes non-executive director Niki Lauda told BBC Sport that he agreed the engines should be made louder, after hearing them alongside the feeder formula GP2 cars in Bahrain.
Wolff added: "We need to hear our fans and I think the argument of the noise is a very important argument. If this is an issue, let's work on it, let's understand what we can do, but this is a defined topic, not the sport as an overall."
Horner says he believes the 100kg/hour fuel-flow limit should be dropped to make F1 simpler to understand, leaving only the 100kg maximum fuel allowance for the race.
"I'll get hammered," he said. "'Ah, we want to change it for a competitive advantage', but I don't believe there is a competitive advantage for us.
"It's got to be simple enough that the casual viewer can turn on and understand."