Formula 1: No team orders for Hamilton & Rosberg - Mercedes

By Andrew Benson
Chief F1 writer in Bahrain
Last updated on .From the section Formula 1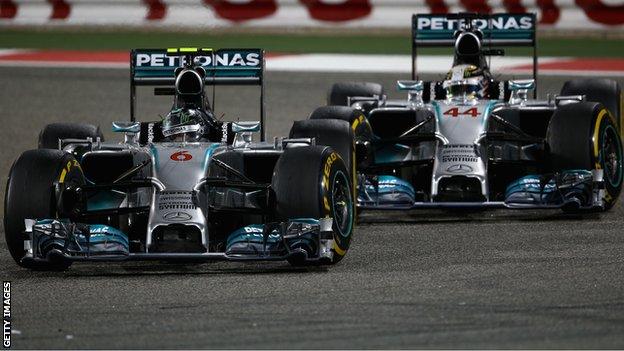 Mercedes will let Lewis Hamilton and Nico Rosberg race freely for the rest of the season following a thrilling battle at the Bahrain Grand Prix.
Hamilton held off Rosberg at Sakhir on Sunday, and the only demand from their team was that they did not crash.
Asked if that policy would continue, Mercedes co-team boss Paddy Lowe said: "There's no reason to not do it."
His partner Toto Wolff said: "It's great watching two drivers of that level racing fair and square."
Rosberg and Hamilton were side by side several times during Sunday's race, with each pushing the other to the limits of the track and beyond as they fought for victory.
The race, which featured wheel-to-wheel action throughout the field for its duration, came at the end of a weekend in which F1 boss Bernie Ecclestone and Ferrari president Luca Di Montezemolo had both said the new efficiency-based rules had produced a lack of action.
Wolff said: "Not risking the other car and still delivering a mega-show; it doesn't get any better advertising for F1, in a moment when lots of people were talking F1 down.
"You need the drivers to know that it is important not to risk the image of such a brand. We are representing a big brand and they need to know what to do, and they did it in a fantastic and spectacular way."
Mercedes have dominated in the early stages of the new season, and Lowe said the team felt it was their duty to let the drivers race without interference.
"Imagine if we'd imposed team orders from lap two or something," he said. "What a terrible thing that would be for F1 and the Mercedes philosophy in motorsport.
"It is something we owe to ourselves and the sport. And to the drivers. They are great drivers. They are professionals. You want to give them the opportunity to race."
The drivers were warned by Lowe during a late-race safety car period to "make sure you bring the cars home". The most intense laps of their battle followed, with Rosberg on the faster 'soft' - or 'option' - tyres and Hamilton the slower 'medium', the 'prime'.
Wolff said: "It was just to remind them just before the heat would start to say don't forget what we discussed. It was not at all a strategic call; it was just a gentle reminder of where we were coming from."
Hamilton said: "We were both on the knife-edge. When you're on the knife-edge the risk increases. We were on the limit.
"And maybe next time we'll come back a little bit. But I was not letting up today. He was doing 100 so I have to go to 100. I can't be 95 and him 100.
"But I think he drove fantastically well. He was fair and I like to think I was. It was close, but I like to think we didn't damage each other's races. The team put that trust in us, which is great."
The Englishman added: "Before the safety car came out, I had a good enough lead. It was 9.5 seconds, and I think it would have been just enough to have held on if we didn't have a safety car.
"Then the safety car came out and immediately I thought: 'Shoot, I'm on primes, he's on options, that's it. It's going to take a miracle to hold him back because there's 0.6secs in those tyres and he has so much grip.' It felt like one of the best-calculated races I've done - how I was using my power, how I was positioning my car.
"He'd catch me down the back straight and he could stick with me. He had 10-12km/h on me with the DRS (overtaking aid). You have to kind of accept he's going to come past.
"So don't go to the inside to block. Move a little bit to make him think you will, then move back, accept he's going to come past, but I've got to get back. I don't know how I did it all the time, but I did it."