Formula 1: Cost cap cannot be imposed, says Jean Todt

By Andrew Benson
Chief F1 writer
Last updated on .From the section Formula 1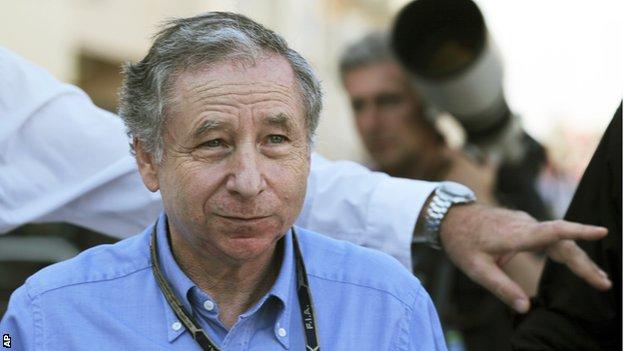 Formula 1 has dropped its plans for a cost cap in 2015 after leading teams said they were opposed to the idea.
Cost-cutting will instead be achieved through rule changes, said Jean Todt, president of governing body the FIA.
The six teams in the sport's rule-defining strategy group rejected plans for a cap agreed earlier this year.
And Todt said he could not impose the cap "if the commercial rights holder [Bernie Ecclestone] and six teams are against it".
He added: "It's mathematics. In this case, no more cost cap."
Under F1's new governance structure, the six teams in the strategy group - Ferrari, Red Bull, Mercedes, McLaren, Williams and Lotus - have one vote each, while Ecclestone and Todt have six each. Votes pass by a simple majority.
"In a way, I am disappointed because it may be more difficult to achieve the reduction which I feel is needed," said Todt.
"But everyone says we are all in favour of reducing the cost, and through sporting regulations."
Top teams such as Red Bull, Ferrari and Mercedes spend more than £200m a year on their F1 programmes, whereas teams such as Marussia and Caterham, who were at the back of the grid in 2013, exist on less than a third of that.
F1 is still governed by the resource-restriction agreement (RRA), a legally binding document signed by the teams which outlines limits on research and development.
But there is a widespread belief the RRA has had only limited success.
Ferrari and Red Bull left the now-defunct umbrella group the F1 Teams' Association following claims Red Bull had ignored the RRA, which the world champions denied.
Red Bull have made clear their opposition to the idea of a cost cap, and in recent weeks McLaren too have said they disagree with it in principle.