Lewis Hamilton column: 'Special' racing Nico Rosberg in Bahrain
Last updated on .From the section Formula 1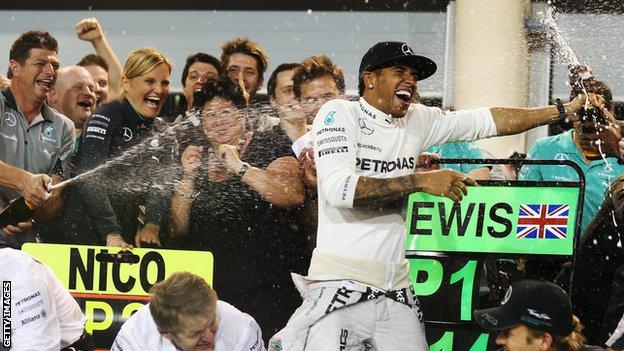 I'm feeling great heading into the Chinese Grand Prix this weekend.
Winning in Bahrain earlier this month, after such a close fight with my Mercedes team-mate Nico Rosberg, was fantastic, but the confidence has been there all season.
Bahrain was special because you don't get to show what you really can do very often.
Sometimes circumstances don't allow you to, sometimes things don't come off the way you hoped.
But I really feel that I was able to be at my best and just ride that wave. It felt incredible. It was an experience you only get every so often.
There are ways I can make my car better and ways I can improve my racecraft. But my goal is to keep improving.
Racing your team-mate

Here in China, a lot of people still want to know what it was like to be involved in such a close battle with my team-mate in Bahrain.
You have to be aware that if you have a collision, you risk taking both cars out, which would not go down well with the team.
But your approach doesn't change that much. You don't ever want to damage your car and you don't ever want to push someone off the track.
When you're fighting someone from another team, you're perhaps less obliged to give them space.
When it's your team-mate, you maybe have to give them a bit more room. But it is only the tiniest of differences.
I've always made sure I race hard but fair. You don't want to get penalties. It's also about respect, which is very important in those circumstances.
A racing insight
When you are racing in those sort of situations, there is a secret language that only us drivers know.
It's hard to explain, but it is to do with your rival's behaviour towards you on the track and vice versa. It's like body language, but from the car.
For example, there will be drivers who you can tell are not good racers. They're maybe a little bit crazy out on the circuit.
Others, however, will really know where to put their car and you can see are making calculated decisions.
Then there are specific moves that drivers do that really make a statement.
Take the 2007 Belgian Grand Prix, when I was team-mates at McLaren with Fernando Alonso.
On the exit of Turn One at the start of the race, I was on his outside and he drove towards the wall, leaving me no space. If I hadn't reacted, we would have crashed.
That's very aggressive body language. That's basically saying: "Eff off."
Drivers use this kind of body language to stamp their authority on a situation and show they are not scared of someone. Usually, though, you don't use that language towards your team-mate.
If you watched the race in Bahrain, you may have heard Nico come on the radio at one point and say he felt I had done something that was "not on".
He perceived that I was using the kind of language I've just talked about, but that wasn't what I was doing.
Let me explain.
Nico was referring to a moment just before our first pit stops when he had gone to the outside in Turn One, a right-hander, only for me to come across to claim the line into Turn Two, a left-hander.
If I hadn't taken up the space he was trying to go into, he would have been on my inside going into Turn Two, which would have meant I would have been forced to leave a car's width between us or risk colliding.
Had I not done what I did, it would have put Nico in a position going into the next corner that I was trying to avoid him taking. It would have compromised me.
If I had not taken up that space, which was right in front of him, and given him the acceleration out of the corner, he would have slotted in right behind me and probably got past into Turn Four.
I knew that, so I had to get ahead of him. I ended up getting a better exit, so he wasn't able to get by.
We discussed the incident on Thursday evening in China while we were reviewing the entire Bahrain race.
We do this ahead of every race weekend, so it's no big deal. It's normal.
It's good for everyone to give their views and move on. Nico and I have known each other for a long, long time. Everything's cool between us.
A special race
My defending had to be precise because any slip-up would have allowed Nico past. He was driving very well and was very strong. If I had made a small mistake, he would have capitalised on it.
I couldn't show any weakness at all. That's really why it was such a special race, because we were both very strong.
It's nice to have come out on top, but every race is different.
Those moves I pulled in Bahrain might not work in future because Nico will know all about them. Now I have to shake it up and use other techniques.
But I've been racing with and against him for so long that I feel like I've got enough in my bag.
You can follow Hamilton on Twitter @lewishamilton and see exclusive content on his website www.lewishamilton.com