Coulthard column: Vettel struggles but Alonso & Ferrari progress

By David Coulthard
BBC F1 co-commentator and former F1 driver
Last updated on .From the section Formula 1
Ferrari's revival was one of a number of great stories to come out of the Chinese Grand Prix, which is good news for the rest of the Formula 1 season to come.
But even taking into account Hamilton's very managed pace in his dominant victory, it was a better all-round performance from Ferrari, and Alonso grabbed the final podium place behind the second Mercedes of Nico Rosberg.
Hamilton could probably have been another 30 seconds down the road had he really pushed, but Ferrari's pace relative to the rest of the field had vastly improved compared to the previous race in Bahrain, where Alonso and Kimi Raikkonen finished ninth and 10th.
Ferrari had some modifications to their car's aerodynamic features in China and it was clear from the speed-trap figures that they had made a step forward on engine performance as well.
I have reason to believe this is at least partly due to changes with their fuel, which is an important factor in the performance of these new turbo hybrid engines.
On top of that, Alonso was on fantastic form. In the 13th year of his career, he continues to be like a scalded cat off the grid. He gets really stuck in on the first lap.
That continues to add weight to just what a good driver he is and it's worth pointing out that only at McLaren with Hamilton, in 2007, has a team-mate really given him any trouble.
It's not that one was better than the other; it's that Alonso was not in a happy place back then. He was given the big honeymoon by Ron Dennis and then got jilted at the altar because Dennis turned his attentions to Hamilton.
Raikkonen struggled again, and has now been well behind Alonso in all four races so far.
It's early days, but this is already reminiscent of Raikkonen's first spell at Ferrari, when he was not that impressive.
Okay, he won the world title in 2007, but that was largely because the McLaren guys tripped over each other. And Raikkonen still needed to be gifted the win in the final race of the season by team-mate Felipe Massa to seal it.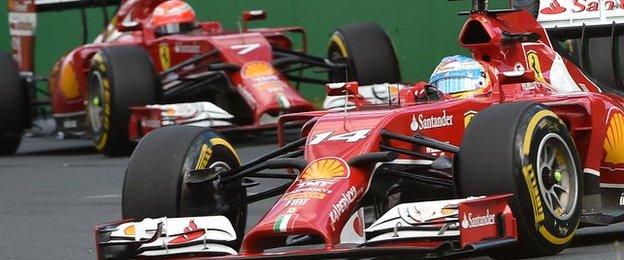 Raikkonen did very well at Lotus in the last two years, but was that just a very good package coupled with the fact that Romain Grosjean is just not that good? Or did it all just work for Raikkonen? It's very difficult to judge.
It will be interesting to see how Raikkonen deals with the rest of the season, because right now he is not looking like a guy who is going to have a long-term career at Ferrari.
I'm not trying to discredit Raikkonen, because he is clearly a very talented racing driver.
But when things are not going well, that's when the work ethic he lacks, compared to people like Alonso, seems to let him down.
Ructions at Red Bull
Daniel Ricciardo is at least matching his four-time world champion Red Bull team-mate for pace - the Australian has qualified ahead of Sebastian Vettel three times out of four, and beaten the German fair and square in the last two races.
Vettel has not been without his troubles but that is an impressive start by Ricciardo, and whatever way you cut it he is making things good for himself and slightly uncomfortable for Vettel.
It would be very easy to listen to the team radio that was broadcast during the race - and we only get snapshots - and say the world champion was not reacting to the order to move out of Ricciardo's way.
But he certainly did in Bahrain, and ultimately he did in China, too, even if he battled it for a lap while he worked out what was going on.
We've always known that Seb has a little warrior inside him which, when push comes to shove, comes out and can be easily taken in a negative way. Alonso is similar.
Ricciardo is proving he is not a wallflower. He is treating Vettel as just another competitor, but one whom he can influence to some degree because they are in the same team. And the Aussie is telling the team exactly what he thinks.
That shows backbone and world-champion potential.
The two Red Bull drivers are at very different phases of their career.
For Ricciardo, who has moved up from Red Bull's feeder team, Toro Rosso, this is the best thing that has ever happened to him.
Red Bull had a difficult winter, but Ricciardo is young and full of energy, he's in the best car he has ever driven and the best team he has ever worked with and life is great.
Vettel, by contrast, has had nothing but success at Red Bull until now and when you are used to filet mignon and suddenly you get corned beef, why would you be smiling like you've just won the lottery?
To be at the top of your game in F1, you have to have the mind and body in perfect harmony.
None of these guys is invincible. Hamilton has been beaten; so were Michael Schumacher and Ayrton Senna. It doesn't matter who you are, you go through peaks and troughs in your form.
For me, it confirms just how good Ricciardo is. It doesn't raise questions over Vettel, who is probably snowed under with the weight of responsibility of explaining what's going on.
Vettel has proved himself in a winning car. Ricciardo is showing real star quality, but he has still not had that chance. His real test will be to deliver when he has a potential World-Championship car.
But he's certainly showing the right stuff at the moment.
Mercedes battle intensifies
Nico Rosberg has looked good throughout his career. He showed well as team-mate to Michael Schumacher and the advantage between Rosberg and Hamilton ebbed and flowed last year, when the car was not quite there.
But four races into this season, with a car capable of winning the title, Nico is not looking as good as Lewis.
That might seem a harsh statement given Rosberg is still leading the championship but that's how I see it.
Does that mean he's not an exceptional driver, won't win more races or even the World Championship this year? Of course not.
But if you were awarding teacher's marks after the first four races of the season, Hamilton would get a gold star after three wins and three poles in the first four races, and Rosberg a silver.
Alonso would get a gold star and Raikkonen a bronze. And at Red Bull Ricciardo would get a gold, and Vettel perhaps a bronze plus, or silver at a push.
But all those guys are exceptional and will hit the gold trail again at some point.
McLaren malaise
The same will surely be true of McLaren - they will be winners again. But there is no doubt they had a humbling weekend in China.
This was the first time they have not got a car to the finish in the top 10 in China, and it's very difficult to understand what is going on there.
How can a team of such vast resources be so off the pace despite being one of four teams using the Mercedes engine, which is the best in F1 at the moment?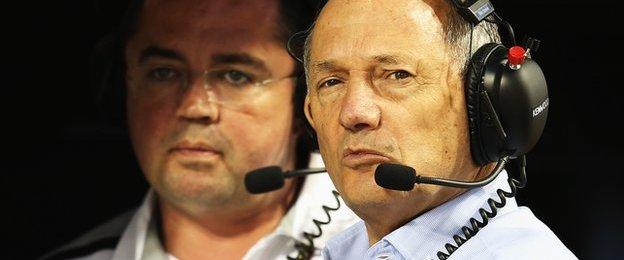 McLaren are the slowest of all the Mercedes teams and it's possible they have a deficit on fuel performance, as McLaren use a different supplier from the other Mercedes-powered teams. That's the word on the street, anyway.
Even then, the car is clearly not producing the goods.
McLaren have a unique rear suspension design that uses the wishbones as downforce-producing wings. But when other teams have investigated that concept, they see the downforce it produces, but also the huge amounts of drag, so they have not adopted it.
When you're winning in F1, yes, you have made a conscious decision to design the car in that way, but you never really know why it is all working; it just is.
It's the same when you're not winning, and McLaren are the perfect example. The same tools that made them win seven races in 2012 are not producing right now.
McLaren have historically always been able to engineer their way out of difficult times, but at the moment they seem as bereft of ideas as the car is of sponsorship logos.