Formula 1 gossip and rumours from international media
Last updated on .From the section Formula 1
SUNDAY, 11 MAY
McLaren driver Jenson Button reveals he could follow in his dad's footsteps and drive VW Beetles in rallycross after he retires from Formula 1.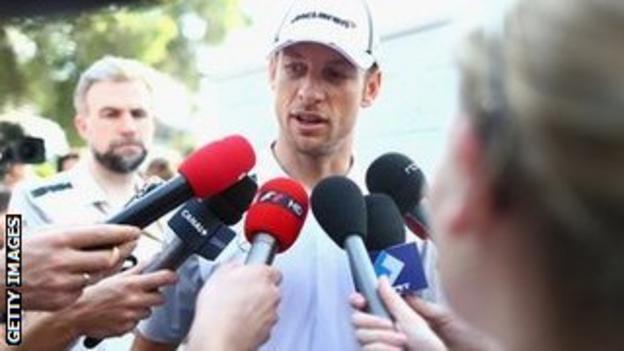 Lewis Hamilton has apologised to his fellow drivers ahead of the Spanish Grand Prix and promised not to repeat his behaviour from the previous race in China where the Mercedes driver weaved in the parade lap causing some cars behind him to slam on their breaks.
Nascar team owner Gene Haas is pressing on with plans to build his own F1 team from a base in America, after dismissing rumours linking him with purchases of Lotus or Caterham.
Former F1 champion Kimi Raikkonen says he will not be able to get any satisfaction out of beating team-mate Fernando Alonso until the Ferrari is more competitive.
McLaren racing director Eric Boullier admits the team could swap its Mercedes engine and test a Honda engine at the final in-season test of the year.
SATURDAY, 10 MAY
Red Bull driver Daniel Ricciardo is "a little bit frustrated" by the size of the gap between his team and pace-setters Mercedes during free practice sessions ahead of the Spanish Grand Prix.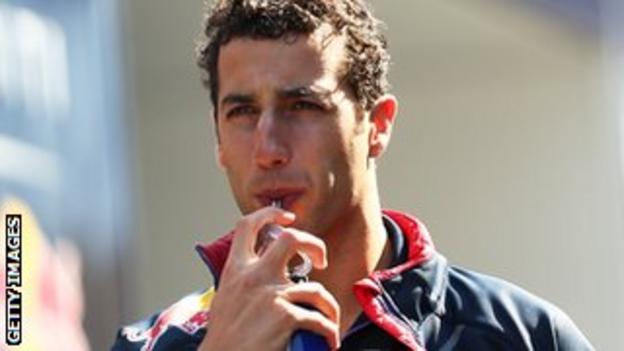 Jenson Button has played down his chances of winning in Barcelona, despite the McLaren driver being second-fastest in the opening practice session.
Reigning champion Sebastian Vettel says he is still confident of defending his title despite the series of technical glitches that have hampered Red Bull's start to the season.
Ferrari president Luca di Montezemolo says he "did not expect" the Italian team to suffer such a poor start to the 2014 season.
Simona De Silvestro is on track to become the first female F1 driver in 20 years after impressing during testing with Sauber.
Full story: The Times (subscription)
British 22-year-old Jann Mardenborough will race on the Spanish GP undercard - three years after winning a PlayStation competition for the chance to enter the sport.
Full story: The Sun (subscription)
FRIDAY, 9 MAY
Mercedes driver Lewis Hamilton has dismissed Red Bull's chances of catching up with the runaway team leaders as Formula 1 returns after a three-week absence with the Spanish Grand Prix in Barcelona.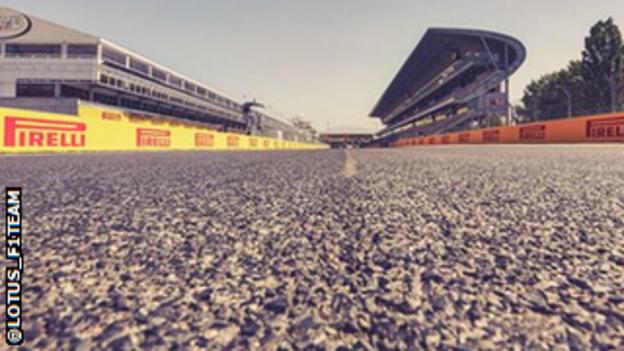 Hamilton also says the hiring of sports psychologist Dr Ceri Evans will be good for Mercedes, but that he personally would "never" require such support in his approach to racing.
Ferrari driver Fernando Alonso has downplayed his team's chances of a podium finish in Barcelona.
Sauber's Adrian Sutil says he went two days without eating in a drastic bid to lose weight earlier this season.
THURSDAY, 8 MAY
Formula 1 chief executive Bernie Ecclestone says the Korean Grand Prix will be kept off the calendar next year to make way for a race in Azerbaijan.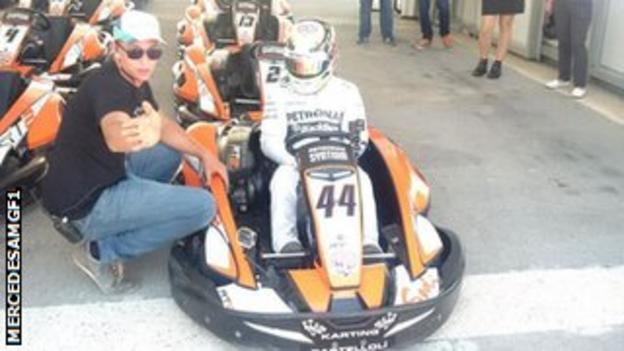 Red Bull will give Sebastian Vettel a brand new chassis for the Spanish Grand Prix, but insist it is a routine introduction rather than a reaction to the world champion's poor form.
Mercedes will test a 'megaphone' exhaust in practice so they can show off a louder engine note during the Spanish Grand Prix this weekend.
Full story: Kolner Express (in German)
Britain's Jenson Button has been promised that McLaren are doing everything they can to sort out his troublesome car and turn the season around.
Marussia have announced two personnel changes on Frenchman Jules Bianchi's car, with Paul Davison stepping up to head of vehicle performance and Francesco Nenci arriving as the new race engineer.
WEDNESDAY, 7 MAY
Sergey Vorobyev, the promoter of the 2014 Russian Grand Prix, says the event in Sochi will go ahead as planned in October.
Full story: Formula Sochi (in Russian)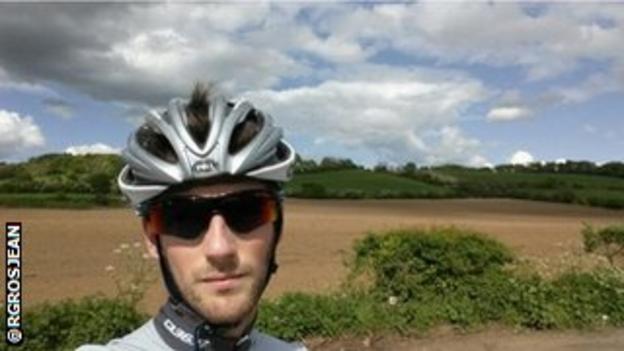 Spanish Grand Prix organisers want to change the name of the race. Salvador Servia, boss of the race's host circuit, has told Catalunya Radio that a better name would be the Barcelona Grand Prix.
Britain's Lewis Hamilton says that performing well on the circuits at which he is usually weaker than Mercedes team-mate Nico Rosberg is the key to winning this year's drivers' championship.
Mercedes boss Niki Lauda believes that Rosberg can bounce back despite losing out to Hamilton in his last three races.
Finn Kimi Raikkonen has the backing of Ferrari technical director James Allison to find form after a poor start to the season.
Britain's Jenson Button says McLaren will improve after failing to score a point in two of the season's first four races.
TUESDAY, 6 MAY
Mercedes have enlisted the help of sports psychiatrist Dr Ceri Evans as they seek to maintain their early season dominance. Evans, who has previously worked with the New Zealand rugby team, travelled to the Chinese Grand Prix to observe how the Mercedes garage operates.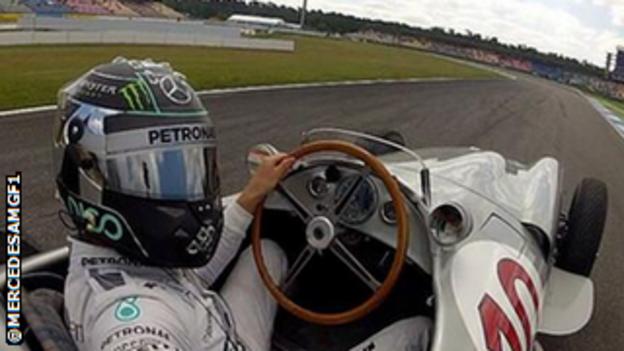 Three-time F1 world champion Niki Lauda says Mercedes' early-season superiority is more impressive than that shown by Red Bull at the same stage of the championship last year.
Formula 1 is considering cutting Friday morning practice sessions from next season, after smaller teams proposed the measure as a way of cutting costs in the absence of a mandatory budget cap.
Mercedes driver Nico Rosberg has filmed a 'selfie' video of himself driving Juan Manuel Fangio's iconic Mercedes W196 at Hockenheim in Germany.
SUNDAY, 4 MAY
Lotus driver Romain Grosjean claims that there is more to come from their E22 team car this season, starting at the Spanish Grand Prix on 9 May. The Frenchman was sidelined by gearbox problems in China.
Sauber team principal Monisha Kaltenborn has rejected arguments that a Formula 1 budget cap would be impossible to police.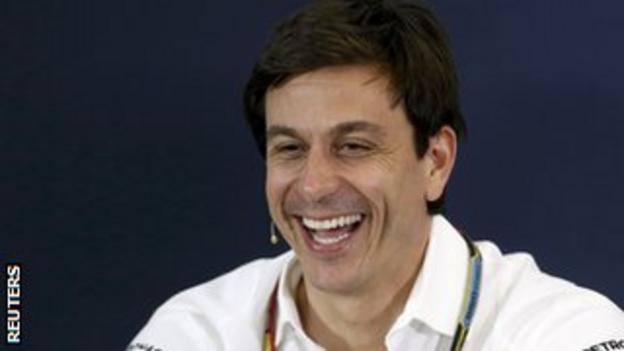 Despite Mercedes' advantage this season, co-team boss Toto Wolff has warned of a potential fightback from rivals at the upcoming Spanish Grand Prix. The first European race on the calendar is known for being the venue that all the teams head to with major updates for their cars.
McLaren has put in place an action plan to get itself back to the front in Formula 1, with a staffing restructure and the appointment of key new aerodynamics staff. Racing director Eric Boullier and F1 chief Jonathan Neale have led a detailed review of the organisation.
SATURDAY, 3 MAY
Championship leader Nico Rosberg believes his knowledge of the Circuit de Catalunya can help him achieve another positive result. The pole-sitter in Spain last year says he has "good memories of race weekends in Barcelona".
FIA president Jean Todt says the sport must never become complacent about safety. Though meeting with the teams and Bernie Ecclestone in the UK to discuss how best to address spending, the Frenchman's thoughts were on the other constant in motorsport, safety.
Former F1 driver Derek Warwick, an occasional F1 race steward, believes the new penalty points system is "working." This season F1 has introduced a new penalty points system with drivers amassing points for certain infringements. Should any driver net 12 within a 12-month period, he will incur a one-race ban.
Esteban Gutierrez says Sauber expect to make a 'step forward' in next week's Spanish Grand Prix. Sauber have made an number of 'essential revisions' to the C33 ahead of the first European race of the season and after finishing a lowly 16th in China, the Mexican has vowed to go to the 'maximum' and get all he can out of the car.
THURSDAY, 1 MAY - REMEMBERING AYRTON SENNA
Here's a flavour of the tributes across the media on the 20th anniversary of Ayrton Senna's death.
Senna had everything it would take to create the grand prix hero of Hollywood's dreams. But something else, something more mysterious, captivated not just the fans who continue to revere his memory but later generations of drivers to whom he represents a permanent reference point.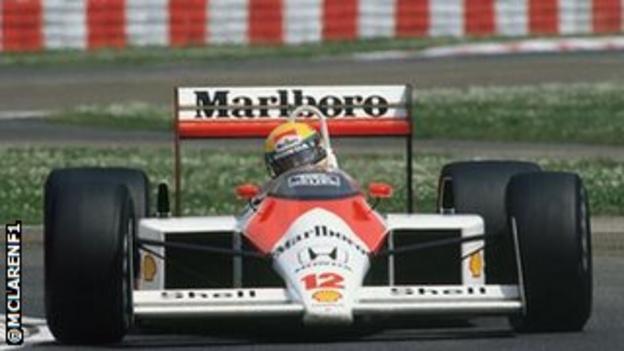 Senna was an all thrills, many spills and naturally talented racer. But what about those who don't remember Senna, those that were either too young or perhaps not even born that now consider themselves part of the racing community? There are only so many YouTube videos and films you can watch, but it's never the same as seeing Senna live.
It was raining in Imola on Monday. Formula 1 stopped coming here eight years ago and moved on to lavish new circuits in Singapore and Abu Dhabi. There is blood on this track and time cannot wipe it away.
Ron Dennis, one of the people to have worked most closely with the triple world champion, found some of Senna's weaknesses to be the source of amusement, reminiscing that a driver who strapped himself so tightly into the car before winning in Brazil for the first time struggled with any pain outside of the cockpit.
Twenty years later, there is still no threat to Senna's status. Schumacher, Fangio, Prost and Sebastian Vettel have garnered more titles, but Senna is heralded as the greatest by every contemporary and every young pretender who has come since. They marvel at the dexterity of one who could propel himself from fifth to first inside 40 seconds in the wet, at the audacity of one who shunted Prost into the Suzuka dirt without so much as a trace of contrition.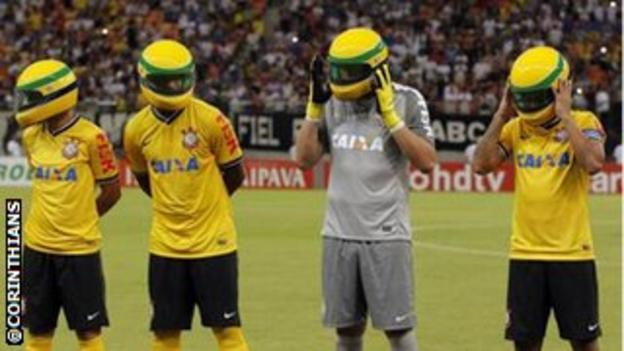 Players of Brazilian football club Corinthians paid a touching tribute to Senna by each donning a crash helmet as they lined up before their match against Paulista. The helmets were the same bright yellow and green worn by Senna.
The deaths of Aytron Senna and Roland Ratzenberger at the San Marino GP 20 years ago sparked a drive for F1 safety that continues to this day.
McLaren on Twitter: On this day in 1988 Ayrton Senna won for McLaren at Imola. On this day in 2014, we remember Senna.
Mercedes AMG F1 on Twitter: Two decades ago today the racing community - and the world - lost one of its brightest talents: the great Ayrton Senna. Remember Ayrton now as he shone brightest in life: dancing on the limit.
Lotus F1 Team on Twitter: We'll never forget the gift that you had and the gift that you gave to us.
Ayrton Senna would have ended his Formula 1 career at Ferrari had he not died at Imola 20 years ago, president Luca di Montezemolo says.
WEDNESDAY, 30 APRIL
Ferrari's Fernando Alonso and Kimi Raikkonen are to attend a memorial service at Imola on Thursday to mark the 20th anniversary of Ayrton Senna's death. The Brazilian, world champion three times, died from injuries sustained in a crash during the San Marino Grand Prix on 1 May 1994 aged 34.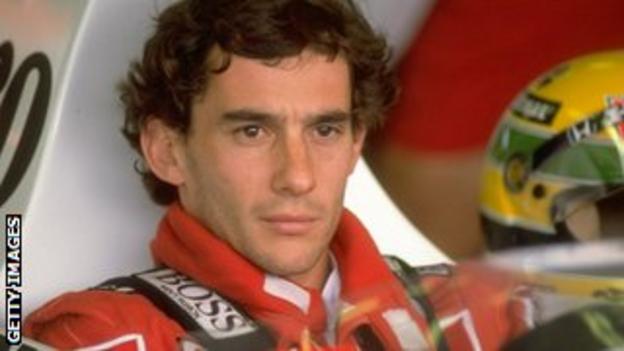 Three-time world champion Sir Jackie Stewart said Senna told him he would never again speak to the Scot who accused him of deliberately crashing into Prost to win the 1990 title.
McLaren chief executive officer Ron Dennis says he won a $10,000 (£6,000) bet with Senna that he could not eat a container of chilli in Mexico. "That was about the fourth time he had lost a bet, a big one," said Dennis.
McLaren's Jenson Button is fit to compete in next week's Spanish Grand Prix despite retiring from the Canary Islands triathlon.
Sepang is considering whether it gets value for money as the host of the Malaysian Grand Prix after receiving approval to negotiate a new contract for the race.
Renault say there is more to come from their power unit over the coming races and believe it is possible to get close to 100% by the Canadian Grand Prix in June.
Mercedes driver Nico Rosberg will do a series of demo laps at the wheel of Juan Manuel Fangio's championship-winning W196 at Hockenheim ahead of the German Touring Car Championship (DTM) race this weekend.
TUESDAY, 29 APRIL
Lotus owner Gerard Lopez says the Formula 1 team's financial worries have been blown out of proportion and he has no doubts that its future is secure.
Mercedes executive director (technical) Toto Wolff believes the competitive advantage between his two drivers Lewis Hamilton and Nico Rosberg will swing from one to the other over the course of the season.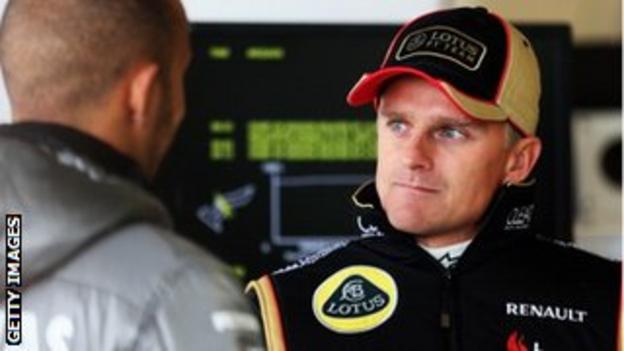 Argentina wants to host F1 for the first time since 1998 with a new race at the country's Spa Rio Hondo circuit, which hosted a MotoGP race last weekend.
Full story: L'Equipe (in French)
Former Lotus, Caterham, McLaren and Renault driver Heikki Kovalainen is set to return to the sport as a test driver for Mercedes.
Full story: Sanomalehti Ilkka (in Finnish)
Four-time world champion Alain Prost thinks the engine battle between Renault and Mercedes could be transformed in a few races, opening up the fight for victories.
MONDAY, 28 APRIL
Swiss driver Simona De Silvestro says "no words can describe" the excitement of driving an F1 car after her two-day testing session with Sauber at Fiorano.
Former F1 driver John Watson feels that American Gene Haas's decisions to build his new F1 team from scratch and base it in the United States rather than in Europe are mistakes.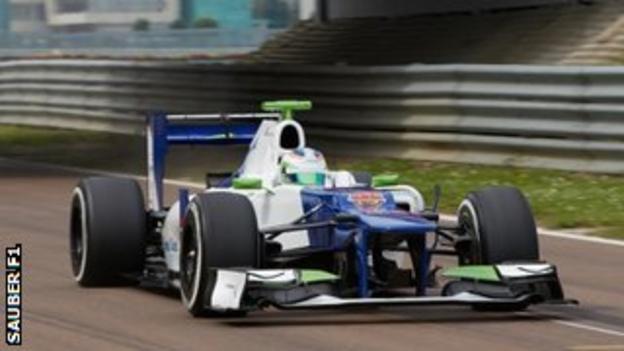 F1 chiefs fear that an investigation by the European Union's Competition Authority into the deal where the sport's top five teams receive 60% of the money generated would throw it into turmoil, and end the prospect of F1 being floated on the Singapore Stock Exchange.
Full story: the Times (subscription required)
McLaren team boss Eric Boullier feels that rookie driver Kevin Magnussen's dip in form since finishing second in his F1 debut in Melbourne is all part of the 21-year-old Dane's learning process.
Lewis Hamilton is Britain's richest sportsman, with the 29-year-old Mercedes driver said to be worth £68m. Jenson Button, 34, is about £8m behind his former team-mate at McLaren.