Lewis Hamilton: Nigel Mansell's comments flattering and incredible
Last updated on .From the section Formula 1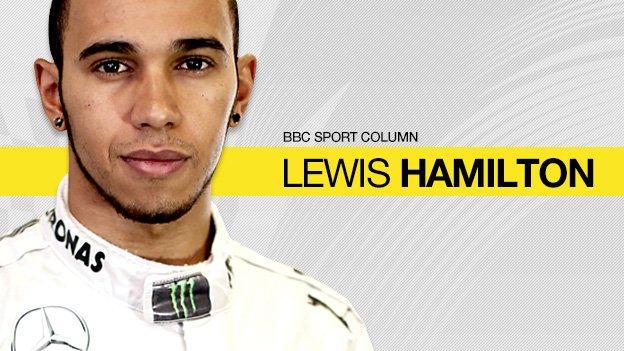 To read Nigel Mansell's comments about me on the BBC Sport website this week was very flattering.
I admire Nigel greatly for all his success. He led British hopes in F1 for many years and he still holds the record for number of wins by a Brit.
So for him to think I've been close to perfection this year is incredible.
It does feel as if I have done about as good a job as I could have so far this season.
I've known Nigel for a little while now and it is great to see the respect is becoming mutual. It takes time to earn that, I know.
You always feel like you can improve, though.
Even at the races I've won this season, there have been things I could have done better, although I must admit I don't remember much going wrong during the last race in China, apart from one lock-up.
But you can't always be perfect and I'm always working on being the best I can be.
What I've been most pleased with is my approach to work, especially the relationship with my engineers at Mercedes.
I'm leaning on them a lot more than I did in 2013 and feel much happier in the car than last year.
I knew there was more time in the car, I just struggled to get it out. It felt like I wasn't able to be at my best, yet I got some pretty decent results.
I have got over that particular hurdle now. There will be more obstacles to come, but I feel like I'm in a good position to handle them.
Enjoying a break
We've had nearly three weeks off since the last race in China and I've been pretty busy.
I've had to continue training, but I've also moved house in Monaco, which took up a lot of time in the week-and-a-half after the race in Shanghai.
I also visited my girlfriend in Los Angeles for a few days and finally got to drive my AC Cobra, one of my favourite cars.
I've had it for a couple of years but wasn't able to use it until now. It was in a museum for a long time and hadn't been in a condition to be driven.
It's got very few miles on the clock - only 8,000 since 1967 - so it is a very special car.
I've had it refurbished but hadn't had a chance to take it out on the road, so we had a nice weekend driving it around in California.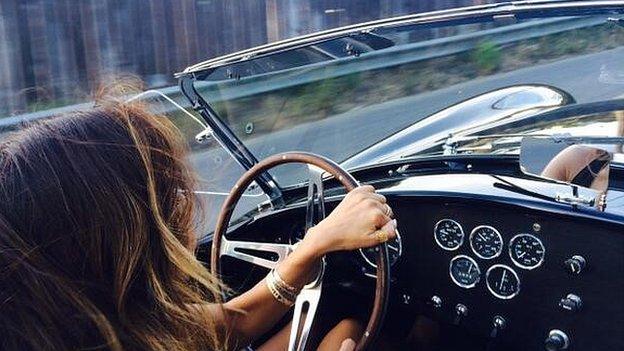 There's actually a nice story behind the car.
I'd wanted one for a while but couldn't find one. When I did, I was told it was one of the most original ones around.
Before I bought it, I got in touch with Carroll Shelby, an automotive designer and an iconic figure in American motorsport who was involved with the AC Cobra.
He checked it out for me and said it was one of the best examples he had seen and told me I should get it.
Carroll sadly died a couple of months later, but his advice was some of the best I've ever had.
Keeping my feet on the ground
Driving the AC Cobra along the coast road in Malibu with Nicole was one of those moments that made me pinch myself to make sure it was all real.
People might not think it's the case, but I pinch myself every day to make sure I'm not dreaming.
I still remember being a kid in Stevenage like it was yesterday.
After school, I would play football on the green just around the corner from my home.
One day, when I was eight, just after I'd started karting, I remember my dad coming to meet me with a new helmet. I tried it on to see if it fitted.
I still cannot believe how far I've come since those days in Petrie Way.
To fly from Monaco to the Circuit de Catalunya, where cameras are waiting for you as you come into the paddock, and walk into the garage where the Mercedes F1 cars are and know I'm going to be driving one the next day is such a big blessing.
I can't put it into words.
I'm aware that so many people from the place I grew up either didn't get the support from their families or missed out on the opportunities I had.
My family, close friends and faith are the things that keep me grounded.
Looking forward to a good weekend
The Circuit de Catalunya is a track I really like but one I have not had much success at.
I struggled last year but had a great pole in 2012, only to lose it because my McLaren team made a fuel error.
Generally, it's been difficult for me here. For example, I was running second in 2010 when a tyre blew on the last lap and I crashed.
At the beginning of my career, I also had some issues with the fans, largely because I was in a big battle with their favourite, Fernando Alonso, who was my team-mate at the time.
Over the years, my relationship with the fans has improved, partly, I'm sure, because my relationship with Fernando is now in a good place.
We both have respect for each other's abilities and often say nice things about each other.
His support and admiration for me has definitely rubbed off on the Spanish supporters, I think.
I hope I'll be one of the favourites here one day and it would be great to win for the first time this weekend.
You can follow Hamilton on Twitter @lewishamilton and you can see exclusive content on his website www.lewishamilton.com
Lewis Hamilton was talking to BBC Sport's Andrew Benson.