Lewis Hamilton and Nico Rosberg draw parallels of Senna and Prost

By Andrew Benson
Chief F1 writer
Last updated on .From the section Formula 1520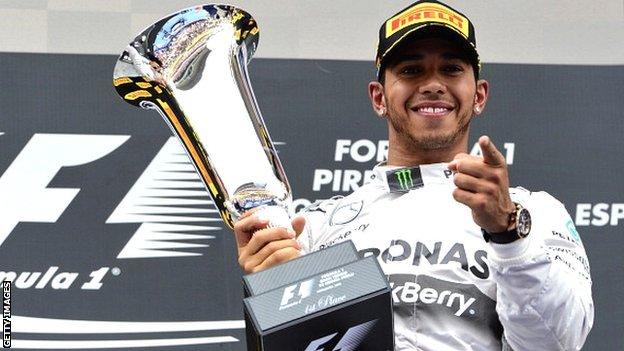 Fernando Alonso was the first major figure to voice a thought that had begun to germinate in the minds of many of those in Formula 1 through the early part of this season.
With another demonstration of crushing superiority at Barcelona's Circuit de Catalunya on Sunday, that prospect took another step closer to fruition.
Hamilton led Rosberg over the line in another close battle, and their closest rival, Red Bull's Daniel Ricciardo, was nearly 50 seconds behind. Alonso, still hanging on to third in the championship despite a difficult weekend for Ferrari, narrowly avoided being lapped in sixth place.
Red Bull undoubtedly closed the gap on Mercedes in Spain, with upgrades to both car and Renault power-unit, but team principal Christian Horner admitted that the gap between the world champions and their likely successors was still "about 0.6 seconds a lap".
Did he think Mercedes could win all the races? "It's possible but improbable," Horner said.
The closest any team has ever come to doing so was in 1988, when McLaren-Honda drivers Ayrton Senna and Alain Prost won 15 of the 16 races. They were denied a clean sweep because Senna tripped up lapping a backmarker in the Italian Grand Prix after Prost had retired with an engine failure.
There are parallels between 1988 and 2014.
Then as now, a team operating at the highest level were using a turbo engine operating within a fuel restriction that was on a separate level from all its rivals.
And then as now, the out-and-out fastest driver of the era was in one of the cars, and quickly established himself as the championship favourite.
Hamilton finds himself in the Senna role; Rosberg the Prost, a driver not as exceptionally gifted but who, on the occasions he can get the car set-up to his liking, is able to challenge and sometimes beat his opponent.
In Barcelona, just as in Bahrain last month, Rosberg got himself and his car into a position in which he was faster than Hamilton. But in both races Hamilton held him off.
That's four races in a row Hamilton has beaten Rosberg and it must be starting to prey on his mind, even if the German laughed off suggestions after the race that Hamilton could "break me down mentally".
Among the greatest weapons in Hamilton's armoury is his ability to produce a special lap in qualifying, dragging more out of the car than seemed possible for that one, vital lap.
He did it again in Spain, despite being on the back foot, and from that moment on Rosberg was always going to find it hard to beat him, on a track where overtaking is notoriously difficult. Unless Rosberg could take the lead at the start, which he did not.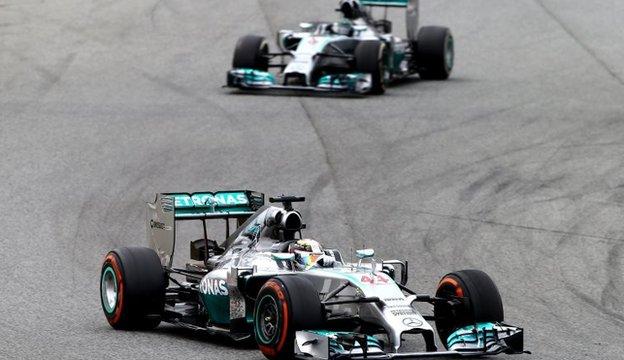 It was a slow-burner of a race, lacking the overt excitement of the Mercedes drivers' side-by-side duel in Bahrain, but no less fascinating for it.
Hamilton's radio transmissions betrayed the tension he was feeling, gave a sense of just how hard he was finding it to maintain the gap he needed to keep hold of his lead through the crucial final pit-stop period.
The victory moved Hamilton to the head of the championship for the first time. With no opposition to take points off Rosberg, it has taken four races to wipe out the 25-point hit Hamilton took when he retired from the first race of the season in Australia with an engine problem.
But the points margin is small - just three - and it is clearly going to be close between the Mercedes drivers throughout the year. The pressure will ratchet up and up with each passing race.
"Lewis is doing a super job," Horner said, "but if Rosberg can get his qualifying together he is going to give him a hard time for sure."
The battle between Hamilton and Rosberg is enough on its own for the season to remain full of interest for its duration.
But it would certainly add a fascinating extra dimension if another team could improve their performance sufficiently to mix it with the Mercedes drivers.
Red Bull are closest - and while a 0.6-second gap is undoubtedly a lot, it's a good 40% less than it was in China three weeks ago. At that rate of progress, they could catch Mercedes.
Some believe that the unique circumstances of Monaco could make it happen on a one-off basis in two weeks' time.
Jenson Button said he expected Mercedes would "have their hands full of Red Bull" around the streets of the Principality, because the excellence of the world champions' chassis can shine while their engine deficit will not be as critical.
Rosberg admitted it was a possibility, and Alonso said he was heading there with the "target of making things a little more complicated for them".
That will be a harder task for Ferrari than it will be for Red Bull, after a weekend in Spain in which they were 1.8 seconds off the pace in qualifying.
Alonso had to face another four days of questions about Ferrari's lack of pace, and he fielded them with his usual answers - yes, the gap is "quite big", but no I haven't given up hope of the championship.
The Spaniard faced a closer challenge from team-mate Kimi Raikkonen in Spain than he had so far this season, and in the race there was the first evidence of potential problems.
Out-qualified by Raikkonen by 0.034secs at his home grand prix, Alonso was on his tail in the first stint of the race and tried to leapfrog him with an earlier first stop, which should have been the Finn's choice as the lead driver.
The ploy failed because Alonso encountered traffic, and later he switched to a three-stop strategy - which he said was focused on what turned out to be a failed attempt to beat Red Bull's Sebastian Vettel. It left Alonso needing to catch and pass Raikkonen in the final stint.
He managed it, and afterwards Raikkonen clearly wondered what had gone on, asking his engineer who made the strategy calls, and asking why he "seemed to be getting second choice".
Inevitably, Raikkonen played it down in front of the media, merely saying he wanted to "clarify" a few things, but it was the first sign of the spikiness that many expected to emerge in the greatly anticipated battle between these two big beasts.
Drivers, though, are not Ferrari's biggest concern. New team boss Marco Mattiacci made it clear at his first race in China three weeks ago that Ferrari would "go to the market" if necessary to recruit new staff they felt it would improve their ability to design a competitive car.
In Spain this weekend, it emerged that they will spend what it takes to get the right person and that they may have turned their attentions again to trying to prise F1's pre-eminent designer, Adrian Newey, away from Red Bull.
Newey has turned them down on a number of occasions in the past, and has often said he feels "paternal" towards Red Bull, with whom he is believed to have a contract until 2017. But he admitted in Spain he needed to "decide" on his future at some point.
Could that mean it lies in Maranello one day in the not-too distant future?
Why he would want to go there, move away from his family in England, and try to deal with what are clearly some fairly serious issues at Ferrari is unclear. He certainly does not need the money.
But Ferrari's mystique has a powerful pull, and one of the things you learn quickly in F1 is that anything is possible.