F1: Mercedes trial new trumpet exhaust in Barcelona test

By Andrew Benson
Chief F1 writer
Last updated on .From the section Formula 1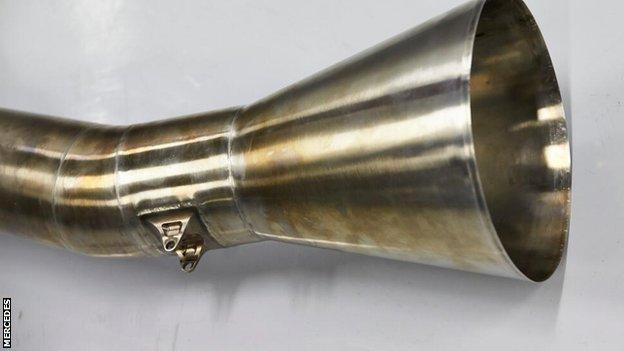 Mercedes have tested a new exhaust design in Barcelona on Wednesday aimed at making the sound of the new Formula 1 engines louder.
F1 boss Bernie Ecclestone is among those concerned the new turbo hybrid engines do not sound dramatic enough.
Mercedes tried out a 'trumpet' extension at the Circuit de Catalunya.
The results will be analysed by the sports' governing body and discussed with teams before bosses decide whether to adopt it.
Also on Wednesday, Williams development driver Susie Wolff is taking part in a full day's testing in preparation for her appearances in first practice at the British and German Grands Prix in July.
The 31-year-old will become the first woman to take to the track at a grand prix weekend for 14 years.
Wolff will complete a full aerodynamic testing programme in the car. She had a spin without damaging the car mid-way through the morning session, before resuming work.
Some race promoters, who met in Barcelona on Saturday, fear ticket sales could fall off if fans are put off by the lack of noise of the new V6 turbo hybrid engines, which have replaced the screaming V8s.
The 'megaphone' device is designed to address that criticism.
"If the fans want to have more noise, then we'll go for it," said Mercedes motorsport head Toto Wolff. "I'm sure everybody is looking forward to hearing what the 'megaphone' is going to be like."
Mercedes are the dominant team in F1 this season.
They have won all five races this season, with Lewis Hamilton leading the standings from team-mate Nico Rosberg.