Senna, Hamilton, Rosberg, and many more, these are the BBC's Formula 1 2014 movies
Last updated on .From the section Formula 1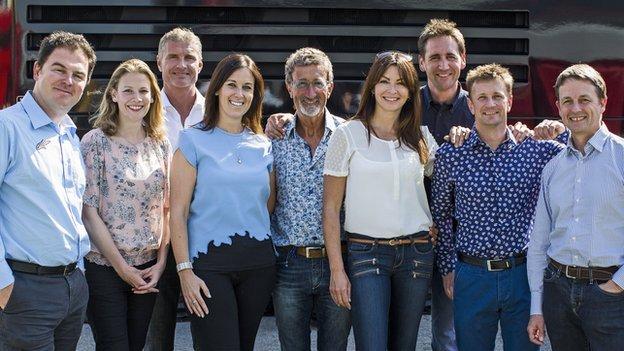 Take a look back at some of the best Formula 1 films from our coverage of the 2014 season...
BBC F1's season-ending montage
Jenson Button's 15 years in Formula 1
Jenson Button looks back at his 15 years in Formula 1 with BBC Sport's David Coulthard.
Coulthard's Williams 'magic carpet ride'
David Coulthard is speechless after getting the chance to drive a 2014 Williams at Silverstone.
Mark Webber on team-mates
Mark Webber compares his World Championship heartache in 2010 to this season's title showdown between Lewis Hamilton and Nico Rosberg.
Lewis and Nico - rivals from the start
BBC Sport looks back at the early days of Lewis Hamilton and Nico Rosberg's racing rivalry.
Daniel Ricciardo on his first season at Red Bull
Daniel Ricciardo heads out on a mountain bike with BBC F1 pit-lane reporter Tom Clarkson to talk about his first season at Red Bull.
Who is Kimi's best friend in F1?
Ferrari's Kimi Raikkonen tells BBC Sport's Tom Clarkson who his best friend is in Formula 1 and reveals his signature dish when cooking.
Valtteri Bottas clay pigeon shooting
Williams driver Valtteri Bottas performs some clay shooting challenges in the company of BBC Sport's Tom Clarkson.
Vettel and Coulthard test the new Sochi track
BBC Sport's David Coulthard teams up with Red Bull's Sebastian Vettel to test out the new Formula 1 circuit at Sochi's Olympic Park ahead of the inaugural Russian Grand Prix.
Lewis returns to his karting roots
Lewis Hamilton goes back to his karting roots and surprises some children from his former school at the track where he learnt his trade.
Hamilton 'skydives' into Silverstone
Mercedes driver Lewis Hamilton makes a spectacular entrance to Silverstone to open BBC Sport's coverage of the British Grand Prix.
Hamilton's skydive: behind the scenes
Watch how BBC Sport made the film for the opening of the British Grand Prix.
Button and Coulthard: Born to be wild
Jenson Button and David Coulthard hit the streets of London on a pair of motorbikes ahead of the British Grand Prix at Silverstone.
Grosjean drives Prost's 1983 Renault
BBC F1 analyst Allan McNish and Lotus's Romain Grosjean take a trip back in time as they drive Alain Prost's 1983 British Grand Prix-winning Renault around Silverstone.
Ayrton Senna: The F1 legend
Twenty years on from the death of Brazilian motor racing legend Ayrton Senna, BBC F1 pundit Eddie Jordan look back at the career of the triple world champion.
'Professor Rosberg' explains F1 science
Mercedes driver Nico Rosberg explains the physics of Formula 1's new turbo engines and compressors to BBC Sport's Lee McKenzie.
Webber: Getting cooked in an F1 car
Former Formula 1 driver Mark Webber shows how he used to prepare for racing in extreme heat and humidity to prevent him "getting cooked in the car".
Coulthard swaps pit lane for cock pit
BBC F1 co-commentator David Coulthard swaps the pit lane for the cockpit as he takes a ride in a Royal Australian Air Force jet.