Susie Wolff: Williams driver ready for British & German Grands Prix

By Andrew Benson
Chief F1 writer
Last updated on .From the section Formula 1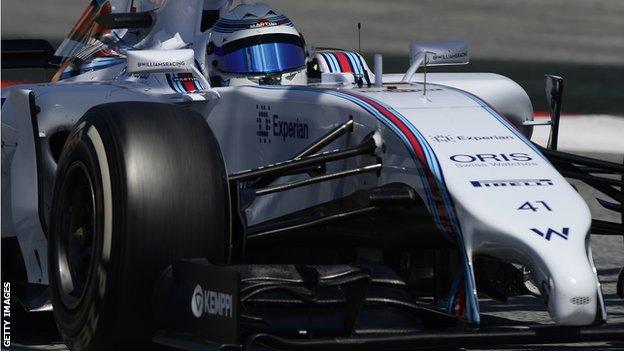 Susie Wolff pronounced herself satisfied with her day's testing in preparation for outings in first practice at two races this summer.
The Scot, 31, drove at Spain's Circuit de Catalunya ahead of driving at the British and German Grands Prix in July.
"The team did a really good job preparing me and we got the most from the day," the Williams development driver said.
"That was the most important thing because we need to be ready."
Wolff will become the first woman to take part in a grand prix weekend in the modern era when she drives in first practice at Silverstone on 4 July and Hockenheim on 18 July.
She completed 50 laps and set the fifth fastest time of the day.
Wolff had a spin on her second lap after getting a wheel on the kerb while changing from third to fourth gear but did not damage the car and the rest of the day ran smoothly.
"I had a programme to run through," she said. "It was a difficult start to the day. It is a different car to drive than last year. It was a steep learning curve. The afternoon ran much better."
Wolff last drove an F1 car in a brief outing at a test at Silverstone last July. This year the cars are significantly different as a result of major rule changes, including the adoption of turbo hybrid engines.
"I feel like I have a lot of hard work ahead of me to get ready for the free practice sessions because the car is very different to drive. I got good laps in today, a lot of laps and time in the car does help because the driving style is different.
"I didn't look at the timesheets. I had my own personal targets that I was set by the team. They had their expectations of what I should achieve on each tyre set and that was my goal."
Asked if she could be racing in F1 next year, Wolff said: "It's definitely too early to say. I am a very proud to be part of this team. I have a great opportunity and I have to prove myself. And keep doing a good job.
"Today was good but the free practice sessions are the next focus and I'm not thinking that far ahead.
"Of course it is the dream of every driver to be on the starting grid but it's a tough sport and there are many good drivers trying and I'm one of those drivers trying."
She said she still believed a woman would drive in F1 in the near future.
"My personal opinion is yes it will," she said. "The way the sport is going - the cars are less physical.
"It's still going to be tough to get in but it's tough for a man or a woman because there are such limited spaces. But I think it will happen."