Lewis Hamilton: Damon Hill says Mercedes driver has extra gear
By Lawrence Barretto
BBC Sport
Last updated on .From the section Formula 1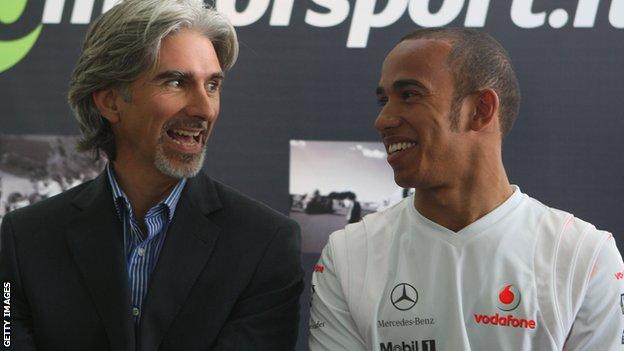 Mercedes driver Lewis Hamilton has another gear to hit this season and will be "almost impossible to beat", says former world champion Damon Hill.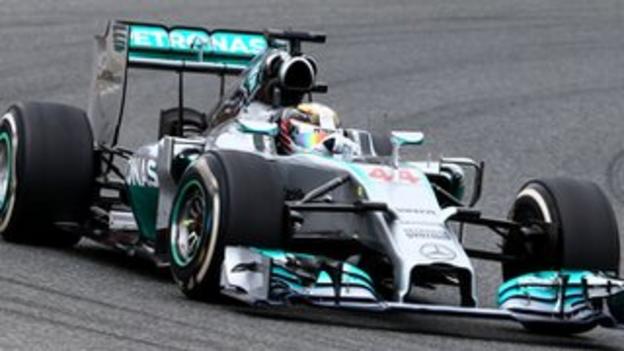 "Up until this season, it always looked like Lewis's focus could go at any time," said Hill, 53.
"He now seems to have the demeanour of someone who is totally content."
London-born Hill, who won the world title in 1996, added: "I do wonder if he is just cruising. I think he has another gear. He is so focused on the job, I think he will be almost impossible to beat."
Hamilton's season started badly when the 29-year-old retired from the season-opening Australian Grand Prix with an engine issue.
But he bounced back with an impressive win in Malaysia and then held off a fast-charging Rosberg to take a thrilling victory in Bahrain.
A third triumph followed in China and then in Spain at the weekend.
He was beaten by Rosberg in the sessions leading up to qualifying at the Circuit de Catalunya but took pole from his German team-mate.
"Nico had two opportunities to beat Lewis - in Bahrain and Spain - but he let them slip through his fingers," said Hill. "That might already be too much to recover from."
Former British F1 driver Derek Warwick, 59, agreed with Hill that there is more to come from Hamilton this season.
"I think there is another gear and I think you'll see it at Silverstone for the British Grand Prix in July, in front of his home fans," said Warwick, who is president of the British Racing Drivers' Club president.
"Great drivers find a level and are able to raise their game to reach it. Just think of Ayrton Senna, Alain Prost, Nigel Mansell and now Sebastian Vettel and Lewis Hamilton."
Despite beating Rosberg to victory in Bahrain and Spain, Hamilton insisted the German, who won the opening race in Australia. was faster.
Jenson Button suggested Hamilton, his former team-mate at McLaren, was playing "mind games", a sentiment agreed with by Warwick.
"Of course it's mind games," he said. "Drivers are competitive animals. The first thing you do is try to get into the mind of your team-mate."
The next race of the season takes place in Monaco between 22-25 May.